What is MexLend?
MaxLend is a lending institution that calls itself "the alternative payday loan solution». This website is owned by the Mandan, Hidatsa, and Arikara Nation — the Three Affiliated Tribes of the Fort Berthold Reservation – a federally-recognized sovereign Native American nation in western North Dakota. So Maxlend offers loans from a sovereign government and operates for the service of the tribes. The management team claims to have over 20 years of experience in online lending. The company is a  member of the Online Lenders Alliance (OLA) which guarantees the establishment of best practice standards in the lending industry. Having served over 2 million people they claim to do their best to solve unique consumer financial situations. Since the lender is owned and regulated by a tribe, this company can't be sued in a US court – the dispute will be resolved by an individual arbitration before a neutral arbitrator. The lender says customers should discontinue using MaxLend services if they feel uncomfortable when doing business with a sovereign entity.
| | | | | | | |
| --- | --- | --- | --- | --- | --- | --- |
| Loan types | Min.amount | Max.amount | Period | APR | Documents  | Poor credit history |
| Payday Loans, Installment Loans, Advance Loans, Cash Loans, Personal Loans | $100 | $1250 | Up to 6 months | From 471% to 841% | SSN number (no faxing) | Yes |
MaxLend Loans
The lender emphasizes that MaxLend is the alternative to a typical pay-day loan and instead of paying off the full amount that customers owe on their next payday, they'll be able to pay back their loans over installments.
They offer a wide range of various loans, such as payday loans, personal loans, cash loans, installment loans, advance loans:

Personal loans can come under many different types, like payday loans, installment loans, advance loans, and cash loans. They are unsecured and do not require any collateral;
Payday loans are the last resort for customers when they really need some extra cash. Payday loans are to be repaid within one payment and come with a very high APR;
Installment loans have a schedule of set payments up to 6 months;
Advance loans are another name for short-term cash loans. They are very similar to payday loans but there are some differences: advance loans are repaid in installments;
Cash loans are fast cash transferred to customers' accounts as soon as the next business day. Cash loans are to be repaid in one lump sum or in installments.
If approved, money will be deposited into a client's checking account normally within the next business day.
Terms of Use
Like most short-term online lenders, the application process with MaxLend is quick and simple. The first step is to make sure you meet these requirements:
Have a source of direct deposit income into your checking account;
Have an active checking account that has been open for a significant amount of time;
Be at least 18 years old;
Be a United States citizen;
Have no debts and not in a bankruptcy case;
Your take-home pay meets their minimum income requirements.
Compared to the eligibility criteria for other traditional banks and lenders, the loan eligibility criteria are minimal.
First-time customers can qualify for a loan up to $1000, and existing customers — MaxLend VIPs — may qualify for a loan up to $1250. The lender emphasizes that return customers will be able to get lower interest rates.
MaxLend.com offers installment loan's up to 6 months and they are not cheap. Their pricing is about $60 per $100 borrowed. APR ranges from 471.7846% to 841.4532% depending on the loan duration and the loan origination fees.
The lender mentions that not everyone will be approved for a loan as the lender does require information regarding a customer's income, residency, and credit score
The lender guarantees that customers' non-public information is completely confidential and protected by its Privacy Policy. On MaxLend.com. Customers can find a detailed list of the reasons the lender can share customers' personal information and whether customers can limit this sharing. by clicking on a "Privacy" button: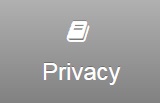 Application Process on Maxlend.com
Applying for a loan from MaxLend.com does not differ much from typical payday loan application processes. If customers think they meet the basic requirements then can apply online by clicking on an "Apply button" on the main page: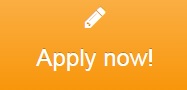 The application process is four steps:
Fill out the online application. This can take a few minutes if a customer has all the necessary information like bank account numbers available;
The lender will review this application for approval or denial. If a customer is approved during usual MaxLend hours of operation, a company's representative will contact him within an hour (they say they contact typically within 5 minutes) to verify all of the information provided. If a client is approved he will be able to sign loan documents online or eSign;
Once a customer's details have been confirmed, the lender will send a copy of the application by email for printing (for records);
If everything goes well, the money will be deposited into a customer's bank account as soon as possible! According to the website, the deposit will hit a client's bank account the next business day.
An application form is quite short. Customers will have to provide the following information:
Personal Information (including an SSN number);
Income Information (including paycheck or other sources of income periodically deposited to a customer's account). The customer will need to choose his next two pay dates, and these must be accurate to calculate a loan:
Financial Information (ABA Routing Number, Account Number, Payment Method)
When applying for a loan with MaxLend.com, customers do not need to fax any documents, however, the lender says some exceptions may apply. In this case, the company will contact a customer for more details.
In general, qualifying for final loan approval depends on various factors, including income and the state in which a customer resides. As the lender says, the provided information may be verified with any number of independent verification and credit reporting companies.
Loan Repayment on Maxlend.com
MaxLend offers multi-pay installment loans – a convenient way to pay the money back over several equal payments (with the potential exception of the first and last payments). The payment schedule is designed based on the loan amount, interest rate, and a number of payments. During an application process, a customer may select between 2 options of how he would like to make his payment – via Electronic Funds Transfer or Credit Card):

Their website lists discounts for paying via Electronic Funds Transfer. If customer chooses Credit Card, they should be careful as credit card companies charge additional fees for cash transactions.
Most MaxLend installment loans are approximately 6 months, but customers can always choose among weekly, bi-weekly, bi-monthly, or monthly pay dates. The company provides a representative table with interest rate derived from the concept of charging a fee per $100 borrowed per pay period: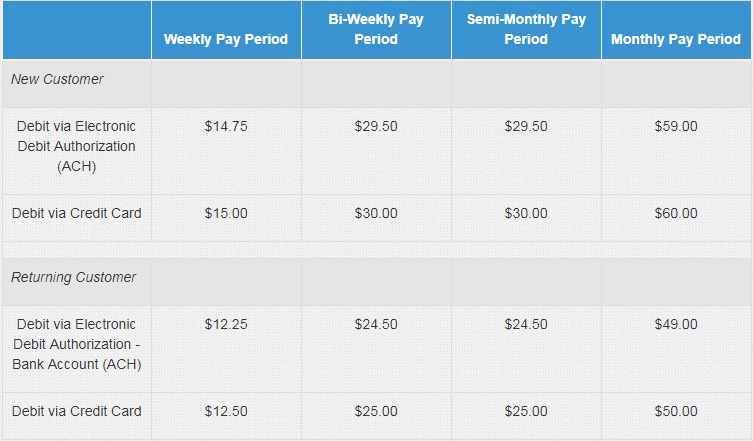 All of the customers have an opportunity of repaying the loan early without any penalties or fees. Besides, customers can make extra principal payments that will shorten the total number of payments and lower the overall charges paid.
By signing the loan contract, the customer is agreeing to repay the loan, the principal and other loan fees included in the contract due date. The lender says that all fees will be listed in the Loan Agreement, and customers should read it carefully. Failure to pay back the loan will result in additional fees and penalties. The lender claims that all collections efforts on late payments are conducted in a fair and lawful manner in accordance with applicable laws.
Does MaxLend Offers Loan Extension?
According to the information placed on the website, for customers having difficulty repaying a loan, repayment plans may be changed. The lender has options. The necessary condition is that the customer should contact the lender's customer service representatives at 1-877-936-4336 at least 3 business days prior to his loan due date to arrange payment towards his principal loan amount. The amount he chooses will be included in the Interest Rate and Underwriting Fee.

MaxLend.com informs that it "does not extend loans to Active Duty Military, their spouses or their dependents."
Once a loan has been fully repaid, a customer can apply for other loans from this lender. Return customers are even rewarded with the VIP Advantage – lower fees and higher loan amounts. Clients need to login into maxlend.com personal account to see if they're eligible.
Maxlend.com Bad Credit History
Having bad credit or no credit is NOT a requirement. In other words, even customers with bad credit can qualify for a loan.

But clients should bear in mind that the company does evaluate their information to determine if they will be able to repay a loan. The lender often uses 3rd party credit reporting agencies to assess customers' information. As a result, customers' credit report may or may not be impacted by the particular service used by MaxLend. The company encourages its potential customers to monitor their credit from various credit monitoring services to evaluate their credit score. The lender advises customers not to complete multiple applications on multiple websites to minimize the impact to their credit score.
Technical Characteristics of the Website
Is MaxLend Safe in Terms of Connection?
An encrypted connection on the website is always a guarantee of secure online transactions. Users can recognize the secure connection easily – a secure website's address bar contains a green identification button (lock). We checked Maxlend.com with the help of Firefox security tool: it turned out that the website uses a 256-bit SSL encryption – a standard security level that is used by millions of websites worldwide to protect users' data transmitted online through the websites (login, password, address, banking information and so on). The security certificate is verified by GeoTrust, Inc.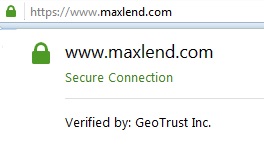 In addition, Maxlend.com uses a Comodo SSL Certificate – a quick and effective way for an online business to protect user transactions. Using these security tools, the company can win customer trust and increase sales conversions.

In general, a 256-bit SSL encryption is a high level of security for customers, but can't be considered the best one. However, for practical purposes, a 256-bit SSL encryption is sufficient to ensure data security.
Maxlend.com Mobile Version
For online lenders, a mobile version of the website is vital. More than half of customers prefer using mobile devices to connect to the Internet. That's why we checked Maxlend.com Mobile Version. The website has successfully passed a Mobile-Friendly Test offered by Google:
However, the Google tool couldn't load 18-page resources and found some redirection errors and other types of errors in the website's functioning, which mean users can face some problems when using Maxlend's services.
In general. the mobile version is adapted for a smartphone and pleasant to look at. There is no need to scroll the pages, since everything is displayed correctly and the whole functional works properly. We would rather say using Maxlend.com Mobile Version is more convenient than using the full-sized version of the site.
Checking Antivirus
The owner of Maxlend.com provided no antivirus on the website, which means that users can easily catch viruses or other online threats on their computer. This is a serious drawback which needs to be fixed, as large and trustful online lenders usually use antivirus programs to gain a better reputation. So far, this lender can't be considered safest to borrow money online.
The Convenience of Using Maxlend.com
To apply for a loan, customers need to register to electronically sign their loan documents and get a full control over his loan. For further access, they will need to enter email and their SSN to log in:

The company gives representative examples of how it works which is appreciated. The lender also describes the application process in detail. For this, the users will need to click on a "How It Works" button on the main page: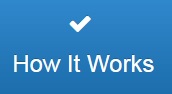 If customers do not have a printer and want to print a copy of their loan documents, MaxLend can email or fax these documents — users just need to inform one of the company's representatives by calling at customer service phone number 1-877-936-4336.
We can say that MaxLend.com is an informative website. The company has its own blog dedicated to loans and explains the features and differences of all loans in detail. Customers will be able to find the most frequently asked questions about loans by clicking on a "Common Questions" button: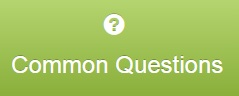 The application form is quick and short, so it will not take much time to apply for a loan with this lender. Considering all the above facts, MaxLend.com can be considered a convenient website for borrowing money.
Is MaxLend Legit?
Before borrowing money online, it's important for a user to know the website is legitimate. We checked Maxlend.com legitability using ScamAdviser and were quite satisfied with the results obtained: the online lender has an 89% trust rating out of 100:
According to ScamAdviser, the website seems safe to use. The domain age is more than 4 years. The website has lots of visitors and is constantly refreshed. Although MaxLend.com appears to be based in Belize there are other countries involved and customers should review this information carefully. ScamAdviser is skeptical about the owner country since for some reason the website is using an anonymous service which prevents users from identifying the website's owner. We would suggest you confirm the business address before borrowing money from this lender. Still, an 89% trust rating is a very good indicator, the website seems legitimate, and users have a high probability of getting a positive experience with this company.
Maxlend.com Reviews
On-site Reviews
There are no customer reviews on the website itself. There is no even section where customers can share their experience both positive and negative. But customers reviews is what people want to read before dealing with any company. Sometimes lack of reviews makes people search for another website with the same services. Reviews could be the best way of checking the lender's reliability.  Since we could not assess the credibility of this lender basing on customer on-site reviews, we decided to look for testimonials on independent websites and forums.
MaxLend Reviews on Third-Party Websites
The first website we came across when searching for Maxlend.com reviews was bbb.org. Regretfully, the company's rating was poor on BBB. The site contained 27 customer reviews with 24 reviews being negative. It's a very sad statistics:
There are many negative MaxLend reviews both 2016 and 2017 which undermines the reputation of the lender. The latest review was dated July 2017: the user can't believe the lender operates legally since it offers too high interest rate, but it's not clear whether he used the services of this company or not:

Look at some more MaxLend complaints 2017 customers shared on bbb.org. One user described his own experience with this lender. He was approved for a loan and had an exact payoff price, but he had difficulties repaying this amount before the specified day, though the company advertised customers could pay off the loan at any time with no extra fees or charges. As a result, he had to pat almost double the interest. From his point of view, this company is "misleading and unprofessional", and he recommends staying away from this online lender:
Another customer is also unhappy with the services provided: he borrowed only $350, but had to repay over $1200 (we don't know exactly which amount was specified in the contract). Besides, he is skeptical about the company's location, since everyone has a foreign accent. From this opinion, Maxlend.com are thieves, and he would rate them 0 stars if he could:
Negative reviews are overwhelming the BBB website, however, we managed to find two BBB users who were satisfied with the services on this lender. The reviews were dated 2014 and 2015, which is an alarming signal.
One customer said his experience with Maxlend.com was very positive. What he especially appreciates is a responsive customer support service which helps him solve his issues every time in a minute. He would definitely use this lender in the future: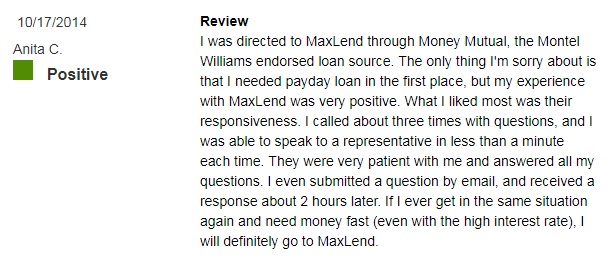 The second satisfied customer "loves" this company. He pointed out a friendly and personal support service. He thinks the lender has so many negative reviews because people do not understand the way this lender works. In the end, he gave a tip to other customers on how to avoid problems and high rates: all they needed is to repay a loan in installments or one lump and read the contract carefully:
Read more reviews here: https://www.bbb.org/minnesota/business-reviews/payday-loans/maxlend-in-parshall-nd-96503968/reviews-and-complaints.
Since these 2 positive reviews are outdated, we had to search for some fresh testimonials on other third party websites. Unfortunately, the data revealed added no trust to the online service, since the Internet has TOO many MaxLend complaints and almost no good reviews.
Scambook.com contained 81 complaints which were unresolved with a total damage of more than $67,000: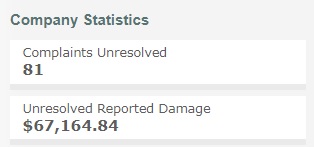 Here are some of the most recent complaints. One user got an email from this lender saying it was time to pay for his loan, but he had no loans with this lender. When he reached them over the phone, they asked him to give them his SSN number and refused to refer him to a supervisor. The user asks people to stay away from this "scam" and "fishing" company:
Another customer is also skeptical about the company's legitimacy since he had to repay almost twice as much for his loan. He also can't believe they allow a customer to take another loan before they repay the first one. He wants the lender to be investigated for unfair practices:

Read all MaxLend complains on Scambook.com: https://www.scambook.com/company/view/157778/MaxLend.
Here are some more MaxLend complaints we found on other independent websites. One review indicated that repeat customers can hardly get any benefits from this company, though it advertised things differently:

One more user was horrified that this lender continued taking funds from his account when the loan was fully repaid: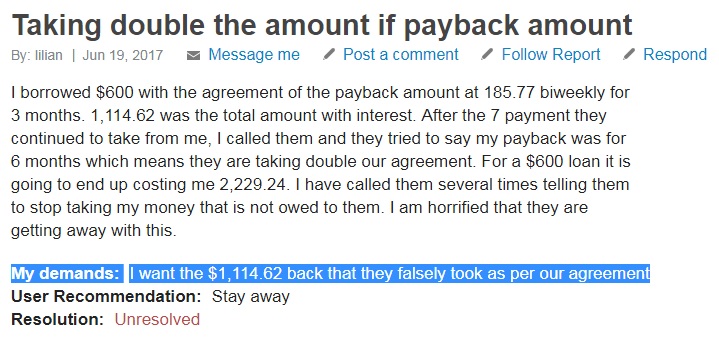 All these complains made us very distrustful of the services provided. And it seems strange that the company has ONLY 2 positive reviews over almost 5 years. Also, it turned out the website advertised things that were quite different in practice, and real lending rates were much higher than the rates specified in the contract. We found too many people who doubted MaxLend's legitimacy.
Contact Us section
Contact Information
The company has provided a detailed contact information: the lender is located in Parshall, North Dakota. MaxLend address, phone, and email can be found in a "Contact Us" section: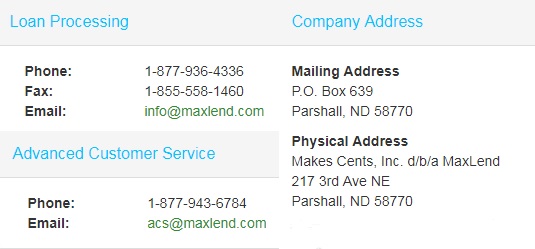 MaxLend hours of operation are Monday-Friday: 8:00 a.m. – 12:00 a.m., Saturday and Sunday: 9:00 a.m. – 5:00 p.m.
The lender provided different email addresses for different issues: email advertising, customer support, and partnership:

However, the company does not mention the year when it has launched the business – the only information we found was that their management team had over 20 years of experience in online lending.
MaxLend Locations
The advantage of MaxLend is that this lender is available in the District of Columbia and 39 states, including Alabama, Alaska, Arizona, California, Colorado, Delaware, Florida, Hawaii, Idaho, Illinois, Indiana, Iowa, Kansas, Kentucky, Louisiana, Maine, Maryland, Michigan, Mississippi, Missouri, Montana, Nebraska, Nevada, New Hampshire, New Jersey, New Mexico, North Carolina, Ohio, Oklahoma, Oregon, Rhode Island, South Carolina, South Dakota, Tennessee, Texas, Utah, Virginia, Wisconsin, Wyoming.
Many online lenders are not able to offer services in this many states.
The lender does not conduct business in the following states: Arkansas, Connecticut, Georgia, Massachusetts, Minnesota, New York, North Dakota, Pennsylvania, Vermont, Washington, West Virginia. The company mentions that the availability of loans in any U.S. state can change at any time at the sole discretion of the lender, so customers should check for updates before applying for a loan.
Customer Support Service
According to the website, customers can easily get a professional help and advice during MaxLend hours of operation. The customer support team welcomes any questions on applications, repayments, and other queries. Customers who need help can reach the lender via email, a phone number or a contact form which can be found in a "Contact Us" section. The company promises to respond as soon as possible.
Regretfully, the website has no Live Chat for instant messaging.
We decided to use one of the proposed methods of contacting the lender – a contact form – to find out whether we could take another loan if our first loan has not been fully repaid yet. The feedback did not come even 10 hours later, so we conclude MaxLend customer support service is poorly organized, and customers can hardly get an answer to their questions. In fact, lending institutions should have the quickest customer support service, as their clients need money urgently, but, in real life, it's far from perfect.
Conclusion
MaxLend.com is a lender that has some advantages over using its services. The company offers various options for loan periods. Indeed most payday loans are designed to be paid off within a minimum of two weeks, whereas MaxLend loans are much more structured, with longer repayment periods of equal installments. Scam Adviser's positive analysis and the OLA membership are good signs, that make this lender much more attractive than a regular payday lender. However, the customers should remember that this company is owned and regulated by a tribal community, and cannot be sued in the US Court. Another advantage of this lender is that it is often willing to make loans to residents of U.S. states where other lenders do not. What made MaxLend look very suspicious is a huge number of complaints on different websites: too many customers have been charged incorrectly by the lender. Another reason which may keep customers from using this lender is that these loans are very expensive. That's why we can't recommend MaxLend.comas an solution for your financial problems. If you still decide to use this service, make sure you've exhausted other lending options and can afford to repay a loan, and clarify the total loan amount to be repaid prior to signing the contract.