What is Great Plains Lending?

Great Plains Lending LLC. is a private direct lender which is headquartered in Red Rock, OK. The company was founded in 2011 by a native american-owned organization within the boundaries of the Otoe-Missouria Reservation. They claim to provide "convenient", "no-hassle" personal loans that help consumers to cope with unexpected expenses.
| | | | | | | |
| --- | --- | --- | --- | --- | --- | --- |
| Loan types | Min.amount | Max.amount | Period | APR | Documents | Bad credit |
| Payday loans, installment loans | $100 | $3,000 | 4-30 months | 118.66% up to 448.76% | Driver's license number, social security number | Yes |
Types of Loans
Great Plains Lending offers payday loan and installment loan services.
Payday loans are quick short-term loans that are to be repaid on the day you get paid again;
Installment loans come with longer terms and are repaid on a schedule of fixed equal payments.
You can use the services of this lender if you need to urgently pay for some medical emergencies, car repair, bills, groceries, etc.
The company warns consumers that their loans come with rather high interest rates are designed to help people cope with temporary financial troubles. This service cannot be used for a long-term financial assistance.
According to the website, Great Plains Lending typically makes a loan decision within 1 hour and deposits the funds into a customers' checking account within 3 business days. They even have an informative table which presents the link between the day you accept your loan and the day your funds will be available: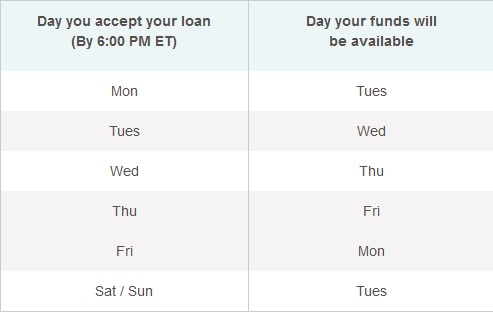 Terms of Use
Loan amounts from Great Plains Lending range from $100 to $3,000. However, first-time customers will only be approved for a loan of up to $1,000 but if you establish a good reputation with this lender and make all the payments on time, you will be eligible for a higher amount next time.
Lending terms range from 4 to 30 months. Loan terms and rates vary by state because each state has its own laws and regulators.
Great Plains Lending APR may range from 118.66% to 448.76%.
You will be eligible for a loan if you meet the following criteria:
you must be at least 18 years of age;
be employed or have another regular source of income;
have an active email address;
have a personal checking account in good standing.
The lender gives an example of their rates: according to the website, you can by saying that you can repay a $500 loan in 12 bi-weekly payments (each $101.29). In this case, your APR will be 448.78% and you will have to repay $715.48 in interest.
An advantage of Great Plains Lending is that they do not charge an origination fee and have no hidden fees or surprises. Many other lenders typically charge a 0.5%-5% loan origination fee, which makes a loan more expensive.
The company encourages consumers to carefully read the agreement paying attention to their loan terms and terms before they accept them and e-sign the documents.
Application
The application process at greatplainslending.com is purely online.
To start the application, you should provide general information about yourself and your employment/income. This details will be crucial in determining the rates and fees of your loan.
You should be ready to provide the following documentation: proof of citizenship or residence permit and recent pay stubs. Besides, you will be required to enter your full name, phone number, address, date of birth, e-mail address, SSN, details about your checking account.
Great Plains Lending loans do not require collateral.
Approval or denial of loan applications is made instantly online.
Repayment
Unlike many other lenders, Great Plains Lending allows you repaying your loan over time (4-30 months) in a set of scheduled equal installments. The schedule is designed so your payment due date aligns with the day you receive your wages. For example, if you receive wages every two weeks, your schedule will be bi-weekly. If you are paid once a month, you will make payments once a month.

You can opt for automatic withdrawal of funds from your checking account. This will help you ensure that all your payments are made on the due date. You can even ask your lender to send you a reminder e-mail before each due date.
Your payment amount will depend on your loan amount, interest rate and loan repayment schedule.
Borrowers are encouraged to repay their loans early to reduce interest charges because you pay interest only for the period you owe the loan.
If you fail with your payment and miss the due date, you may incur penalties and additional fees. Your payment history may also be reported to the major credit bureaus, which may affect your credit rating. Delinquent accounts may be sold to a third-party collection agency.
Extension
The company does not mention whether consumers can get a loan extension in the case they have financial difficulties. You should specify this information before accepting the terms and rates of your loan.
GreatPlainsLending.com Bad Credit
According to the website, you can apply for a loan with Great Plains Lending even if you have a bad credit score. First-time borrowers with a poor credit are eligible for smaller amounts but if you establish a successful loan payment history, you can get higher loan amounts next time.
Technical Characteristics of the Website
Сonnection
Website security is a very important aspect because you submit too many sensitive details during application. So I paid attention to whether this service securely protects your personal and financial data. It turned out that your information is secured via 256-bit SSL encryption during online transactions.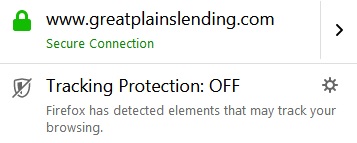 Regretfully, having an SSL certificate does not mean that your application process is 100% confidential. My browser detected elements that may track my browsing. I recommend the website's owner to maximize the security of GreatPlainsLending.com.
Mobile Version
The website has a mobile version, which allows all mobile users to apply for a loan without any difficulties:

Using the mobile version via smartphones and mobile phones is much more convenient: there is no need for horizontal scrolling, all the functionality works correctly.
Navigation is adapted to the touchscreen, which is also convenient;
The mobile version of the site is loaded faster, which saves mobile traffic;
The site is correctly displayed on the most popular screen resolutions;
The content is optimized;
The site has a good navigation.
Antivirus
GreatPlainsLending.com does not have virus protection so you may get viruses by interacting with their network. Besides, your personal details can be stolen by unauthorized intruders from the network.
I would recommend the site's developers to provide a reliable virus protection.
Convenience of Using the Website
To apply for a loan, clients are offered to fill out a simple and fast online application, which can be approved in a few seconds. Return customers should log in to speed up to the process since the lender keeps their personal information in the archive.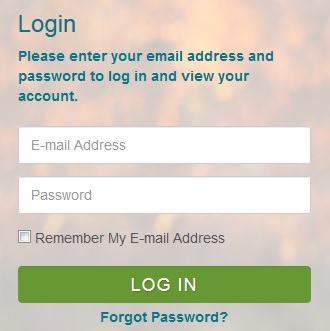 At first sight, the website seemed user-friendly and pretty intuitive. They also have a comprehensive FAQ page that answers the most popular questions about Great Plains Lending loans. Besides, users can use a convenient loan calculator, which allows determining your interest rate – you should only choose the desired loan amount and your payment frequency (bi-weekly or monthly):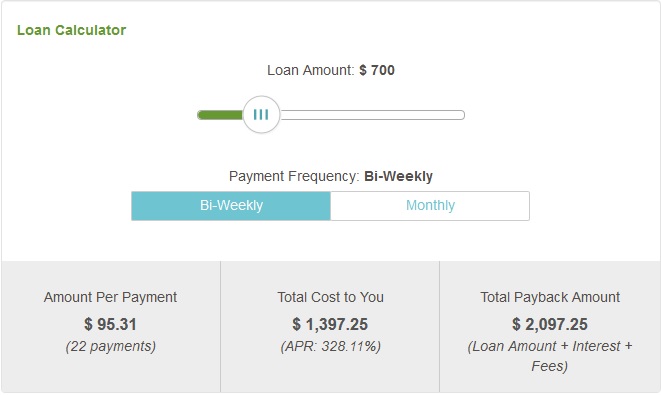 However, I was disappointed when I clicked on the "Apply" button. The screen showed a message reporting that Great Plains Lending application was currently unavailable but customers could apply for a loan through another website – AmericanWebLoan.com.
This could mean that this website is no longer active I found no information stating that Great Plains Lending has closed.
Is GreatPlainsLending.com Legit?
I decided to check the legitimacy of this lender via ScamAdviser. Although the website is not proving loans at this time, it has a 98% trust-rating from ScamAdviser, which means it is legit and safe.
According to the report, the website has been active for over 7 years and has lots of visitors. It is located in the United States but the owner of the website is hidden. However, this does not mean that this lender is operating illegally.
GreatPlainsLending.com Reviews
On-site Reviews
Regretfully, I found no Great Plains Lending reviews on the native website of the company. The site does not even have a testimonial page, which can be used by clients. That is why I decided to use the world's largest online review communities to find any customer feedback.
Reviews on Third-Party Websites
I found a huge number of GreatPlainsLending.com reviews on independent sources like BBB, Trustpilot, Credit Karma, LendingTree, Best Company, ConsumerAffairs, and so on.
There are over 1,000 comments on Trustpilot and most of them are from happy clients. Most customers liked a simple application, a friendly customer support, paperless process, affordable interest rate and some other things. Read the recent reviews posted by users on TrustPilot.com in 2018: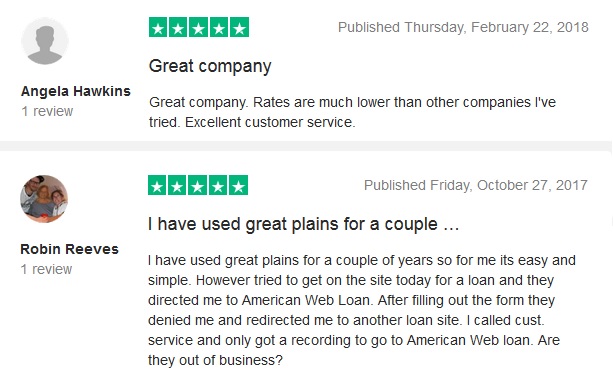 However, a few users were unsatisfied with the services provided. They complained of high interest rates, loan denials, continuing auto withdrawals after loans were paid off, delayed money transfer, etc. Read recent Great Plains Lending complaints posted on Trust Pilot.com in 2017:

Regretfully, it turned out that this business is not BBB accredited and has 37 complaints on BBB.com. Most of them were related to advertising/sales, billing/collections, delivery Issues, guarantee/warranty, problems with products and services.
However, such complaints are common in this kind of business. Not a single lender can guarantee a 100% customer satisfaction. The detected negative reviews from previous customers prove that you might have some issued with this lender if he was still working, but the overwhelming majority of positive reviews testify that the company used to provide good services.
Customer Support
Contact Information
Great Plains Lending provided a comprehensive contact information:
Phone number: 1-877-836-1506;
Fax: 1-877-520-7966;
Physical address: Great Plains Lending, Attn: Customer Support, 1050 East 2nd Street, Box 500, Edmond, Oklahoma 73034;
Working hours: 9:00 a.m. – 7:00 p.m, Monday – Friday.
Mail for payments: Great Plains Lending, PO Box 42906, Philadelphia, PA 19101.
GreatPlainsLending.com Locations
Great Plains Lending loans are not available in all states. According to the website, the company is headquartered in the state of Oklahoma but is also available online in New Jersey, California, Hawaii and Alaska.
Getting a Consultation
You can reach customer service representatives from 8 am until 10 pm Monday through Friday, and from 9 am until 5 pm on Saturdays. You can send your questions via traditional mail, email, or phone call.
I tried to reach their customer support via email but nobody replied. So in my experience, they have a poor customer service.
Conclusion
Great Plains Lending is a popular lender from Oklahoma which has relaxed eligibility criteria and flexible payment schedules. Unlike other lenders, this one may approve your loan application if you are not employed, however, you should prove that you have a regular source of income. I also appreciate that they have a loan calculator which can make terms and rates or your loan transparent instantly. Besides, you can repay your loan early without any early payment fees. However, since this company is owned by a tribe, this can make it confusing for customers as the lender has its own laws and regulations. Other aspects that may confuse potential borrowers include a delayed funding (up to 3 days), lack of virus protection, high interest rates, numerous customer complaints. The greatest concern about Great Plains Lending is that you are currently NOT able to apply for a loan through this website. The reason is not mentioned anywhere on the site. Probably, the company has been closed. Instead, they invite you to fill out an application at AmericanWebLoan.com, which could be their partner. I conclude that Great Plains Lending is a website that's not worth your time.