What is Wonga.com Like?

Wonga.com is an online short-term loan lender registered in London, United Kingdom. The company is also known as Wonga Group Limited which is authorized and regulated by the Financial Conduct Authority (FCA) under registration number 671454. Wonga services are also available to people from South Africa, Poland, Canada and Spain. The company was founded in 2006, and wonga.com official site was launched in 2007. The lender boasts of being one of the top credit providers in the UK. Wonga is also a member of the Finance and Leasing Association. The lender reinvented short-term loans by giving its clients the ability to choose exactly how much money they want to borrow and then showing a precise total price based on the term cash is needed for. According to the website, two Wonga principles are flexibility and transparency. They provide automated decisions to its clients based on the information they provide in the loan application online, data from Credit Reference Agencies and some other sources. All applicants are subject to credit check and need to comply with stringent lending criteria.

| | | | | | | |
| --- | --- | --- | --- | --- | --- | --- |
| Loan types | Min. amount | Max. amount | Term | Daily interest | Documents  required | Bad credit |
| Short Term Loans | £50 | £1000 | 1-35 days | 0,8% | Bank statement (for some new customers) | Considered individually |
| 3 month Flexi Loans | £150 | £1500 | 3 months | 0,8% | Bank statement (for some new customers) | Considered individually |
| 6 month Flexi Loans | £200 | £1500 | 6 months | 0,8% | Bank statement (for some new customers) | Considered individually |
Wonga Loans
Wonga only offers short duration loans. Long-term loans are not available on Wonga.com. Their credit solutions are not designed as a continual source of credit and unsuitable if clients need money for a longer period. The lender advises thinking carefully about whether clients can afford the loan before starting an application process.
The most popular Wonga loan types are 3-month flexible loans and short-term loans:
Short-term Wonga loans online (Wonga.com payday loans) provide borrowers with cash to be paid back over a certain period. Like traditional loans, they usually involve smaller amounts and a shorter repayment period.
3 month Wonga loans are repayable over 3 months.
The lender provides a Wonga loans calculator which makes the business transparent and allows to find out the interest rate and the total amount to repay, based on the sum they need and the loan term: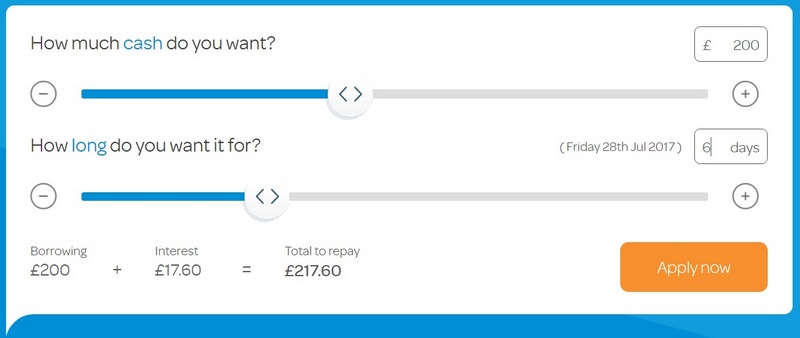 According to the website, Wonga deposits funds 24 hours a day 7 days a week. They only approve people they think can afford to repay loans on time. The lender promises that funds are sent within 5 minutes of approval.
Terms of Use
To get a loan from Wonga, clients need to comply with the following lending criteria:
Be 18 years of age and older,
Be a resident of the UK,
Be employed,
Have a bank account with a debit card,
Own a mobile phone.
The lender does not recommend that clients apply for a loan if they have long-term financial issues.
The average daily interest rate for both 3-month flexible loans and short-term loans is 0.8% and depends on loan term and loan amount: the higher the interest rate, loan amount and loan term, the more interest people will have to pay.
If people need a Short Term Loan, they can borrow between £50 and £400 when applying for the first time. Return customers may be able to borrow up to £1,000 from Wonga, depending on their personal application limit;
If customers want a 3 month Flexi Loan, they can borrow between £150 and £500 when applying for the first time. Return customers may be able to request for £1,500, depending on their personal application limit;
If clients need a 6 month Flexi Loan, they can request between £200 and £600 when applying for the first time. Return customers may be able to borrow up to £2,000, depending on their personal application limit.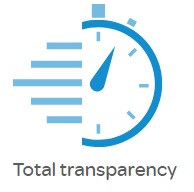 Wonga.com assures its clients that they are able to see all the costs up front before they apply for a loan, including what happens if things go wrong.
Wonga.com Application Process
All applications on wonga.com have to be completed online. You can't apply for a Wonga loan over the phone.
The company guarantees no phone calls – they never contact their clients' employer, though they still do an online credit check. As written on the website, there are no documents needed, however, Wonga may ask new applicants to fax or email their bank statement.
On wonga.com, customers can begin an application on the home page. They are offers to choose between 2 Wonga loan types. When they selected the option needed, they should click 'Apply' button:
Unlike many online lenders, the lender asks its clients to go through a verification process  using Wonga.com phone number: the lender sends a PIN code to the mobile phone indicated by the customer, which must be entered in the field below:
Later on, the clients should be ready to provide Personal Details, Employment Details, Contacts, Address, and Monthly Expenses information.
Once the user completed all the steps, he can get acquainted with the pre-contract credit information in detail and even print it. The lender gives the whole information required to the user, so not a single issue remains unclear:
The online company asks customers to ensure that they have read all the information relating to their loan application carefully. Once clients have submitted a loan application, they will receive a decision as quickly as possible (as advertised on the website). Wonga will review an application online and send one of three verdicts: «Approved», «Denied» or «Referred». The things are clear with the first two decisions, and the third status means Wonga.com needs more details before approving a loan. How long does Wonga take to process? If approved, clients get their money in 5 minutes after approval, 7 days a week. The lender mentions that sometimes it takes up to 15 minutes for the funds to reach a client's account.
Loan Repayment on Wonga.com
Wonga.com guarantees that loan repayment has never been so easy and flexible before:

When a client borrows money from Wonga, he agrees to repay his loan by a debit card registered in his name. All in all, he can choose between the following repayment methods:
Automated payment line by calling 0207 183 0063;
debit card;
an online account on wonga.com;
bank transfer;
cheque
;
postal order
The lender specifies the payment terms for each loan type: 3 months Flexi Loan should be repaid over 3 months, and short-term loans – in one-off repayment:
Clients can repay Wonga.com personal loans early and do the agreement with the company since it's totally flexible. If they pay back prior to the due date, they will save on interest. In order to repay the loan early, a customer will need to log in to their personal account on wonga.com.
The main page of the website lists a warning that late loan repayment can cause serious money problems, so clients should be sure they can repay the money on time:

As indicated on the website, the first time they miss a payment, they'll have three days to pay before Wonga charges them a missed payment fee of £15. To avoid that fee, clients need to repay a loan by 11 pm on the third day after their repayment date.
Wonga will only charge a client one missed payment fee per loan.
Does Wonga Offers Loan Extension?
On wonga.com, customers can get a loan extension when having difficulty repaying. If you let us know you can't repay on time, we may try to set up a repayment arrangement. The lender offers a range of options and promises to deal with every emergency situation in a reasonable and helpful way, and arrange a fair, affordable and flexible repayment plan. Customers can get an extension by going to their personal account, and fill out an income and expenditure (I&E) form, which will help Wonga understand their financial circumstances. Alternatively, clients can apply for an extension by calling 0207 138 8330 from 7am-10pm, 7 days a week.
If Wonga can't agree to a repayment plan, they'll try to reach a solution with a client that takes his financial circumstances into account. The lender also lists a number of organizations customers can contact for independent money advice: Step Change Debt Charity, CAB, National Debtline:

Customers can also add more funds to their loans. If they have a Short Term Loan, he may be able to borrow a little more while keeping the same repayment date. However, if they have a Flexi Loan, they are not able to increase a loan amount.
The amount customers can top up depends on their personal application limit and Wonga credit and affordability assessment. The lender reviews each top up application individually and can't guarantee that an application will be successful. If approved, the lender will send the extra money in 5 minutes. The interest rate will be the same as the original loan. A customer can only top up a loan from Wonga once a day and a maximum of 3 times.
Once a client has fully repaid his loan, he can submit a new application. However, he should bear in mind that even if he has repaid a previous loan with no problem, Wonga may be unable to offer him another loan, since they never guarantee approval based on previous experience alone, but make a decision based on a combination of factors. If declined, the lender will include the reasons on the decision page at the end of an application.
Wonga doesn't encourage its clients to use payday loans like Wonga frequently and emphasizes that timely loan repayment does not 100% guarantee the lender will offer a client more money.
Wonga Bad Credit
Wonga does not guarantee that customers with a bad credit history will be approved for a loan. They say if clients have a very bad credit history or are currently unemployed, a different lender may prove to be more suitable since Wonga carries out a deep credit check as part of its automated decision-making process. So, customers with a poor credit record can easily be declined. However, they still may try applying, as every application is considered individually.
Technical Characteristics of the Website
Is Wonga.com Safe in Terms of Connection?
The lender assures customers that Wonga.com official site is extremely secure. As they say, they provide an appropriate protection and management of customers' personal and financial information. They also claim to use firewalls and other security technologies to protect their servers from external attacks. They promise their security systems meet the highest industry standards and they are constantly monitoring internet developments to ensure their systems evolve as required. They also test their systems regularly to make sure their security mechanisms are up-to-date in line with their regulatory obligations.
However, it turned out that Wonga users a 128-bit encryption secure socket layer (SSL), which is considered a minimum security level:
The security certificate is verified by DigiCert Inc.

The left corner of the address bar does not indicate the website's owner.
Wonga.com Mobile Version
Wonga.com has successfully passed a Google Mobile-Friendly Test, which means that the website has a mobile version:

However, it turned out that Wonga.com mobile version is far from perfect. The icons and images are not enlarged, the text is readable but not large enough, the menu is organized in such a way that users can't click on the necessary item at once. Besides, the Google report says the online service couldn't load 18-page resources, though there are no visible errors in the functioning of the mobile version. We suggest users may have difficulty using Wonga.com mobile version from their mobile devices.
Checking Antivirus
Wonga.com uses no antivirus, which means the users are not protected from viruses, spyware, malware and other threats when using this online lender. This makes applying for a Wonga loan even more insecure. So, this lender can't be considered the safest place to borrow money as client's personal information can be stolen. The company should take some measures to eliminate this drawback as customers want to feel safe.
The Convenience of Wonga.com Application Online
The company guarantees an easy, fast and convenient applying process on Wonga.com. It seems to be the truth. The procedure is standard and does not require much time.
To get a loan from Wonga, users need to create an account: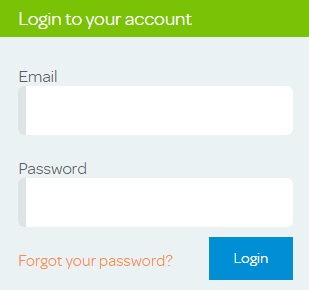 One aspect makes this website more preferable for using: a simple Wonga interest calculator in the form of sliders on the Wonga home page. They allow users to select how much they want to borrow and for which term. The lender shows the full costs of the loan upfront so clients can see how much the online loan will cost them before they apply:

For example, we found out that a daily interest rate for a loan of 200 pounds will make 9.60 pounds, and all in all we will have to repay 209.60 pounds. It's easy:
We also like that Wonga.com explains the difference between its loan types. In addition, the lender provided many representative examples so that the customers could better orient themselves: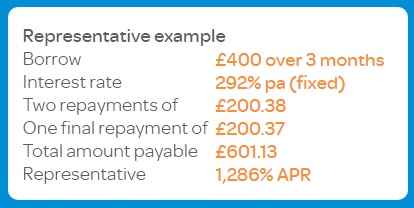 Besides, the client can easily find the information about applying, repayment, fees, penalties, loan extension and so on: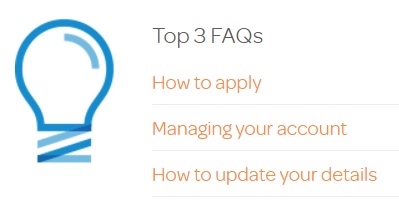 In general, application process of Wonga.com is easy and fast. The company requires only the necessary information. The fact that Wonga asks to go through a verification process by using a mobile number will unlikely to confuse a user, as there is nothing extraordinary in this procedure.
Is Wonga.com Legit?
Since we wanted to make sure Wonga.com is legit, we decided to check its trust rating on ScamAdviser.com. The received analysis was disappointing – the online lender has a very low trust rating – only 10% out of 100: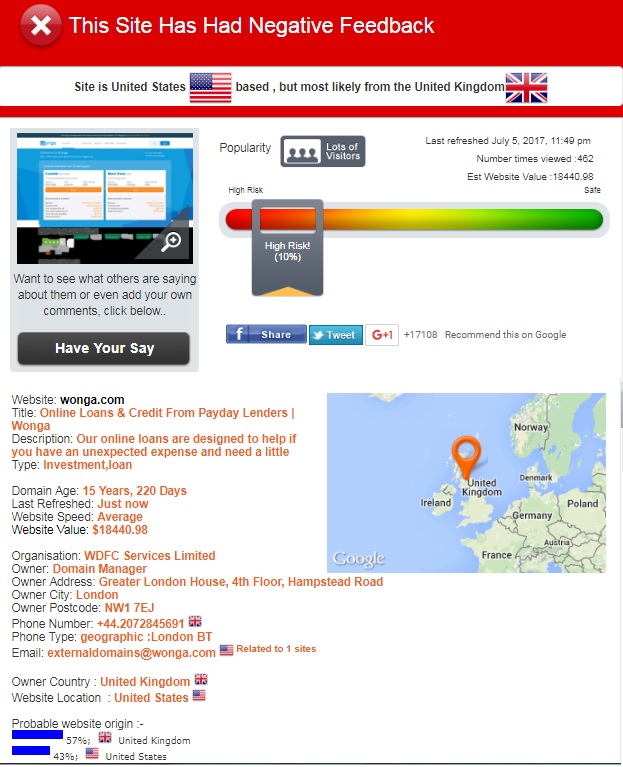 ScamAdviser can't give a higher score to Wonga.com, since the website seems to be located in the USA, though owned by the UK. The domain age is impressive and makes 15 years. The website has lots of visitors and often refreshed. However, ScamAdviser detected bad reviews about the company, which was probably the main reason for this frustrating rating. The online service recommends reviewing this information carefully before applying for a loan from Wonga.
Wonga.com Reviews
On-site Wonga Reviews
The only true way to check the company's reputation is to read testimonials. Regretfully, Wonga.com contains no customer review page. Instead, the lender refers the customers to trustpilot.com which contains numerous Wonga reviews. Though it would have been much more convenient to read on-site reviews, we had no choice other than visit the page advertised.
Wonga.com Reviews on Other Websites
To get a deeper understanding of the lender's services, we analyzed Wonga.com reviews on Trustpilot.com a popular online review community. It turned out that the website contained 1055 reviews about Wonga with a total score of 8.6 stars out of 10, which is a good indicator:
The lender proved extremely popular, as new 2017 Wonga reviews are posted on Trustpilot almost every day.
Look at some reviews written by verified clients who are happy with Wonga services. They call Wonga "a very quick and easy service". They also appreciate the company allows early repayment. Some users successfully used Wonga for more than once:

However, negative Wonga.com reviews 2017 indicate that sometimes the lender fails to meet the customers' expectations. One user says the service is absolutely terrible, and he will never use this company again. He gives no details on what has gone wrong:

Another user scores Wonga 1 star since could not use his personal account due to some technical issues. The problem was unsolved even after a year, though contacted the customer support service for several times:
You can get acquainted with more comments at https://www.trustpilot.com/review/www.wonga.com.
TrustPilot.com contained controversial Wonga testimonials, and we still had doubts about the lender's credibility. So we had to find some more Wonga reviews.
Reviewcentre.com was the next website that contained comments about Wonga services. Unfortunately, the company's reputation was much worse on this website. Wonga.com has a rating of only 2,7 stars out of 5 with 188 negative reviews out of a total amount of 358 reviews:

We did not expect to find such a big number of Wonga complaints after visiting Trust Pilot. We looked through the recent comments and found out that the main reason for giving a poor score to the lender was a high percentage of loan denial. Many repeat customers were disappointed, all their complains were like "Wonga declined me even when my trust rating allowed me to borrow funds". Many users have successfully completed Wonga.com online loan application process and also got a rejection for no reason explained. Look at some screens below:
Such reviews made Wonga.com reputation even more confusing. Find more reviews on http://www.reviewcentre.com/reviews237290.html.
We decided to read Wonga comments on more source which would make the picture more clear. At least, we hoped so.
Hellopeter.com was the third website which had 315 user reviews about Wonga.com. The lender had an average rating of 2.3 stars out of 5:
Regretfully, almost all recent Wonga testimonials were negative. The last bad review was dated July 10, 2017. People complained of a terrible service, poorly organized call center, unfair business practice, too late and too slow funding:
We managed to find some positive Wonga.com reviews dated May 2017. Two users were happy with the services the lender provided. One client said Wonga was very helpful when he owed money to a car hiring company: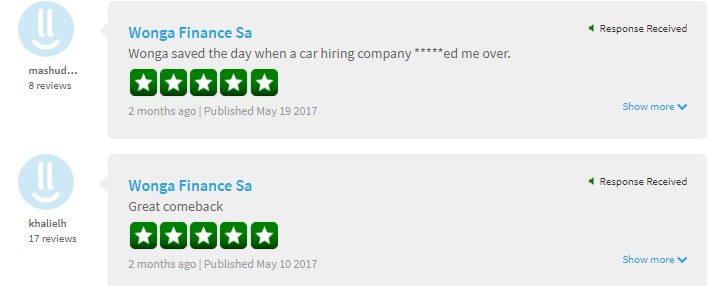 Read all Wonga reviews at https://www.hellopeter.com/wonga-finance-sa.
It looks strange that Wonga has such controversial reviews and a perfect reputation on Trustpilot only. Since the lender has mostly negative reviews on third-party websites with the most popular complaints about loan rejections for no reasons.
Contact Us section
Wonga.com Contact Details
The company has the following contact information on the website: phone number and email. We found no wonga.com physical address, which may cause troubles in the case you need to make an official appeal to the company. Wonga.com office hours are 7 am – 10 pm, 7 days a week.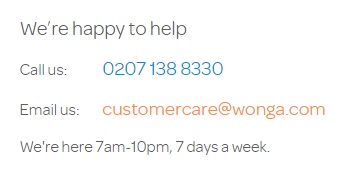 Wonga also has 2 different numbers of Wonga.com offices customers can call for loan repayment: Short Term Loans – 0207 183 0063, Flexi Loan – 0207 138 8330.
Customers need more detailed Wonga contact information, and the company needs to be as transparent as possible to gain more trust.
Wonga Locations
Wonga Group Limited includes a number of international financial services businesses. Wonga.com head office is located in the UK and also provide loans to people from South Africa, Canada, Poland and Spain. The lender provided a representative map with Wonga locations: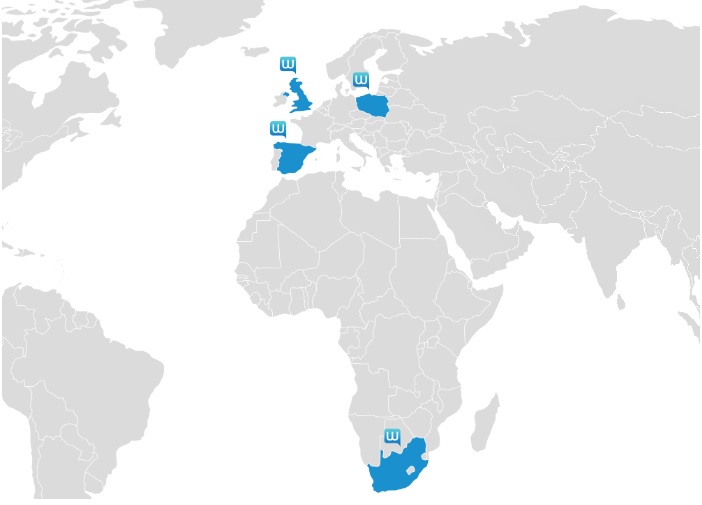 They have a separate website for each country:
| | |
| --- | --- |
| Wonga  UK | wonga.com |
| Wonga  Canada | www.wonga.ca |
| Wonga  Poland | www.wonga.pl |
| Wonga  Spain | www.wonga.es |
| Wonga  South Africa | www.wonga.co.za |
Customer Support Service on Wonga.com
Wonga says they strive to provide the highest service to its customers. If clients want to get in touch with Wonga representative, he can call 0207 138 8330, email at customercare@wonga.com or use a Live Chat. They claim to be available from 7 am – 10 pm, 7 days a week.
Complaints are also welcomed on the website, and the company promises to pay attention to any customer's comment. Wonga provided a table with contacts of organizations unsatisfied customers can contact for debt management and free advice: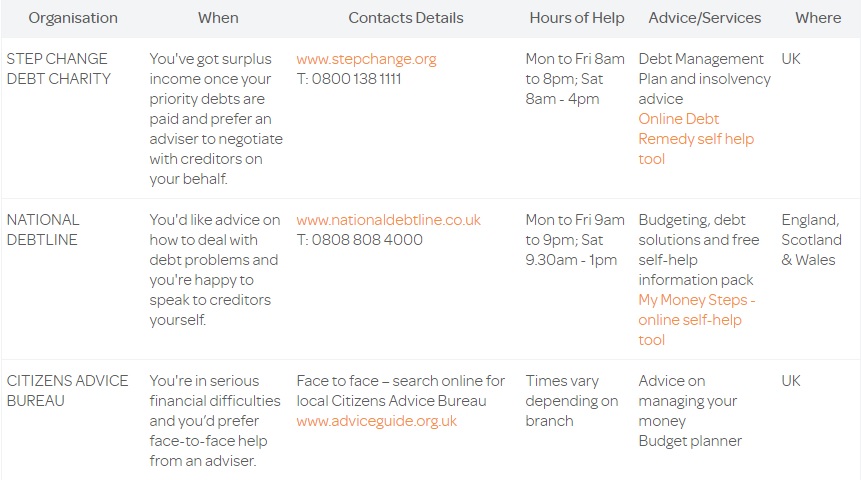 We decided to check the quality of Wonga customer support service to find out the legal Wonga address using Wonga Live Chat. We also wanted to know the maximum short-term loan amount for repeat customers. The service was active and we received an answer in a minute:
It seems that Wonga customer support service is perfectly organized and available day-and-night for its clients, and people who need money urgently will definitely appreciate the speedy messaging.
Conclusion
Wonga.com seems a legitimate lender that's 100% transparent in terms of what they offer. Some aspects make Wonga an attractive company for borrowing money: you see the total cost of your loan before you apply, you can choose when you want to pay back, they transfer funds every day including the weekends, the website has a simple online application, they usually approve or decline applications right away, the company is licensed and even included in Wikipedia database. Wonga offers a maximum loan amount of £400 to new customers, which is higher than what other lenders offer to new customers. The lender has a quick fund deposit service and many customers receive their money within some minutes – much faster than waiting hours and even days with other lenders. Besides, Wonga.com is a relatively cheap lender. However, when using this lender, the customers should bear in mind that Wonga may ask them to fax or email some documents, and this may delay an application decision by over 24 hours. In addition, Wonga carries out a full credit check as part of a decision-making process and has a high percentage of people who default on their loans. The lender has a very good reputation on TrustPilot.com. However, we were not able to find enough reviews to support this high rating. If we could see more positive reviews on the website, then we would give more trust to Wonga. In general, Wonga is a trusted name in the area of lending and has more pros than cons. It's certainly one of the best lenders in the UK.