What is We Give Loans?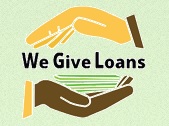 WeGiveLoans.com is a free informative service which provides consumers with unique access to 1,120 lending companies. In just a few minutes, you can fill out their short form to help the company understand your financial needs. They can connect you to the lender who can help you in this situation, even if you have average or bad credit. The referral service has been operating since 2006, making it easier and convenient for USA residents to have access to fast cash. This service gives the borrower flexibility and a wide choice.
| | | | | | | |
| --- | --- | --- | --- | --- | --- | --- |
| Loan types | Min.amount | Max.amount | Period | APR | Documents | Bad credit |
| Personal Loans | $1,000 | $40,000 | 6 Months to 6 Years | Varies by Lender | SSN, state-issued ID | No |
| Personal Loans for Bad Credit | $500 | $5,000 | 3 to 36 Month Terms | Varies by Lender | SSN, state-issued ID | Yes |
| Small Business Loans | $2,000 | $500,000 | 90 Days to 20 Years | Varies by Lender | SSN, state-issued ID | Yes |
Types of Loans
We Give Loans is a bridge to personal loans, personal loans for bad credit, and small business loans.
A personal loan can be used for any need and in any circumstances: to make a large purchase, make home repair, go on a vacation, pay off urgent bills, celebrate a wedding or repay other debts without affecting your budget;
A personal loan for bad credit is an excellent option for borrowers with credit problems which helps them to move forward. This loan type is approved even when all banks and other lenders refused to work with you. The referral service cooperates with many lenders who offer loans for consumers with bad credit;
A small personal loan is designed to help you develop your business. Many lenders from the network of We Give Loans specialize in merchant cash advances, business capital advances, and lines of credit. The service will help you find the right lender for your business needs even if you have a bad credit.
Typically, loans can be approved online and the funds can be received in just a few minutes. However, in most cases, borrowers will receive their money by the next business day. Business loan applications may take longer to approve and fund, but in any way, you will receive the funds to your banking account within 3 business days.
Terms of Use
We Give Loans never charges a fee for using its services. You can apply as many times as you wish.
As I have already mentioned, this company is not a lender and do not give loans. Therefore, they cannot provide consumers with the exact interest rates and loan terms. APRs may vary by lender and state and according to the information provided by a client in his loan application. When approved, a borrower will be given the APR, fees, and other loan details. However, it's mentioned that the APRs for personal loans on this website will vary from 5.99% to 36.00%.
We Give Loans also mentioned the basic eligibility criteria for getting a personal loan. You must:
have state or federally issued ID number;
earn at least $1,000 (before taxes);
be at least 18 years of age;
be a legal resident of the United States;
have a credit score of at least 650.
Additional requirements will depend on the lender.
If you need a business loan, you should be ready to have a business plan and provide tax returns, balance sheets, profit/loss statements.
If you have an average credit, you may apply for a personal loan in the amount ranging from $1,000 to $40,000. Loan terms range from 6 months to 72 months.
If you have a bad credit (less than 650), you may be approved for a personal loan with bad credit. Loan amounts may range from $500 to $5,000. Such loans have flexible repayment terms from 2 to 36 months.
Amounts of small business loans range from $2,000 to $500,000 and can be repaid within 90 days up to 20 years.
Application
At WeGiveLoans.com, you can complete an online request form within 2 minutes. In a few seconds after submitting your application, you will be able to see if you have been matched with a suitable lender (or several lenders). You will need to review the companies offered, select the one that fits your needs then click the "click to continue" button. After that, you will see a new window and the application for the lender you have chosen. After completing the online form, you only need to follow the instructions given by your lender.
When applying for a loan via this website, you should be ready to provide the following information: your full name, home address, email address, bank account details, employment, income, Social Security Number, state or federally issued ID number.
You do not need collateral to use a referral service, however, it's not mentioned whether the lender may ask you to provide collateral.
They do not specify whether you will need to fax any documents, however, I guess you should have a fax machine at hand when you apply for a business loan online.
Loan Repayment
Since We Give Loans is not a lender, they are not able to disclose repayment terms of your loan, however, they mention typical lending periods for each loan type (see the table). Every lender has specific repayment terms and discloses them to the borrower prior to signing a contract. So you should carefully review all the terms and conditions offered to you.
If you are late with your payment or are unable to repay a loan, you will be charged additional fees by your lender. We Give Loans has no knowledge on the amount of the fees that you may incur. All the details on this issue will be provided to you by your lender.
Your lenders' collection practices will be also specified in the contract. If you have any concerns, you should discuss this issue with your lender. In any way, the lender will act within the applicable law since We Give Loans only cooperates with experience and trusted companies who operate legally.
Loan Extension
We Give Loans does not possess the information about extension practices and early loan repayment. You should discuss these details with your lender.
WeGiveLoans.com Bad Credit
You can be approved for a loan even if you have bad credit or even no credit. There is even a special option knows as "personal loans for bad credit".
We Give Loans does not make credit decisions and does not check the credit history of applicants. Some lenders from its network may perform a credit check using the major credit reporting bureaus: Experian, Equifax, and Trans Union.
Besides, your credit score may be affected by the report of a particular lender. If you fail to make a payment on the due date, your lender may report it to credit bureaus, which can ruin your credit score. The company encourages clients with bad credit to consult a credit counseling organization.
Technical Characteristics of the Website
Secure Сonnection
WeGiveLoans.com uses Secure Sockets Layer technology on all of its pages which means that any personal information that you submit to this website will be encrypted for your safety and will never be given to other companies. The referral service claims to use a 256-bit encryption for its clients' protection. However, I turned out that they only used a 128-bit encryption verified by GoDaddy.com, Inc: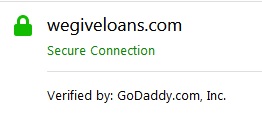 It would prefer to use websites with a 256-bit encryption, especially those with an Extended Verification Certificate. The owner of this site provided the minimum encryption for its clients.
Mobile Version
WeGiveLoans.com has a mobile version, which has undeniable advantages for users:

the possibility of viewing content that is interesting only for mobile users;
menu, design, and navigation can be immediately adjusted so that they are convenient for smartphone owners;
traffic, as well as tablet resources, are spent more economically.
Due to the fact that the mobile version has a simplified functional, the site pages are loaded faster. If you do not have enough information that is presented on the mobile version, and you want to learn more, you can disable the version and go to a regular domain.
Antivirus
WeGiveLoans.com is scanned on a regular basis and protected by McAfee antivirus:
This is a big advantage because using McAfee SECURE means that this is a certified website which is tested to be free of phishing attacks, malware, viruses, and other dangers that can harm you and your PC.
Convenience of Using We Give Loans
At WeGiveLoans.com, you can start filling out an application without registration, which will save much time. Besides, you can apply for a loan as many times as you want free of charge.
Applying for a loan online is the most convenient way to get the funds. You may have all the necessary documents at hand and complete the request form at home without wasting any time. You can also apply from your mobile device from any place which has access to the Internet. The website is accessible 24 hours 7 days a week. You only need to choose a loan type, fill out a simple request form and if approved, get the desired funds transferred into your banking account.
You can also visit an in-store office and apply in person or apply over the phone. However, We Give Loans encourages clients to do it online.
The application process seems simple and convenient. You can use a simple loan calculator to quickly determine the rates and terms that would best suit your financial needs.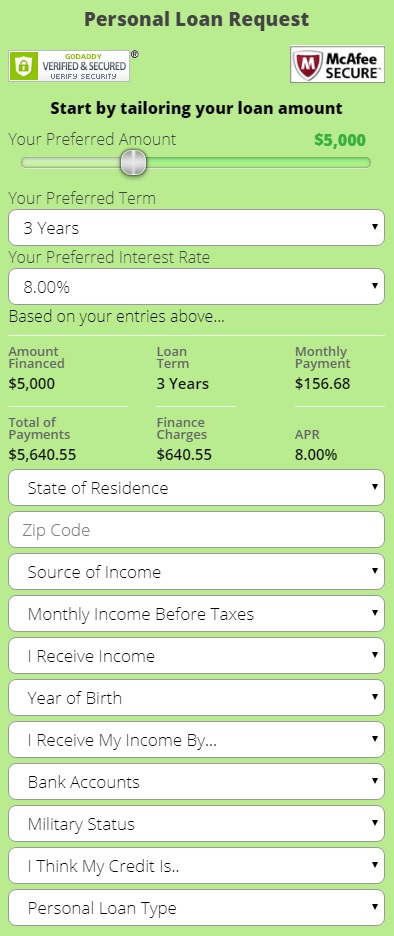 I appreciate that the referral service requires very little information when a user is applying for a loan online. You will only need to enter your name, phone number, social security number, home address, email address, and banking information for money transfer.
Although We Give Loans cannot fully disclose rates and terms of each particular loan, their website is quite informative: it has general information about personal and business loans. Besides, users can find the answers to the most frequent questions in the FAQ page.
Is WeGiveLoans.com Legit?
Scam Adviser – a popular website checker – gave the maximum trust rating to We Give Loans website – 100% out of 100%, which means this site is safe to use.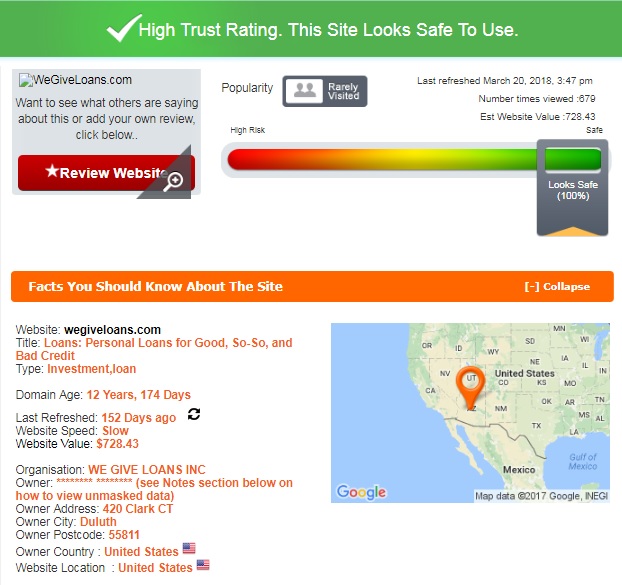 The background of the company seems impressive: they have been operating for over 12 years. The website is owned by We Give Loans Inc. and located in the USA. However, it turned out that this site has a few visitors, however, this fact did not prevent ScamAdviser from giving the maximum rating to this company. It's nice to know that this referral service works legally.
WeGiveLoans.com Reviews
On-site Reviews
Customers reviews are the opinions of people who already used the services or products of a particular company. According to statistics, more than 70% of consumers prefer to use website, about which they can receive any additional information. Reviews and recommendations of other users are certainly the most optimal social proof of the quality of the service or product. Customers trust those websites who provide a special page for feedback: if you can leave reviews, including negative ones, then the seller is open and has nothing to hide. Thus, the company inspires more confidence. Regretfully, there are no WeGiveLoans.com reviews on the native website of this company.
That is why I decided to search for any comments on third-party websites (see the next unit).
We Give Loans Reviews on Third-Party Websites
Since this referral service has been active for over 12 years, I expected to find many customer reviews on the web. However, their number proved o be very limited: I found 1 positive review and 1 complaint. Besides, I found out that this business is not BBB accredited.
A positive review was posted by George P. in 2016. He said We Give Loans took care of him quickly. Their application was simple and he got the necessary funds very quickly. He added that the customer service team was helpful.

A negative report was posted on Ripoff Report in 2007 by Kathy Milwaukee from Wisconsin under the following header:

Kathy asks other consumers to be careful. She reported that WeGiveLoans.com and SecureMoneyStore.com seem to be same or affiliates. According to her, they scam money from clients who wish to find lenders. They are said to collect bank account information from applicants. She also added that their phone numbers listed on the website are fake, so there's no way to contact these companies. This complaint sounds alarming, so you should consider this information before making a loan request.
Customer Support
Contact Information
We Give Loans provided a detailed contact information. They are located at 420 Clark Ct Duluth MN 55811. Their phone number is 1-800-418-7950. There is even a picture of their location.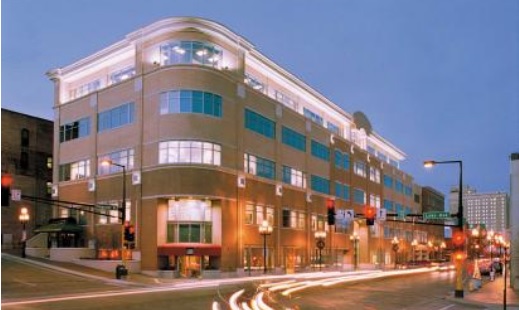 Their operating hours are also specified on the website. It's nice to know that this company is transparent. Typically, referral services do not provide any contact information.
WeGiveLoans.com Locations
You can only use the services of We Give Loans if you live in one of the following states: Alabama, Alaska, Arizona, California, Colorado, Delaware, District of Columbia, Florida, Georgia, Hawaii, Idaho, Illinois, Indiana, Iowa, Kansas, Kentucky, Louisiana, Maryland, Michigan, Minnesota, Mississippi, Missouri, Montana, Nebraska, Nevada, New Jersey, New Mexico, New York, North Carolina, North Dakota, Ohio, Oklahoma, Oregon, Pennsylvania, South Carolina, Tennessee, Texas, Utah, Virginia, Washington, Wisconsin, Wyoming.
Getting a Consultation
You can contact We Give Loans customer support by calling at 1-800-418-7950 or you can visit their location personally. Managers can answer general questions about the matching service by phone Monday through Friday, from 8 a.m. to 5 p.m.
You can also send an email to the company by filling out a contact form on the "Contact us" page. If you already have a loan, you need to contact the lender directly.
I decided to reach a manager by sending an email. I wanted to find out whether the lenders from the network typically provide loan extensions. I waited for 5 hours but did not receive a reply.
I would recommend the website's owner to improve its customer support. A Live Chat would be the best way of contacting the customer care department. So far, its quality is unsatisfactory.
Conclusion
WeGiveLoans.com is a useful website which is able to analyze your financial needs and connect you with a suitable lender. Applying online is simple and convenient and you have several options to choose from. Without this online service, you could search and fill out applications for days while trying to find the suitable lender. With the help of this site, you can be approved in a few minutes and get the funds the next business days. The advantage of this service is that it works with bad credit. Besides, the company has a good reputation with ScamAdviser, which means it's operating within the law. In general, We Give Loans seems to be a good service, however, I was really concerned with a complaint posted in 2007 reporting that We Give Loans was stealing money from its clients. Consider this information before using the services of this company.