Risecredit.com Self-Introduction

Risecredit.com is a company offering its customers affordable low-cost loans, as it is claimed on the website. The company offers its services in the USA territory, but not in all states. The rise is a licensed money lender, however in Ohio and Texas according to the law Rise is working as credit services organization/credit access business and is not a lender – all loans are issued by third-party facilities. However in each state where services of the company are performed, Rise has necessary licenses and copies of them are presented on the website, so you can always make sure that the company is legal and safe to trust («Rates&Terms» section).
The company claims to provide the most favorable conditions to their clients when other lenders refuse to help. Besides Risecredit.com helps to improve your credit score. The company, however, provided little information about itself and its activities on the website, focusing on details more interesting for customers.
On the website, there are lots of pages with necessary information for the clients helping to decide to take a loan. All details the customers must know before applying for a loan are provided on the website. As a whole, the company did it best to help their customer get a clear idea what cooperation with the company will bring.
Types of loans
 Min amount
Max amount
Interest rate
Terms
Documents required
Bad credit
installment loans;
credit line
$500
$5000
39% – 299%
4 – 26 months
none
?
Types of Loans
Risecredit.com offers installment loans and credit lines. These two options are basically the same, except for the fact that credit line can be issued for an unlimited period of time and you do not need to re-apply. However, the main specialization of the company is installment loans – small short-term loans repaid in several payments up to 26 months. Rates and terms may differ depending on the state.
The application is reviewed in several seconds and decision is available almost immediately. In case you get a denial, the company provides a reason for such decision. The money is transferred to your bank account on the next business day, however, some delays are possible. If the customer prefers to get a paper check, the company always satisfies such requests, but in that case delivery of the check will take up to 10 days via USPS. These terms are the same for credit line options. More details on this issue are provided in the «FAQ» section on the website.
Also, the company offers absolutely free service – Credit Score Plus. It allows to control all your money transfers and see how your credit score improves or decreases if you don't pay on time. Also, this service offers credit alert notifications available on your account. More information about this service is also available in the «FAQ» section.
Terms of Use
Rise offers installment loans for $500 – $5000 for up to 26 months (4 months minimal). These conditions apply not to all states and vary depending on the law, so it is necessary to check what terms the company can offer to the individual state. Credit line has the same conditions, but as it was said above, there are no limits in terms of the credit.
The interest rate in Risecredit.com varies from 26% to 299% and also depends on the state. Also, all customers have the opportunity to reduce the APR for themselves. The company adheres to the following policy – the mare timely payments are made the lower APR can be. 24 successful, on-time monthly payments (48 bi-weekly payments) allow to reduce APR for the next loan to 50% off original loan's APR; 36 successful, on-time monthly payments (72 bi-weekly payments) allow 36% APR for the next loan. Customers need to remember that it may take more than 1 loan to get 36% APR. All these conditions are explained in details on the «FAQ» page of the website.
To qualify for the loan any customer has to meet the following requirements:
be at least 18 years old (19 in AL);
live in a state the company services;
have a job or regular source of income;
have an active and valid checking account (savings and prepaid accounts not accepted);
have an e-mail address to receive account information.
If the customer satisfies all these requirements and got acquainted with all terms & conditions than it is possible to apply for a loan on the website.
As it can be concluded from the information above, there is no strict requirement to have a job to get a loan. Even unemployed clients but able to prove their income can get approval in Risecredit.com. This attracts more people to the company, since very few such institutions issue loans to unemployed customers.
Application
On the website, there is no clear information on whether you will need any documents for applying for a loan. According to the procedure of application, no special documents or additional information are needed. However, the company warns that in some cases there may be needed proof of income to approve the application. Also, no guarantors or references are required for the application. The main information required for the application is personal and contact details, information about employment and bank account details.
As it was said in the previous point, the application is reviewed during several seconds, so the decision is made instantly. You get approval, the money will be issued on the next business day, but in some cases, this procedure may take longer.
Re-payment
Usually, most customers prefer money to be deposited into their account electronically and the same way the money is withdrawn on the due date. However, there are other options to make payments, which are not listed on the website and has to be discussed with the support group individually. The date of withdrawal is set according to information in the application when approved and cannot be changed by the customer.
The customer can pay off his debt at any time earlier. The company doesn't charge any additional fees for early payment and encourages customers to repay loans early and save money on interest.
For late payment, the company applies additional fees if state law requires, despite the fact that there is an option of payment delay – the additional 7-day period after the due date to make payment if you can't pay on the due date. To get more details on how much the company charges for late payments in a particular state, it is necessary to contact the support group. Anyway, for getting an extension for payment, it is necessary to contact the company several days before the due date, to inform about present difficulties with re-payment.
Extension
For those customers that do not have the opportunity to pay back on the due date, Risecredit.com provides a special extension option, but only for 7 days as it was said before. If you still do not have the opportunity to pay after this period it is a reason to think about refinancing your loan.
This option is available not to every customer, but only to those that are considered reliable after several payments on time. The company informs customers that they have such option in their personal accounts. After you were approved for refinancing, you can easily use this option. This means that your previous loan will be paid off and the remaining amount will be transferred to your account. Terms of this loan may differ from the previous one since it is considered to be a new loan. More information is available in the «FAQ» section.
The company doesn't issue several loans at a time, so if you want to get another loan, you will have to first pay back the existing one. If you want to take another loan right after you repaid the previous one, you will have to wait up to 10 days (depending on payment method). You will see if you are eligible for a new loan inyouru personal account. The new procedure will be faster than the first one, since all you data are saved on the server.
Risecredit.com Bad Credit
Unfortunately, there is no information on the website about company's policy to customers with bad credit history. Risecredit.com claims that they provide loans to customers that are rejected by most other financial organizations. And the company offers a special option that helps to follow your credit score and thus improve it. So it can be assumed that the company doesn't decline applications basing only on your credit history.
Anyway, most important for you is to prove your solvency to the lender, because in many cases for lenders reliability of the customer at the moment is much more important than in the past.
Technical Data of Risecredit.com
Secure Connection
To protect their customers all trusted and reliable companies provide personal data safety. They use data encryption to ensure safe data transfer to the server. If you want to make sure that this or that website is safe to use and provide personal details, check the address bar – if there is a green lock and «https://» instead of «http://» before the address, then the website is safe and your personal information will be protected.
Also, it will be useful to check details of the certificate of safety. Here we can see that Rise uses 256-bit data encryption – a very decent level of protection. But information about the owner of the certificate is hidden, so its reliability is questionable. But nonetheless, the company takes responsibility for the safety of customers' data and takes measures to provide the best service online.


Mobile Version
Rise worked out quite an attractive mobile version. It is convenient and easy to use. The test is readable, all links are clickable and in general, the services are the same. So people can use the website not only from hme, but from any place if they have access to the Internet. However, there are some small flaws of this version. The pictures are very small, and zooming is not available, so there is no opportunity to enlarge any image or text.
Test by Google.com proves our opinion about the website. The report says that the website is mobile-friendly, which cannot by pleasing us. There are some pages that couldn't be loaded, but they are not numerous and the company can easily fix these drawbacks. In general, the mobile version is user-friendly and its interface is attractive.
Protection from Viruses
Unfortunately, there is no antivirus protection on the website. This means that customers have to be cautious when using services here since they can «catch» some malware on their devices, especially if they do not have their own antivirus protection.
We would advise installing antivirus on your device to be on the safe side or use another more secure service. Otherwise, consequences can be very sad – from breakage of the device till data and money theft. Also, it would be a very great improvement if the company itself eliminated this disadvantage and increased safety level on the website.
Convenience of Application
The application process is quite simple at Risecredit.com but still, it is a bit complicated. The whole process consists of 5 steps. Each step concerns particular information necessary for the company to issue a loan. No documents or references are needed for the application. Link to application form can found at all pages of the website, so there will be no troubles with finding the page.
On the website, it is said that amount of money can be chosen already after the application is filed. So first you provide your data to the company, and if approve choose a necessary amount from maximum approved by the company. This is not quite convenient for some customers. Besides as it can be understood from the information on the website, schedule of payments is also set by the lender, and the borrower has no opportunity to change it.
In general, all information required is basic for all such application. The company asks to provide details about you, your job, income and bank account. Remember, that all this information is safely transferred to the server so do not be afraid of data theft.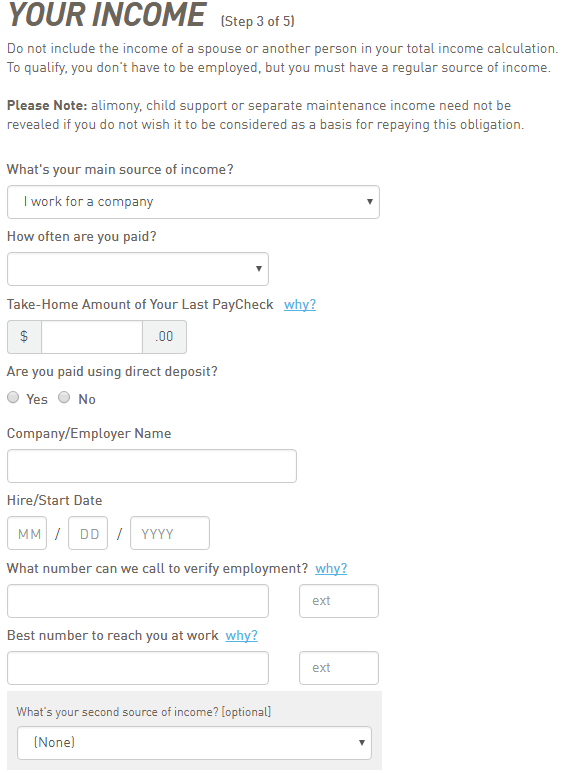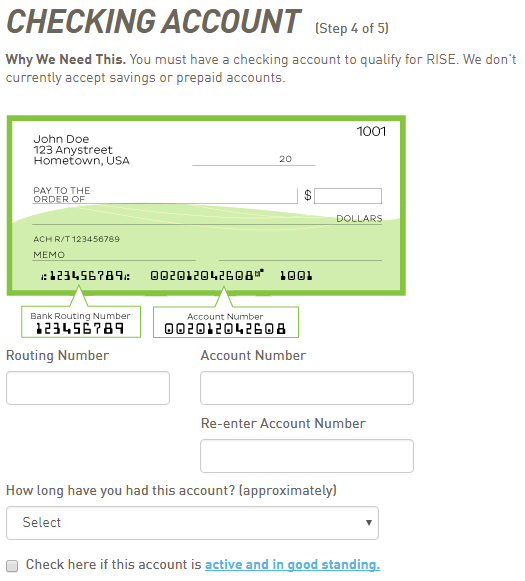 The whole process takes about 20 – 30 minutes to finish. After the application is sent to the company, they will review it and send their decision to your e-mail. The decision is made during several seconds, so you will know the answer instantly.
If you were approved for a loan but changed your mind, do not worry – the company provides a 5-day guarantee. Within 5 business days, you can reject the offer by calling the support group. No fees will be charged.
The money is issued within several days, depending on the way you prefer to get it. In Case of a paper check, for example, you will have to wait for 7 – 10 days. So discuss this issue with the lender to find the optimal option for you.
In general, the procedure is not difficult and doesn't require much effort and time to complete it. However, there are too many details that are necessary to provide to the company. Besides the fact that you can't choose necessary amount and schedule by yourself is unsatisfactory for many customers.
Is Risecredit.com Legit?
ScamAdviser.com rates Rise as a low-trust company. There are too many suspicious aspects that do not allow giving this company high rating. So according to the report, Risecredit.com has only 10% rating – this is a very low indicator. However, this is not quite clear why the company got such low rating. It has lots of visitors, and Alexa.com rates this website as popular due to a large number of visitors. Besides the domain age is more than 5 years, which cannot but impress – if the company exists for such a long period of time, it cannot be a scam. But it also should be mentioned that the owner of the website hides his identity, with is very suspicious – usually, fraudulent companies do that, but sometimes companies hide their identity to avoid spam. So it doesn't necessarily mean that the company is a scam.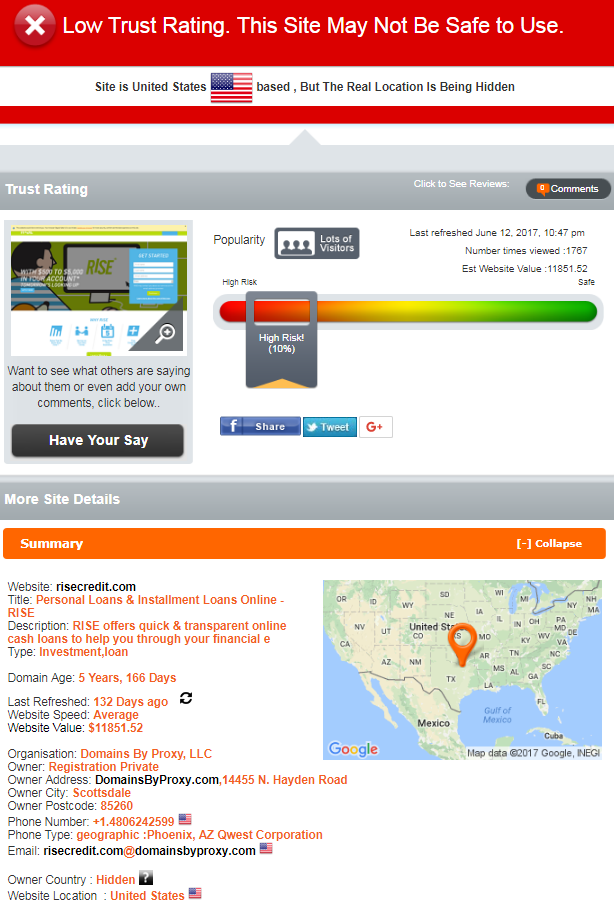 So the situation is very controversial, but since ScamAdviser is a reliable service, we have no other choice but to trust its opinion about Risecredit.com. Do some own research before dealing with this company to avoid problems in future.
Risecredit.com Reviews
Reviews on the Website
On the website, you can see some video reviews from customers of the company on the front page. All of them are positive and showing the service in a good light. But there is no guarantee that these comments are not fake and these people are real customers and just some actors hired to play a role.
Also on some other pages, there are comments of the customers about the website. All of them are extremely positive, but none of them can be confirmed by some proof. They are not signed, not dated. So anyone could just write them and publish on the website.

There is no special page with customers reviews and no special form to leave feedback. So it is not clear how all these comments get on the website in the first place. Video reviews are a great plus for the company, but there must be a separate page with usual comments of other people, where customers can leave their opinion and other people can read them. For now, it is hard to believe that these comments are real.
Comments on Other Resources
On the Internet, if you look there are quite a lot comments about this company. But most of them are negative. However positive comments are also found quite often.
PissedConsumer.com has both negative and positive comments, but most of the reviews are negative. All in all, this website is created to gather complaints of customers about the business. Almost all complaints are answered officially by the company. In most cases, customers complain of high-interest rates and poor customer service. However, the company claims to improve the situation and is ready to review each complaint individually.
But some customers are just happy to deal with the company, since it helped them in a difficult situation.
Best Business Bureau is another very reliable service where we found Rise profile and comments of customers about the company. As we can see, there is an almost equal quantity of positive and negative comments.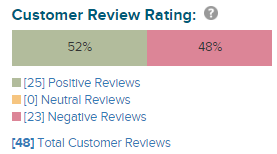 All comments of customers were replied by the company itself as well as on the previous website. The complaints are generally the same on both websites so we can only hope that Risecredit.com will really improve its performance and there will be less dissatisfied clients.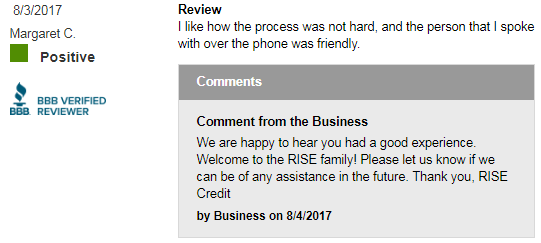 In general, the situation is fine with Rising. There are praises and complaints about reliable resources which shows that the company is real and is working as any other regular business. Problems with customers are solved by the company, but still, they are many issues to work on.
Customers Support on Risecredit.com
Contact Details
On the website, it is very easy to find contact information if you need it. In the head menu, there is a special button by clicking which you can get to the page with contact details. On this page, you can find all necessary information to contact the support group if you need a consultation about something.
Here you can see phone numbers of the customer service and hours of its operation. Also as it is said, the company has automated phone system, via which you can get information about your account at any time by yourself.
Also, you can see their mailing address, for those cases when you, for example, need to send a check to the company. All complaints and other papers are sent to the address indicated below or by fax. Also here you can easily leave an e-mail to the company via the special form on the same page.
On application page, there is also a notification with contact details of the support group if you have any troubles or questions while applying. This very convenient, as you do not need to look for contacts during the process – everything is on the same page.
In general, the page is conveniently organized. All necessary details are provided, and the interface of the page is quite acceptable.
Locations
Risecredit.com provides its services, not in every state of the USA. On the website, there is a special page, where you can choose your state and see if the company services there. Also, you can find out what interest rates are offered and the minimum amount allowed in the state. Everything is quite easy and simple.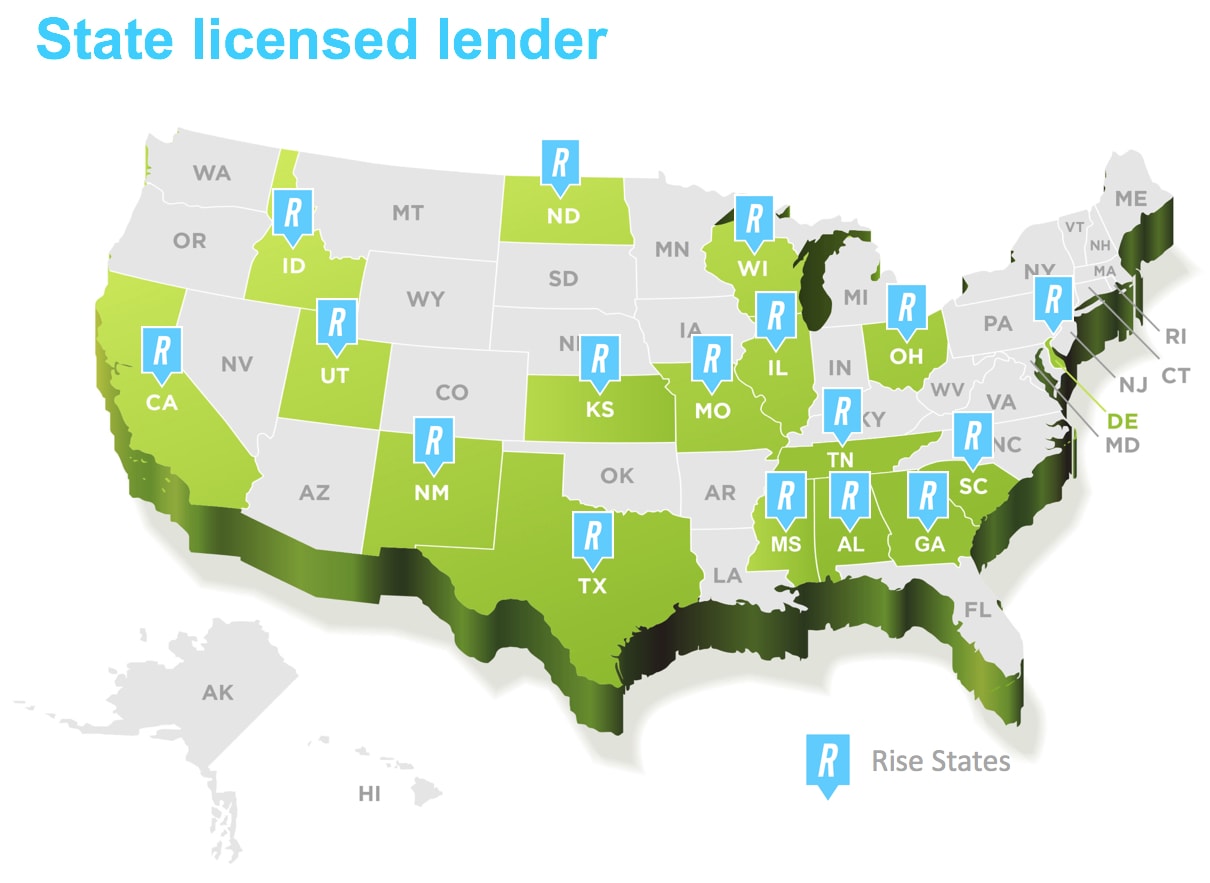 So according to the map, we can see that Rise offers its services in 17 states. Only in Kansas and Tennessee, the company offers credit lines instead of installment loans. In Texas and Ohio Risecredit.com is not a lender by law, but a broker. In other states, terms differ in the maximum amount of loan and maximum period for which the loan is issued. The table below can give you the full information about interests and services in all states.
| | | | |
| --- | --- | --- | --- |
| State | Interest | Amount | Terms |
| Alabama | 36% – 295% | $2,250 – $5,000 | 10 – 26 months |
| Alaska |  – |  – |  – |
| Arkansas | – |  – |  – |
| California | 36% – 225% | $2,600 – $5,000 | 11 – 26 months |
| Colorado | – | – | – |
| Connecticut | – |  – |  – |
| Delaware | 36% – 299% | $300 – $5,000 | 4 – 26 months |
| Florida |  – |  – |  – |
| Georgia | 36% – 60% | $3,100 – $5,000 | 11 – 25 months |
| Hawaii |  – |  – |  – |
| Idaho | 36% – 299% | $300 – $5,000 | 4 – 26 months |
| Illinois | 36% – 99% | $2,000 – $4,000 | 15 – 25 months |
| Indiana | – | – | – |
| Iowa | – | – |  – |
| Kansas | 36% – 299% | $500 – $5,000 | – |
| Kentucky | – | – |  – |
| Louisiana | – | – |  – |
| Maine | – | – |  – |
| Maryland | – | – |  – |
| Massachusetts | – | – |  – |
| Michigan | – | – | – |
| Minnesota | – |  – |  – |
| Mississippi | 36% – 290% | $600 – $2,500 | 6 – 12 months |
| Missouri | 36% – 299% | $300 – $5,000 | 5 – 26 months |
| Montana | – | – |  – |
| Nebraska | – | – |  – |
| Nevada | – | – | – |
| New Hampshire | – | – |  – |
| New Jersey | – | – |  – |
| New Mexico | 36% – 299% | $300 – $5,000 | 5 – 26 months |
| New York | – | – |  – |
| North Carolina | – | – | – |
| North Dakota | 36% – 299% | $1,250 – $5,000 | 8 – 26 months |
| Ohio | 36% – 299% | $300 – $5,000 | 4 – 19 months |
| Oklahoma | – | – | – |
| Oregon | – | – | – |
| Pennsylvania | – | – |  – |
| Rhode Island | – | – | – |
| South Carolina | 36% – 299% | $700 – $5,000 | 5 – 26 months |
| South Dakota | – | – | – |
| Tennessee | 36% – 275% | $500 – $4000 | – |
| Texas | 36% – 299% | $300 – $2,000 | 4 – 5 months |
| Utah | 36% – 299% | $300 – $5,000 | 4 – 26 months |
| Vermont | – | – | – |
| Virginia | – | – | – |
| Washington | – | – | – |
| West Virginia | – | – | – |
| Wisconsin |  36% – 299% |  $300 – $5,000 |  7 – 26 months |
| Wyoming |  – |  – | – |
As you can see, conditions for each state are different, so you need carefully study everything before applying for a loan. All conditions can be found on the website in the tab «What It Costs»
Support Group Service
Unfortunately, there is no live chat, so we can have a live conversation with the support group. The only option for us is contact form on the page with contact details.
The company provided quite comprehensive information about its services, so we decided to ask if they ever need any documents for customers for an application. We provided necessary details and sent the message.
After the message is sent, we got a notification that the request was received and reviewed.
Several hours later we got an answer from the support group, which turned out to be completely useless. The support group claimed not understanding what we were asking them, but it seems quite clear what we meant in the message. Besides they demand some personal information from us for unknown reasons. If the customer just wants an answer to the question, why does he have to provide his personal details and account information?
So the work of the support group is unsatisfactory in general. The speed of answering is quite low, and managers can't answer a simple question, asking to specify already clear request and asking to provide personal details not explaining the purpose.
Conclusion
Summarizing everything written above it can be said that Risecredit.com is a reliable company lending money on high interest. But there are some points that are confusing for us and other customers.
Reliability of the website is questionable since ScamAdviser.com gives us very poor results of the test. But at the same time, ScamAdviser is not the most trusted service, so it can be wrong, considering the fact that it is unclear how it gives a rating to websites, and what standards it has.
Security level is high on this website, so customers can safely use the service. But customers support is poor. Even reviews about the company on the Internet constantly repeat that the support group is ineffective and useless. The company should improve the service because mainly everything works fine and satisfactory, but these small flaws are deteriorating general impression about the company.