What is Private Loan Shop?

Private Loan Shop is an online loan matching company which strives to help thousands of people get the cash they need quickly and effortless, regardless of their credit history. The company advertises a secure and hassle-free online application. Their network of lenders does its best for customers to get the most beneficial loan option. They claim their key is transparency. The online company has no official government affiliation but complies with both laws in Canada and the United States.
| | | | | | | |
| --- | --- | --- | --- | --- | --- | --- |
| Loan types | Min.amount | Max.amount | Period | APR | Documents | Bad credit |
| Payday loans | $100 | $3,000 | Varies | 200% – 600% | Driver's license number, social security number | Yes |
Types of Loans
PrivateLoanShop offers payday loans allowing people to cope with short-term financial emergencies.
A payday loan is a small loan which is typically paid off within a month. The purpose of a such a loan is to provide consumers with cash before their regularly scheduled pay date comes.
According to the website, funds are delivered within 1 hour but sometimes it can take as up to 24 hours depending on the application. Lenders transfer money using direct deposit or Interac Email Money Transfer.
Terms of Use
Consumers can borrow from $100 up to $3,000 depending on their weekly or bi-weekly payday. There is no guarantee that you will be eligible for the maximum loan amount.
Representative APRs range from 200% and 600%. It's based upon several factors, including the loan amount and term. Only a direct lender can provide you with your loan terms – this is done before you sign a loan contract. The owner of PrivateLoanShop.com is not a lender or loan broker and they do not take part in determining loan terms. This website is only a link between people and lenders.
To apply for a loan, you should be at least 18 years of age, be employed and have a stable income, have a valid bank account, and reside in the United States or Canada. Bear in mind that government payments are not accepted as income.
The company also mentions that the maximum rate is $18 per every $100 borrowed, for example, if you take a $500 loan for a month, you will have to pay $90 in interest.
Application
A loan application form seems short and simple. You need to simply fill in the empty fields and wait for the decision.

You will have to enter basic personal information and income details. You need to provide an accurate information because these detail will be crucial in determining your loan rates and fees.
Be ready to specify your citizenship, address, phone number, income frequency and amount, date of birth, e-mail address, SSN, and so on.
Lenders from the network typically do not require collateral or faxing.
Repayment
Payday loans are typically repaid within a period of 7-30 days in one lump payment. The due date is determined individually for each client so your due date with coincide with the day you receive your wages.
The funds will be automatically taken from your checking account you specified during application. This way you will not be late with your payment. You only need to ensure you have enough money on your account.
If you do not make a payment on your loan due date, your loan will be treated as "delinquent" and you will be charged additional charges. Besides, your bank will charge you a non-sufficient funds fee for the returned payment. The interest will continue to grow and this may make your loan very expensive. If you fail to repay your loan you will not be able to apply for a new loan until you have cleared your current debt. The lender may also start collection procedures using legal collection agencies that comply with all standards and laws. This may negatively impact your credit score.
Extension
Private Loan Shop did not mention anywhere on the website whether borrowers can get a loan extension or renewal in the case they have unexpected difficulty repaying a loan. You'd better specify your lender's extension policies before signing a contract.
PrivateLoanShop.com Bad Credit
Unlike banks, payday lenders do not pay attention to your credit history and rating. Loan approval is based on a borrower's ability to pay off the debt rather than on his financial history. That means you can be approved for a loan with poor or no credit provided that you have a steady source of income.
Technical Characteristics of the Website
Сonnection
Private Loan Shop claims to respect users' privacy and protects their personal details with a Secure Socket Layer (128-bit), verified by COMODO CA Ltd.:
Such an encryption is considered average. Although it can provide applicants with online security, I'd recommended the site's manager to upgrade the security level by using a 256-bit encryption.
Mobile Version
PrivateLoanShop.com is easily used on a mobile phone or a tablet. The site has a mobile version, which is confirmed by Google:
So if you prefer applying for a loan via mobile devices, you can use their mobile version, which helps you avoid horizontal scrolling. The functionality seems to work correctly and navigation is optimized to a touchscreen. The mobile website is loaded much faster and saves your mobile traffic. According to the Google report, the site is correctly displayed on any type of mobile devices.
Antivirus
Regretfully, I dd not find an antivirus emblem on the website, which means users are not protected from viruses and other online dangerous programs. It would be a pity if you find your personal details stolen by unauthorized third parties. I would advise that the site's managers utilize a reliable antivirus program for the users' safety.
Convenience of Using the Website
According to the website, an online loan is easy to obtain. Users only need to complete a simple 3-minute online loan request and click "Submit". The decision will be automatically made and you may receive your money the same day. You will need to provide your bank account details, employment and personal information. It's convenient that you can find a suitable online lender without needing to complete multiple requests on different websites – Private Loan Shop will connect you to the most suitable loan provider for your needs.
The website seems user-friendly and has an FAQ section with answers to the most common questions about payday loans. However, I do not like that applicants cannot be given the exact rates and terms until the application is completed.
I decided to check the convenience of an application process and was disappointed: when I clicked on the "Apply for a loan" button, the screen showed an error message reporting that the page was currently unavailable. This could mean that PrivateLoanShop.com is no longer active or has some temporary technical problems which prevent users from applying for a loan.
Is PrivateLoanShop.com Legit?
ScamAdviser seems to be satisfied with the legitimacy of this online company – Private Loan Shop was given an 87% trust-rating, which means it is legit and safe to use.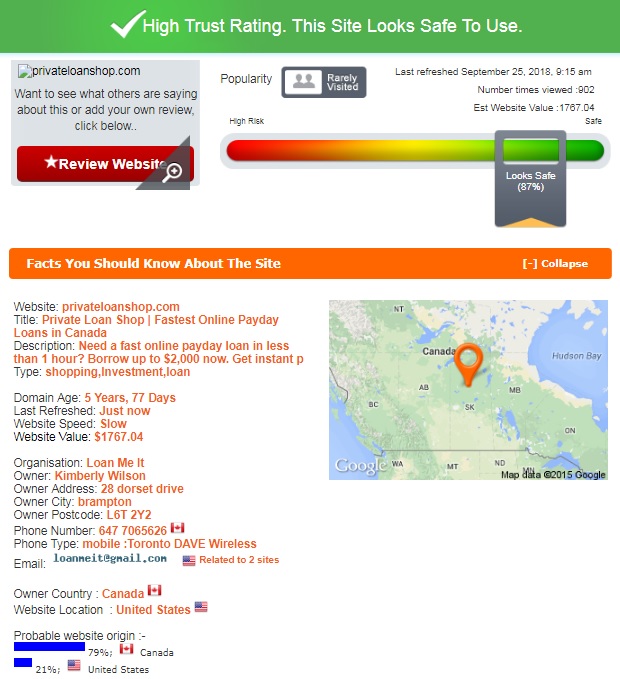 Although this website is based in the United States, it's owned by a Canadian company, which does not seem an alarming sign: this website helps borrowers from both countries. According to the report, the site has been operating for over 5 years but is rarely visited. However, I did not find any suspicious aspects about this matching tool. It seems to be operating illegally.
PrivateLoanShop.com Reviews
On-site Reviews
There are three Private Loan Shop on its native website. The site does not have a testimonial page – instead, these reviews are located on the main page. A client from Toronto reported that this company helped him to get a payday loan even when his credit score was bad, and the whole process was fast and painless, he would recommend this service to other people. A user from Mississauga said that used this site because it's active 24 hours a day. A third borrower claimed that he needed a loan without a credit check to buy books and this online company helped him immediately:
Although these comments are positive, I cannot trust them because they are not dated, look like an advertisement and their number is too small. Besides, they were surely filtered by the company. I needed to find more reliable proof of the website's legitimacy and good performance.
Reviews on Third-Party Websites
I found only a few customer reviews posted on third-party websites. James C said the service worked super fast, had low rates and easy application. Mark stated that he was able to receive $5000 within 24 hours and the process was very easy, with no issues:

Although I found no Private Loan Shop complaints on the web, I cannot be sure that this website is legit and effective because 2 reviews are just not enough. If you ever come across any comments about this company, please let us know!
Customer Support
Contact Information
Private Loan Shop is located at County Ct Blvd Brampton, ON L6W 3X7, Canada. They even have a map on their website:
They also provided an email address: support@privateloanshop.com. Regretfully, phone numbers are not specified.
PrivateLoanShop.com Locations
The loan-matching service cooperates with lenders providing payday loans in Canada and the United States. The list of states is not specified but I know that payday loans are not allowed in all 50 states, so you'd better specify this information before applying.
Getting a Consultation
According to the website, Private Loan Shop customer support team is reliable and available 24 hours a day 7 days a week, so it will never be difficult to get help in emergency situations. You can contact them by sending an email at support@privateloanshop.com or filling out a contact form. There are no other ways to reach the company.
I tried to contact a company's representative to find out whether lenders from its network are able to offer an extension. Nobody replied within 24 hours. I conclude that their customer support is not as effective as they claim.
Conclusion
Private Loan Shop is an online service which is able to connect you with the most suitable lender and get funds within 24 hours. Lenders from its network have standard eligibility criteria and approve applicants with a bad credit. However, since this company is not a direct lender but only an intermediatory, you should remember that your application will be completed on another website. Clients typically prefer to be informed about their interest rates before applying and this website is not the case – you cannot learn your exact rates and terms before completing an application. Another aspect that may confuse users is that this company has a few reviews on the net, which means it's not popular. My greatest disappointment is the fact that users are currently not able to apply for a loan through this website because it has some technical problems (an error report). So I recommend you not wasting your time on this online matching tool and search for a website that is operating correctly.