Paydaynowloans.com Introducing Itself

Paydaynowloans.com is a website for in-store short-term money lender. This company offers small loans for a short-period of time till your next payday. The company runs its activity since 1994 in Denver, Colorado. On the website you can download application and then fax it to the company – after this you can get your money in one of their offices. There are 2 offices according to information on the website, addresses of which can be found on the main page of the website on the map.
The company is a member of Colorado Financial Service Centers Association – the community that provides people with information about all trusted financial services in Colorado.
Type of loan
Min amount
Max amount
Interest rate
Terms
Documents required
Bad credit history
payday loan
$200
$400
45%
up to 6 month
most recent paystub;
30 day activity printout from checking account;
photo ID;
voided check from checking account
?
Types of Loans
There is only 1 type of loans offered by this company – payday loan. You can get from $200 – $400. The company approves applications online or by fax, but you will have to go to one of their offices to get your money.
After you fax all necessary documents together with application or submit application online, you will be contacted by the manager and, if approved, you can get you money right away in cash. Unfortunately, there is no other information on the website, and if you want to get details of the procedure, you will have to visit the offices or call the support group.
Terms of Use
The company grants loans for up to 6 month, so you can repay your loan in several payments or in one single payment. Depending on length of using the loan, your fees can be greater or smaller.
To apply for a loan you need to meet some basic requirement:
3 months in a permanent position;
direct deposit from your employer into your checking account for 1 month
$1600/month gross pay;
be at least 21 years old.
As it can be assumed, customers without permanent workplace can't get a loan at Paydaynowloans.com.
To determine how much your loan will cost read information about loan fees below:
interest rate: 45% per annum simple interest;
origination fee: 20% of the amount financed for the first $300 and 7.5% of the amount financed on amounts above $300;
maintenance fee: 7.5% of the amount financed up to a maximum of $30 per month (this fee doesn't start until day 60 of your loan).
As you can see, cost of loan can be very high, so it is better to consider everything twice before engaging in this. Besides requirement are strict and not all people wanting to get money can apply for a loan here.
Application
You will need some documents to get approval for you application at Paydaynowloans.com:
most recent paystub (with no current garnishments);
30 day activity printout from your checking account
(we allow up to 3 NSF or OD fees in the last month);
photo ID;
voided check from your checking account (pre-printed with your address and account information).
There is no information about guarantors, so we can conclude that if there is no such requirement in the list, than you don't need any guarantor to get a loan. After you get all necessary papers, you will have to present them in the office or send them by fax, to get approved application. The procedure is quite simple, and all documents are easy to get, but still this will take you a certain amount of time which in some situations is not acceptable.
There is also no information about how long will it take to review your application. Probably the website doesn't give this information because you need to visit or call to the office and get it from the manager. The website just gives basic information without any specifics.
Re-payment
You can repay your loan in several payments or in one single payment. The loan is granted for up to 6 month, but remember that the longer the period, the more fees will be charged.
The money will be withdrawn from your bank account on the due date. But being a responsible and understanding organization, Paydaynowloans.com doesn't take more than 25% from you monthly gross pay up to $400. So that's why you won't be approved for amount you won't be able to pay.
There is no information about early or partial early payments, so you will have to contact the support group to get all these details before applying for a loan. However, the website clearly states about late fees and other fees applied for non-payment on the due date by customer loan agreement. Specifics about fee amount are also available on the phone as well as possibility to delay payment without charging additional fees.
Extension
Unfortunately, the website doesn't provide any details about loan extension. To get this information, you will have to visit the office or call the support group. The same applies to information about getting several loan at a time, but we can assume that as any other lender, Paydaynowloans.com doesn't give more than 1 loan to one borrower at a time. Anyway, get consultation in the office or by phone, to get clear idea about this issue.
Paydaynowloans.com Bad Credit
As well as with the previous point, we found no information about approving loan to clients with poor credit history. But according to requirements and papers you have to present, the company doesn't check credit history of its clients. The main point is present ability of clients to repay loan. You if can prove your solvency there must be no problems with getting a loan at Paydaynowloans.com. But still, consult the support group on this issue, before applying for a loan. The managers will give you clear information about bad credit loans.
Technical Characteristics of Paydaynowloans.com
Secure Connection
To protect customers most websites use special secure connection with data encryption, to prevent data theft and unauthorized access to sensitive data customers provide about themselves on the website. It is very easy to check if the company is responsible about data protection on the website. All you need is to check the address bar – if you see «https://» instead of usual «http://», you may be sure of you data security.

Unfortunately, as we can see, Paydaynowloans.com doesn't provide any protection to its customers on the website. Even the application page is not protected. This means that it may be dangerous to entrust your data to such company, which doesn't care about customer's safety at all. We recommend to choose another company of to apply for a loan in the office, not online, to make sure that you information won't be stolen or used by some third parties.
Mobile Version
The website has a very good mobile version. It is completely the same as the desktop, but adapted for use via mobile devises. The menu is the same and all the functions are not changed. The interface is very pleasant to look at, all pictures do not require zooming and the text is readable. The fact that the mobile version is the same as desktop allows most customers, who got used to using it via computer, to try applying from the mobile devices without experiencing any troubles. Everything remains the same.
Special test for mobile versions by Google shows us that the mobile version is user-friendly, which proves that we gave proper evaluation to the website. However, there are some page loading issues detected in the report, which need to be fixed for better work of the website and more convenience of clients. But in general the mobile version is very well organized and comfortable to use.
Antivirus Protection
The website doesn't provide any antivirus protection for clients visiting it. This means that you need to be very cautious as you can get some malware on your devise. The best decision is to avoid such websites, but if you still decided to use its services, make sure you have your own antivirus program installed on your device. Lack of such protection may be fraught with breakage of your device or even data theft.
Convenience of Application
On the website you can find special section «Easy Application» with short instruction on how to apply for a loan. From information there you can see that money is issued only in-store, so you can either apply online and wait for decision or send application by fax and wait for a call. But in both ways you will have to visit one of the offices to get you money.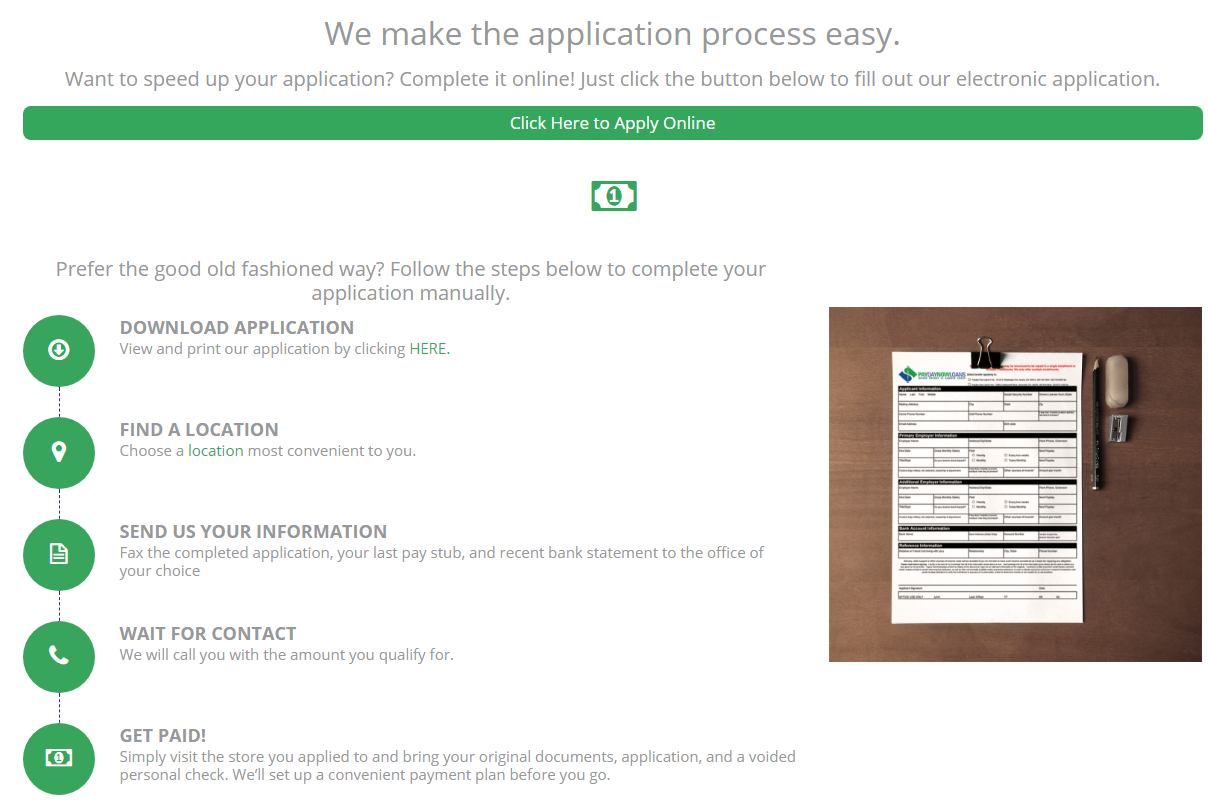 Online application form us the same as the regular paper application and requires the same information. The form is divided into several sections: applicant information, primary employer information, additional employer information, bank account information, reference information.
After filling in all the field you only need to submit application and wait for the call form the company manager. But in any case you will have to provide the papers listed in the requirements, to prove your solvency.
In general the procedure of application is easy, but it is not very convenient, as you need to collect papers and visit the office to get money, from which we can conclude that this process may take several days.
Is Paydaynowloans.com Legit?
ScamAdviser.com considers this website as a trusted one. The trust rating of Paydaynowloans.com is 95%, which is a very high indicator. The number of visitor is unknown, but the website's location is doubtless – the US. However the address in the report is not the same as indicated on the website itself, so this is a drawback for the company. When there are such differences in information, people may think that the organization is not reliable and can be scam. Also there is a note for customers, that the website is associated with some risks.
The domain age is very impressive – more than 11 years, but it was last refreshed more than a year ago. Looks like the administration doesn't regulate its work and doesn't make any improvements in it. However, as it was said, ScamAdviser rates this website as high trust, so we can agree that it is safe to use.
Paydaynowloans.com Reviews
Reviews on the Website
On the website you can find a special page for customers reviews in the head menu. But there only 4 comments there. There is no date so it is unknown when they were left. Besides there is no form for leaving comments, so it is unclear, how these comments appeared here. How did customers manage to leave them? Looks like these messages were put here by the administration of the company.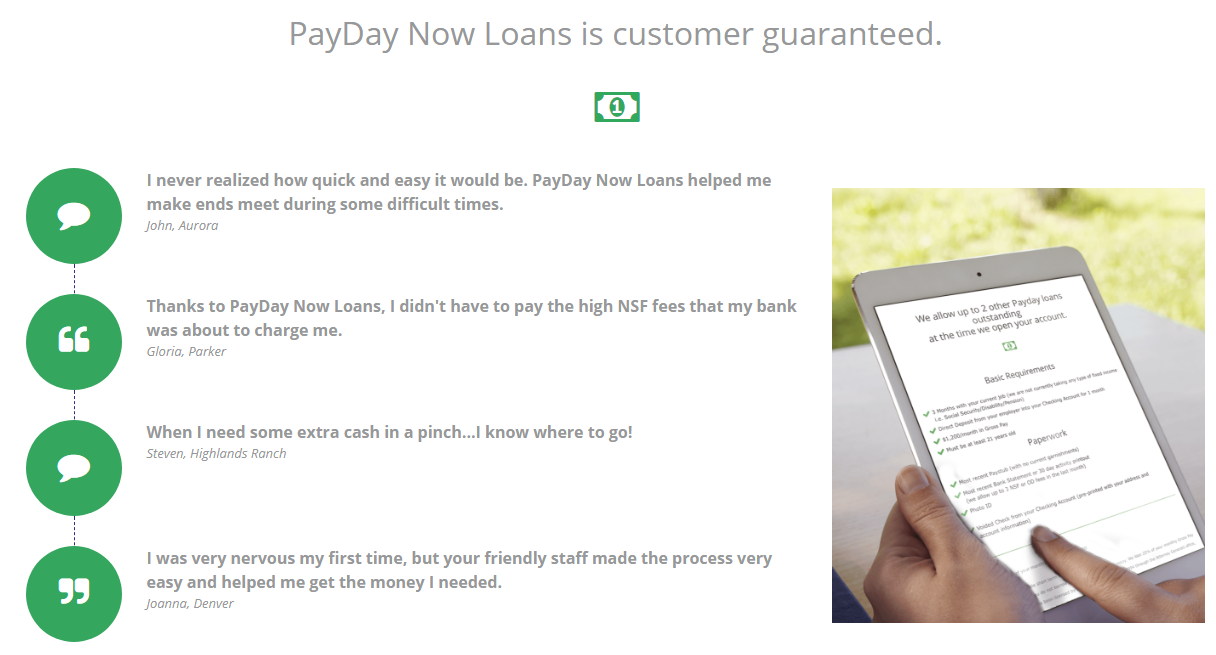 All the comments are positive, which also makes us suspicious about their origin. But the fact of their presence on the website still speaks in favor of the company, however as we know the website wasn't refreshed for more than a year, and during this period everything could have changed, so these comments are irrelevant and can't show the true picture of companies performance.
Comments on Foreign Resources
Unfortunately, we didn't manage to find any other websites with reviews about Paydaynowloans.com. So we cannot see how really the things are with this website today. Those few comments on the website do not inspire trust, so you can't rely on them when making your decision whether to use their services or not. But we found information that this company was included in the list of no accredited websites on the «Better Business Bureau» website, but even there we didn't find any reviews or complaints.
We can advise you to look for testimonials on other resources more carefully, maybe you will succeed. Still absence of comments in the Internet makes us think that the company is not reliable and it have to checked more carefully before entrusting sensitive data to it.
Contact Details on Paydaynowloans.com
«Contact Us»
On the «Contact» page you can see contact form, which allows to send a request to the support group and get answer on you e-mail. Below there is address of the office and phone number, by which you can call to the support group and have a real-time conversation. But there is one strange thing.
On the main page you can see that there are 2 offices on the map in the bottoms of the page, and on this page – there is only 1. So it is unclear how many offices there are and where you can go to get information. Besides as it was said earlier, non of the addresses found on the website coincide with the one in the report by ScamAdviser.com.
Locations
Support Group Service
The only acceptable for us way to contact the support group is to use the contact form. Unfortunately, there is no such option as live chat, which would have been very convenient for most customers. Bust as do not have much choice, we fill in the form and send our request to the support group. All we have left to do is wait.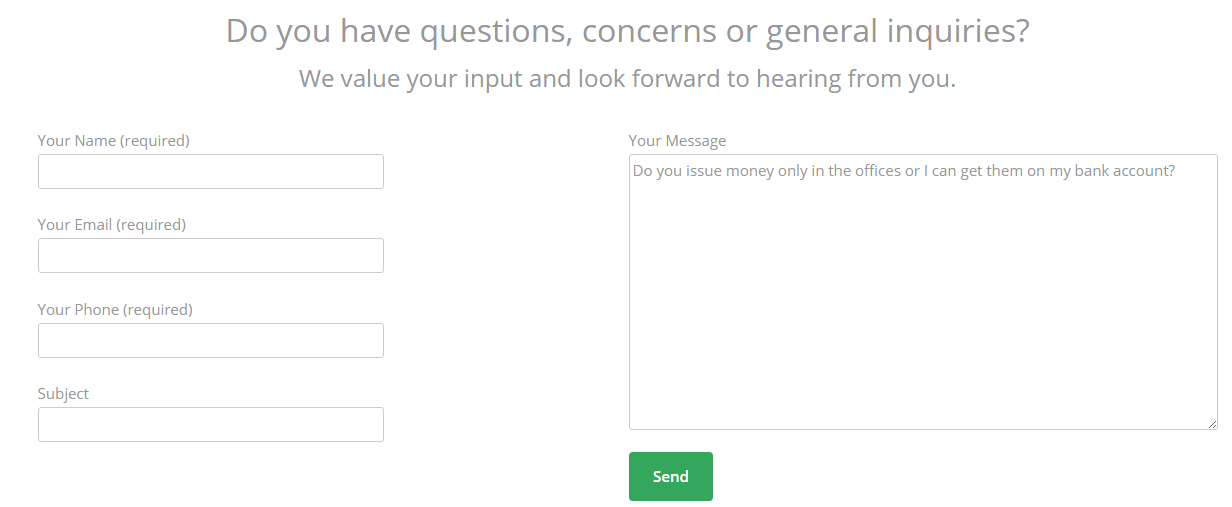 After waiting for several hours, we got answer from the support group – very short, so they could have responded earlier. From this fact we can conclude that the support group is effective but slow and people will have to wait for many hours to get answer and only after that apply for a loan, besides the application may not be approved. In our opinion it is a great waste of time, so would recommend customers to find another, more effective and client-oriented service.
Conclusion
After analyzing all the points in this review, we can come to the conclusion that Paydaynowloans.com is not the best service to use to get a loan. The terms are not very attractive and cost of the loan is high. Besides security indicators are very low, so it is quite dangerous to use such website.
The support group is not very quick but still effective, you will have to wait for quite a long time to get an answer to your inquiry. There are no testimonials to see how the company really works. Those comments on the website can't be trusted, so if you decide to use Paydaynowloans.com services, you put yourself at risk.
Maybe their in-store service is much more quick, efficient and safe, because as we can assume, this company mainly operates in-store. So it is better to visit their office and get live consultation.