What is PaydayMe?

PaydayMe.com is an online lender-matching service which connects applicants to reliable lending partners providing short-term loans. They claim consumers can feel safe and comfortable knowing that the referral service is going to match them with a suitable lender who is ready to provide the money they need urgently.
| | | | | | | |
| --- | --- | --- | --- | --- | --- | --- |
| Loan types | Min.amount | Max.amount | Period | APR | Documents | Bad credit |
| Payday Loans | $100 | $1,000 | 2-4 weeks | From 260.71% to 1825.00% | SSN, driver license number, national id, paycheck stub (optionally) | Yes |
Types of Loans
PaydayMe.com helps users get online payday loans.

A payday loan (short-term loan) is a small unsecured loan, usually not exceeding $1,000 that gives a person the funds he needs to cover emergency expenses until his next payday. It's a loan which helps people get the necessary money as fast as possible. Usually, such loans are approved to applicants irrespective of their credit history. The procedure is very quick and – it takes much less time you would spend on getting funds from traditional banks. The lenders from the network of PaydayMe can lend up to $1,000 based on several factors.
The company reminds that payday loans are a short-term solution and cannot be used for a long period.

According to the website, a borrower is able to get his funds as soon as the next business day.
Terms of Use
As we have already mentioned, PaydayMe.com does not lend money and does not make loan decisions. This website only connects potential borrowers to direct lenders. The service is completely free, but if approved, a client will have to pay interest which will be determined by a lender.
Since PaydayMe is not a lender, they cannot provide details on your loan. But, once you have filled out an application, you will be able to review fees and rates and decide whether the offer is suitable for you. You are under no obligation to accept a loan offer if you do not like its terms and rates. If you are ready to accept an offer, you will need to e-sign the contract to documents to create a contract with a particular lender.
Although the APR associated with your payday loan is not disclosed on this website, PaydayMe informs consumers that the annual percentage rate usually ranges from 260% to 1825%.
They also mention common eligibility criteria for a payday loan. You must:
be at least 18 years of age;
be employed at your current job for a minimum of 3 months;
be a resident of the United States;
have an active email address and phone number;
have an active and verifiable bank account in your name.
If you've several jobs, you must specify the details about your major job on your application form and then inform your lender that you have other jobs. In some cases, the company can ask you to send them your recent paycheck stubs. If you're self-employed, you will need to prove that you have regular earnings and that your business is at least 3 months old.
Remember that fees associated with your loan will vary depending on the amount of your loan, your location, your lender's policies, and so on.
PaydayMe also mentions that not all lenders from its network are able to lend you up to $1,000. The amount limits vary from state to state and from lender to lender.
The referral service cannot guarantee that you will be approved for a payday loan or that you will be able to receive the maximum loan amount. There may be different reasons for loan denial: non-compliance with eligibility criteria, insolvency, current loans with other lenders.
If you had a good experience with your lender, this can result in bigger loan amounts and smaller interest rates for all subsequent loan with this company.
Application
PaydayMe has a fast application which is charge-free and purely online.
To apply for a payday loan, you only need to provide the website with some personal details including but not limited to your full name, physical address, phone number, email address, Social Security number, date of birth, employment length, income per month, banking information.

Payday loans received through PaydayMe.com do not require collateral which makes application very easy. However, some lenders from the network may ask you to fax additional information (bank statement, pay stub, proof of income and so on) to verify your solvency, so you may need to have a printer to print the required documents and a fax machine to direct them to the lender in some cases. Besides, documents can be sent through the nearest UPS store or public library.
Repayment
You must repay a payday loan on the due date specified in your agreement. Some lenders from PaydayMe network make the repayment procedure hassle-free. You may opt for a direct withdrawal of funds from your checking account and this will be done electronically. All you need is to be sure that you have the required amount (original loan + interest) available for withdrawal on the specified date. With this repayment option, you will not have to send any checks or visit the lender's office. This option also helps to avoid late payments and this can save you money.
If you are unable to pay off your loan on the due date, you should contact your lender immediately and discuss the available options. Each lender has its own policies regarding late payment but in any case, late payment will incur additional fees which can make your loan extremely expensive. Your lender may take different actions, so you'd better read your contract carefully before signing.
PaydayMe gives an example of late payment fees: if you are 15 days late with your $100 loan payment, you may be charged 10% of the principal balance + a $25 fee.
According to the website, most lenders prefer to solve non-payment problems on their own rather than selling your debt to independent collection agencies. In any way, the lender will never take illegal actions against you. The company has a right to remind you about your debt via text message, email, postal mail, and phone, and a borrower may be offered a solution to his problem. All of the lenders act in accordance with the Fair Debt Collection Practices Act.
Extension
Some of the lenders in PaydayMe network are able to extend your loan automatically. They may offer you to pay off your debt at a later date or repay it in several installments over time. The minimum term for an automatic extension is 15 days and you will be charged additional fees for this option.
PaydayMe.com Bad Credit
The lender may check your credit history when necessary but in general payday loans can be approved even to consumers with a bad credit or no credit. This makes them popular amount borrowers with financial problems. The lenders usually do not use major credit bureaus for checking your credit, instead, they may use alternative companies such as DP or TeleTrack. This will help the lender make sure that you do not have unpaid loans with other companies.
Technical Characteristics of the Website
Encryption
PaydayMe.com protects sensitive visitors' data by using uses a 128-bit SSL encryption technology. There is a green lock at the address bar which proves that this website is secure and users can submit their personal details without any risks. The encryption is provided by COMODO CA Limited:
In general, the website's security is satisfying. However, many other online lenders use more advanced encryption technologies, such as a 256-bit SSL and an Extended Verification certificate.
Mobile Version
PaydayMe.com has a mobile version which is always adjusted to the current screen when changing the orientation on the mobile device or when the browser window on the desktop is reduced, Besides, this version meets Google's requirements for the convenience of viewing the pages on mobile devices.
The sire is easy to manage, as the content automatically adapts to different devices. Navigation is adapted for devices with a touch screen or for a mobile phone keyboard. The website's owner only posted here the functionality and content that is required for smartphones and tablets. The menu, navigation and other design elements can be fully customized for the needs of mobile users. The desktop and mobile versions can be changed independently of each other. In addition, the mobile website has a fast loading time. Finally, it is possible to switch to the full version of the site, if you have any problems with the mobile version.
Antivirus
Regretfully, PaydayMe.com cannot provide visitors with the highest level of security since the website does not have an antivirus which would have provided protection from online threats. Using this site, the risks of hacking or catching viruses cannot be excluded.
An antivirus program is very important for such referral services. I advise the website' developers to upgrade the security measures for customers' safety.
Convenience of Use
To apply for a loan, you do not need to register on the website. You can simply complete an online request form which only takes 2 minutes. After filling in the necessary personal details, the request is immediately sent to the suitable lender who can satisfy your needs. To start an online form, you should simply choose the loan amount you need, type in your email address, and click "Get Started":
Since each lender from the PaydayMe network has different rates and terms, you will be able to review them only after filling out an application. The request form is purely online and free-of-charge. It consists of 3 blocks: personal details, employment information, financial information: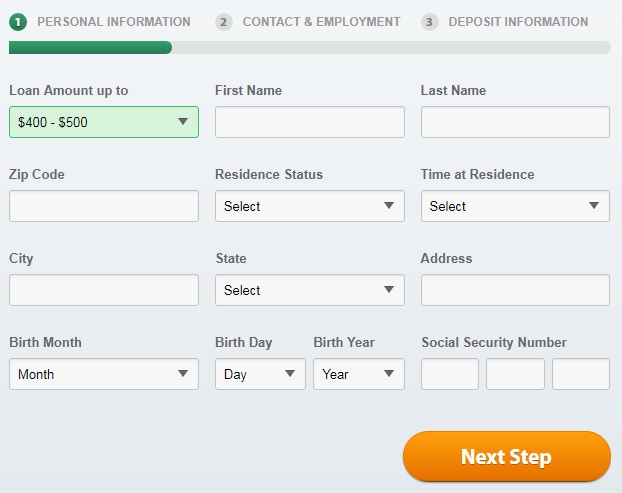 Once you have completed and submitted the request, the referral service will attempt to match you with a suitable lender. In rare cases, you will be asked to provide some additional information to verify your identity or employment.
In general, PaydayMe.com is an informative website. It contains all the necessary information about payday loans, eligibility criteria, non-payment charges, and so on.
They also regularly post articles that can make every borrower better financially educated.
Considering all these aspects, I conclude that this service is convenient, still, it's not a direct lender so you will have to work with 2 websites: an intermediate party and a direct lending company.
Is PaydayMe.com Legit?
I checked the reputation and background of this company with the help of ScamAdviser.com. According to the report, PaydayMe trust rating reached 73%%:
ScamAdviser is not certain about the reputation of PaydayMe since it's a new website which has been active for 265 days only. ScamAdviser was not able to identify the website owner country but managed to determine its location – the United States. Since the site is rather new, it has only a few visitors. So, the reputation of the company has not been established yet but there is no evidence that this site is operating illegally.
PaydayMe.com Reviews
On-site Reviews
More than 80% of Internet users make conclusions about the product/company based on reviews on the Internet.
Regretfully, there are no PaydayMe.com reviews on their native website. I think the company should create a separate testimonial page because customer feedback is very important to an online business. This can help improve a product or service.
Reading customer reviews is the only way to ensure that the company provides quality products or services that can satisfy all clients. Measuring customer satisfaction helps determine if a definite product or service meets customer expectations. PaydayMe does not provide a way to measure their customers' satisfaction.
Increasing the degree of customer satisfaction should be the main reason for the company to collect customer feedback. A new business can hardly become successful and recognized customer reviews. Positive comments would have encouraged users to use this website and return for more.
Reviews on Independent Websites
Unfortunately, I was not able to find any PaydayMe.com reviews on third-party website and forums. That could be due to the site' newness. If you ever come across any customer testimonials about this referral service, please leave a comment in the feedback form below!
Customer Support
Contact Information
The site's Contact page is not very informative: they only provided an email address: info@paydayme.com. There is no information about the company's location, address, phone number, or team. Although this website is only a link between a consumer and a lender, it would have been nice to see PaydayMe phone number and address. Lack of this relevant information can complicate reaching the company's managers.
PaydayMe.com Locations
Payday loans are not available in all states. You will not be able to use the services of PaydayMe.com if you live in Arkansas, New York, Vermont and West Virginia. The company mentioned that this list can change at any time without notice. The best way to learn loans availability in your state is to check this information on the official website of the lender you are connected to.
Getting a Consultation
According to the website, PaydayMe team is always available and can answer any question about their website, services and payday loans in general. They claim to provide top quality customer support and always provide fast solutions to clients' inquiries. If you have any questions about PaydayMe, you can contact their customer support team by sending email to info@paydayme.com. There are no other ways to reach the company's representative. They guarantee to respond to emails within 48 hours.
If you have any questions or concerns about your existing payday loan, you need to contact your lender directly since the referral service does not have any knowledge of loan rates and terms.
I tried to get in touch with PaydayMe customer support in order to find out average payday loan periods. I waited for 48 hours but nobody responded. I conclude that their customer care department needs improvement.
Conclusion
PaydayMe.com is a convenient service which helps consumers to find the suitable payday loan lender. The online application is simple and only takes a few minutes. The site contains general information about short-term loans but cannot disclose the actual interest rate of your loan. This referral service has a good trust-rating from ScamAdviser but there are some things you may dislike: limited loan types and amounts and limited ways of reaching the company. The main thing that concerns me is that PaydayMe.com is a very new website which has not been able to gain any reputation yet, so I think some time should pass before we can make any conclusions about the reputation of this company.