What is NationalPayday.com?
National Payday claims to be a direct lender providing legal payday loans online. The company operates online without physical locations, and their loans are available across the United States. The lender claims to have been operating since 2000. They are proud of their flexible terms. According to the website, customers can apply for a loan online and get approval the same day they apply. This lenders only offer payday loans, but it allows applying from home.
| | | | | | | |
| --- | --- | --- | --- | --- | --- | --- |
| Loan types | Min.amount | Max.amount | Period | APR | Documents | Bad credit |
| Payday loans (cash advance, same day cash) | $200 | $1,000 | up to 16 days | between 500% and 1304% | Social Security number, driver license, income verification | Yes |
Types of National Payday loans
The lender only offers payday loans (also known as cash advance, same day cash). These are short-term financial products designed to help people in the case of emergency. Payday loans should be paid off in a short-term, preferably without extending them. The best option is to pay off the loan as quickly as possible.
The company guarantees that clients receive pre-approval instantly, and final approval – once a client's information has been verified. Clients can get money the same day through wire transfers. Most of National Payday loans are approved within 24 hours, this all depends on how they would like to get the funds. If you've selected direct bank deposit (ACH), the funds will appear in your checking account in one business day. If customers apply before 2:00 PM, the money can be available tomorrow.
Terms of Use
To get a National Payday loan, you need to be at least 18 years of age, have an active checking account without any overdrafts, be employed and have a stable income.
First-time clients can get from $100 to $400, and existing clients can be approved for up to $1,000. Payday loans must be repaid on the next customers' payday, that's between 5 and 16 days from the date the loan is received.
According to National Payday', their main advantage is that their services are fast. The online application is simple, approval comes quickly, and they offer same-day funding.
I think the biggest drawback of this lender is the very high interest rates. They are much higher than the rates for loans offered by other lenders. National Payday' fee for a loan is 30% of the borrowed sum, which becomes a very high APR depending on the loan term. For example, APR for a 16-day repayment term makes 506.94%, APR for a 14-day repayment term makes 651.57%, and APR for a 7-day repayment term makes 1303.57%.
According to the website, most applicants are approved for payday loans, unless they are not officially employed.
Application
National Payday offers to fill out a standard online loan application h which has three parts:
Client's personal information: full name, physical address, phone number, email address, birthdate, details about the current residence;
Employment information: name of the employer, his contact information, client's monthly income, payday frequency, bank account information (including routing number, account number, the name of the bank), military status;
Security information: social security number, password, security question, driver's license number, the desired loan amount, and authorization of a third party (if necessary).
Once the loan application has been approved and customers' information has been verified, the required money will be deposited into a client's checking account that same day or the following business day. The due date for loan repayment is determined by a client's payday. A customer can either repay the remaining amount in full or any amount equal to or exceed his minimum payment. It's important that all payments are automatically withdrawn from a customer's bank account on the due date; customers just need to choose the amount they would like to pay. The client will never need to leave his home or office.
Besides, National Payday neither requires collateral nor faxing documents. They guarantee they let an applicant know his final application status in the shortest possible time. If the lender needs additional information or verifications, he will contact an applicant for that.
Loan Repayment
National Payday has described the loan repayment terms in detail: loans are repaid on the next day you get paid (usually between 5 and 16 days from the date you get the loan). Payment terms seem flexible: you can choose the amount of your payment, from the minimum to the full one. If you opt for a minimum or partial payment, the lender will add a 30% fee to the balance of the loan. However, if you get a salary once a month, you will have to pay off the loan in full on the definite date. Customers can submit a payment request 24 hours a day 7 days a week. No matter when you do it, the funds will not be withdrawn from your account until the agreed date. Besides, until the payment deadline has not passed, you can change the amount you'd like to repay! If a customer does not submit such a request, the minimum payment (specified) will be withdrawn automatically.
The minimum repayment term is 5 days, which would result in a higher annual interest rate.
So, National Payday guarantees an easy payment process. They offer to visit their official website nationalpayday.com, click on the "Payment" tab and log into a personal account. After that, customers will see their loan repayment deadline and the due date.
All in all, customers need to follow 3 easy steps:
Select a Payment: Check your existing loan information on the screen and opt for the payment amount. National Payday provides such options as full payment, minimum payment, and partial payment. Clients may pay any loan amount but it must be above the minimum specified amount.
Enter Check Number: If customers opt for a minimum or partial payment, they will need to enter the next check number in their register.
Enter Your Next Payday: If a customer decides to make a minimum or partial payment, the lender will need to know his next payday. This date cannot 16 days or be less than 14 days.
Once yo you fill out the payment request form, submit it on the website and the payment request will be processed. In the end, customers will receive a confirmation email.
Loan Extension
National Payday allows extending a loan term by making up to 5 payments before the entire amount is due. The lender must be informed about these changes on the day before the due date. This option may seem convenient to clients who need more time to repay their payday loans, but remember that such option makes a loan very expensive since additional charges will be added on for each payment, and you will have to finally repay much more money than the initial loan amount.
NationalPayday.com Bad Credit
Unlike usual banks that check customers' credit history with the major credit agencies, National Payday does not pay attention to your credit score – it may be good, bad, or no credit. In any case, the lender can approve your loan application.
Technical Characteristics of NationalPayday.com
Checking Encryption
According to the lender, customers can always count on the latest security measures protecting their personal information. It turned out that the website has a 128-bit encryption which is verified by DigiCert Inc.: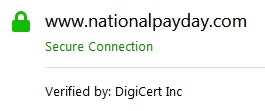 This is the minimum required encryption, however, I would prefer to take online loans via websites using higher security measures.
Checking the Mobile Version
Fortunately, the website has a mobile version which means that customers may use it from various smartphones and tablets. Google service also confirmed that NationalPayday.com is mobile friendly.
I noticed that the website's mobile version is compatible with various mobile devices, the information is readable, the elements are correctly displayed on the screen. Besides, the mobile version has a more convenient navigation and the menu. Using this version, you can find the desired information and load the pages faster. If you wish, you can always switch to the desktop version. There is no unnecessary scrolling or bags.
Checking Antivirus
Websites providing payday loans online like NationalPayday.com must be 100% secure. I know that many trusted lenders use antiviruses to exclude the risk of getting infected with viruses. Regretfully, I found no antivirus icon on this site. I think it's a serious drawback for an online business. So I think you can easily catch unwanted viruses on your computer. Bear in mind this information when using this website.
The Convenience of Using NationalPayday.com
Of course, getting a loan online is often more convenient than using a physical location brach.
Customers do not need to register in order to start filling in an online application but the lender recommends doing it to check the current loan status and the remaining amount to be paid. The application seems standard: you start it with personal details: name, birthdate, SSN number, email, and some others: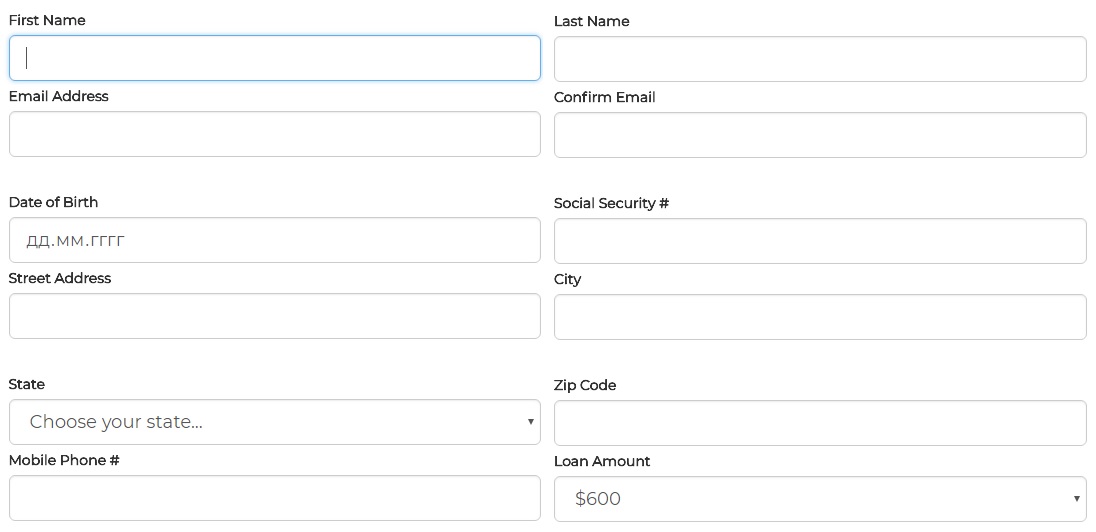 However, after the first step, you will find yourself on the other website (in my case, it was mypaydayloan.com), where you need to start a new application process and provide the same details, which takes additional time and efforts: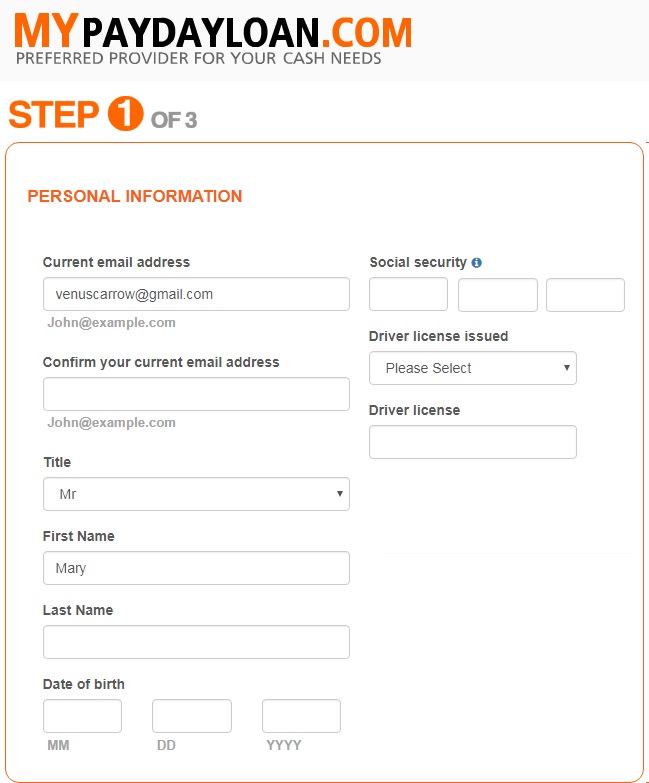 In general, I like that NationalPayday.com is a very informative website. Here you can find info and advice about payday loans. They also provide educational materials and signs of a trusted online lender. This company itself has a blog, sponsors contests, an annual scholarship fund, an affiliate program, and a bonus program for referrals.
National Payday also specifies loan terms and fees in advance, which is important. It has a detailed FAQs section and describes payment options in detail.
Returning customers may renew a loan in the special section of the website instead of requesting a new loan and filling in the same personal and financial details. This opportunity allows saving time and efforts.
Is National Payday Legit?
According to ScamAdviser, National Payday is a legit lender having the highest possible trust-rating – 100% out of 100%!
ScamAdviser revealed that the domain has been created about 18 years ago, the probable website's location is the United States but the owner if Costa Rica. The confusing aspect is that the site is rarely visited but this fact did not prevent ScamAdviser from giving the highest score to this lender.
NationalPayday.com Reviews
Reviews of the Lender's Official Website
The official website of National Payday has several customer reviews about the services provided. Of course, all of them are from "happy and regular customers". People mentioned the quickest funding, helpful customer care department, the discrete employment verification, and some other advantages:
Regretfully, I am not sure that all these reviews were composed by real customers since they are not dated, selected by the lender and probably filtered. I also cannot exclude the possibility that the website's owner composed these testimonials himself.
Since I could not check the reputation of this lender, I am not sure about the real reputation of National Payday. I decided to look for customer reviews from independent sources.
Reviews on Third-Party Websites
Regretfully, I found only a few National Payday loan reviews all of them being negative. Previous customers. One of them said that this company withdraws money from the customer's banking account even when the loan is already canceled. Another client says that this lender only seems to be a direct online lender. Instead, they sell applicants' personal information to other companies that will withdraw money from customers' accounts for additional services provided. The third unhappy customers said that nationalpayday.com is a scam and fraud – he tried to call them and it said it was a non-working number.
It seems suspicious that the lender has received only a few comments for such a long operating period. I was very disappointed by the information I revealed about this company. I conclude that National Payday is either unpopular or had another name before.
Customer Care Department
Contact Information
National Payday provides a phone number, fax number, and email:

They also specify days and hours of operation: Monday – Friday, 9:00 AM to 11:00 PM and weekends from 9:00 A.M. to 6:00 P.M. The lender does not review applications on Federal holidays but the website is accepting applications 24-hours a day 7 days a week.
Regretfully, the lender does not specify its address. Hiding such an important information is a bad sign – obviously, the company has something to hide.
NationalPayday.com Locations
Getting a Consultation
Customers can contact the customer care department using a phone number, fax number, and email. The lender promises to answer emails within a few hours or less. However, the maximum possible time for a reply is 24 business hours.

You can also use an online contact form and expect the feedback to your email address as well.
Since there is no live chat on this website (my favorite way of contacting the customer support group), I had to use email address support@nationalpayday.com to find out in what states National Payday loans are available.
Regretfully, I did not receive a response within the promised few hours. Nobody answered even within 24 hours. So I conclude that the customer service is either poorly organized or the website is no longer active.
Conclusion
NationalPayday.com proved to be an intermediary between customers and mypaydayloan.com offering limited financial products. Unlike other lenders offering all possible types of loans, this company only provides payday loans. However, customers may be attracted by a flexible repayment schedule and same-day funding through wire transfers. Their online application is fast and pre-approval is received immediately. However, their loan fee is higher than those offered by other payday loan lenders and their annual interest rates are rather high. Though the lender claims to be a popular and experience service with an excellent customer support, they do not answer emails and according to customer reviews (I managed to find only 3, which is a too small number for the company which has been operating for over 17 years), the specified phone number does not allow clients to reach the customer care department. Let's summarize what I liked about this lender: fast approval, same-day funding, flexible payment schedule, informative website. What I disliked: high interest rates, too limited loan options, short terms only, bad customer service. Besides, a limited number of clients' reviews indicates that National Payday can be a real scam. Considering this, it is very difficult for me to recommend this company. I recommend you researching other online lenders to get the best payday loans for your needs. The website receives 3,1 stars out of 5.