What is Money Mart?

Money Mart is an organization owned by Dollar Financial Group, Inc. The company was created to provide financial services in 13 states and is also known as Check Cashing Store, American Check Casher, American Payday Loans, Check Casher. They claim to have already helped many borrowers. The business is licensed by the California Department of Business Oversight and complies with the California Deferred Deposit Transaction Law.
| | | | | | | |
| --- | --- | --- | --- | --- | --- | --- |
| Loan types | Min.amount | Max.amount | Period | APR | Documents | Bad credit |
| Payday loans, installment loans | $50 | $5,000 | Varies | Varies | SSN | Yes |
Money Mart Loans
The company offers 2 types of loans: payday loans and personal loans (installment loans). Loans vary by state.

A payday loan is a small short-term loan that helps you to keep up until your next payday. Such financial products are perfect for emergencies.
An installment loan (also known as a personal loan) – is a major loan that may reach $5,000 You can take such loans for up to several months. This means you can repay your loan in several equal installments over a specified period of time. A personal loan allows you to divide the total due amount over a long period.

When you apply in one of the Money Mart in-store locations, you can expect to have your funds within an hour. If you apply online through the website, the funding time will depend on the bank. Typically, it takes up to 48 hours to see the funds into your banking account. During the week, funding usually takes 1 day. Over the weekend, this can take longer based on your bank's working hours.
Terms of Use
Terms and rates vary by state.
Money Mart payday loans range from $50 to $700 and can be repaid in 2-4 weeks. The amount you can borrow depends on your income and the maximum loan amount permitted in your location.
The lender has listed the rates and fees for each state:
Alaska:
Loan amount $100-$500
Finance Charge $20.00-$80.00
APR: 521.4%
California:
Loan amount $100-$255
Finance Charge $17.65-$45.00
APR: 460.2%
Florida:
Loan amount $50-$500
Finance Charge $9.99-$54.99
APR: 520.9%
Hawaii:
Loan amount $100-$500
Finance Charge $17.50-$87.50
APR: 456.3%
Kansas:
Loan amount $100-$500
Finance Charge $15.00-$75.00
APR: 391.1%
Louisiana:
Loan amount $100-$300
Finance Charge $30.00-$55.00
APR: 782.1%
Missouri:
Loan amount $50-$500
Finance Charge $9.50-$95.00
APR: 495.4%
Oklahoma:
Loan amount $50-$500
Finance Charge $7.50-$65.00
APR: 391.1%
Virginia:
Loan amount $50-$500
Finance Charge $11.93-$108.14
APR: 622.1%
Washington:
Loan amount $50-$700
Finance Charge $7.50-$65.00
APR: 391.1%
Best in mind that the APR is given for a 14-day loan.
To apply online, you must:
live in an eligible state
have a proof of regular income
have a checking account bank statement
have a personal check from your checking account
have a valid phone number and email address
To apply in one of the in-store locations, you must:
have an active checking account
have a phone number and email address
have a proof of regular income
have a state-issued photo ID
If you live in California, Hawaii, Louisiana or Kansas, you can apply for a loan online. The lender claims that other states will soon be added to this list.
Money Mart personal loans range from $1,000 to $5,000.
To be approved for an installment loan, you must:
be at least 18 years old
be employed or have a regular source of income
earn at least 15,000 per year
have your paycheck direct deposited into your banking account (new clients only)
have a state-issued photo ID
have an active checking account with a satisfactory overdraft history
have a proof of residency
not have active loans with Money Mart or any of their affiliates
Application
You can apply for a loan online or in one of the offices. The lender accepts online requests on a 24/7 basis.
If you apply online, you need to provide:
most recent bank statement;
most recent pay stub;
state-issued photo ID.
If you apply in-store, you need to bring with you:
blank check;
recent bank statement (not exceeding 45 days);
recent pay stub (not exceeding 30 days);
state-issued photo ID.
The lender asks borrowers to provide only basic personal and financial information such as your income, bank account number, name, phone number, e-mail, SSN, and some more.
Fortunately, you do not need to provide any collateral.
Repayment
Payday loans must be repaid in full on the due date that is specified on your loan agreement. You can opt for an electronic withdrawal of funds via ACH or you can repay the loan in cash in any Money Mart in-store location.

Personal loans can be repaid over over time, piece by piece. You can also choose to have an automatical withdrawal of funds from your bank account on the due date, so you'll never have to worry about making a late payment, which would incur penalties.
Extension
Loan extensions are not allowed in all states. It's only mentioned that Louisiana customers can ask to have an extended payment schedule once in a 12-month period, but they must request it before the due date.
If the lender refuses to issue an extended payment schedule, LA customers can contact the Office of Financial Institutions at 1-888-525-9414.
MoneyMart.com Bad Credit
Regretfully, it's not mentioned whether the lender approves borrowers with a bad credit history or not. You should specify information about credit checks before making applying. Typically, payday loan companies approve consumers with poor credit but I'm not sure if this lender is the case.
Technical Characteristics of the Website
Сonnection
The website uses an advanced encryption technology (256-bit SSL)to keep the users' personal data private. The secure connection is verified by Corporation Service Company. It means that all information you submit to this site is safe and secure and the website's owner and legitimacy are guaranteed.
Regretfully, the website does not utilize an Extended Verification Certificate, which would have allowed users to see MoneyMart.com's owner.
Mobile Version
According to Google, the website is mobile-friendly, which means it can be easily used on both PCs and smartphones.
I like that you can use this website from any place: in transport, in a queue, at a restaurant and at a party. Using a mobile version, you can speed up the application process and simplify online management of loans. Besides, information about loans is provided in a simplified form.
Antivirus
Regretfully, MoneyMart.com is not screened for viruses, worms, or other malicious materials. The website has no antivirus, which means your personal information is vulnerable. When surfing this website, you risk to infect your PC with viruses or even get your data stolen. I recommend the website's owner to install an advanced and trusted antivirus program in order to provide the highest security to all users.
Convenience of Use
Your online application can be completed in as little as 15 minutes. For this, you need to visit the website, move the slider to decide how much money you want to get. The lender shows you exactly how much it will cost and how much you will have to return. So you can see the precise rates and fees in advance. Usually, the funds are deposited into your checking account within 24 hours. Or you can come into any Money Mart in-store location and get the funds even faster. You can find the nearest location using a convenient "Find a Money Mart Near You" tool: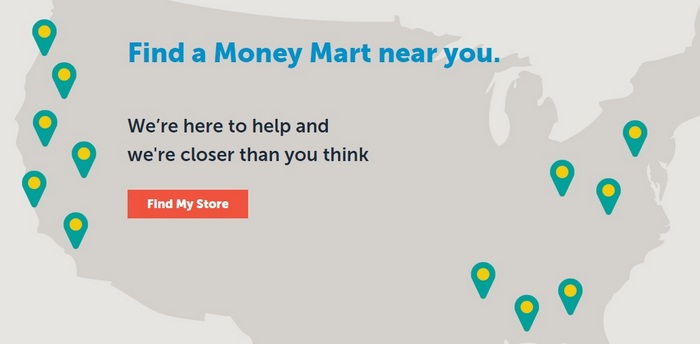 After you have completed your application form and got an approval, you will be asked to e-sign your loan agreement.
In general, an application process is intuitive and simple. You should not have any troubles with it. I also like that the site has a page of "frequently asked questions" which guides you through the whole process.
Is MoneyMart.com Legit?
ScamAdviser gave only 95% of trust to Money Mart website. The thing is that this website could be located to Israel, although its origin is determined as "United States".
According to ScamAdviser, the website is owned by Dollar Financial Group which is located in Malvern. The domain age is over 20 years, which is really impressive. Since there are other countries involved and the website's popularity is unknown, you should consider this information.
MoneyMart.com Reviews
On-site Reviews
Regretfully, Money Mart reviews are not available on the company's native website. There is no testimonial page containing feedback from previous clients. The lender did not give borrowers a possibility to share their experience and impression with other consumers. For this reason, I searched for external customer reviews (see the next unit).
Reviews on Third-Party Websites
I found only a few positive reviews about this company on third-party websites. Happy customers mentioned "wonderful experience", "professional workers", 'impeccable customer service", "meeting any needs", "awesome treatment", and other things. Read some positive comments posted on the web: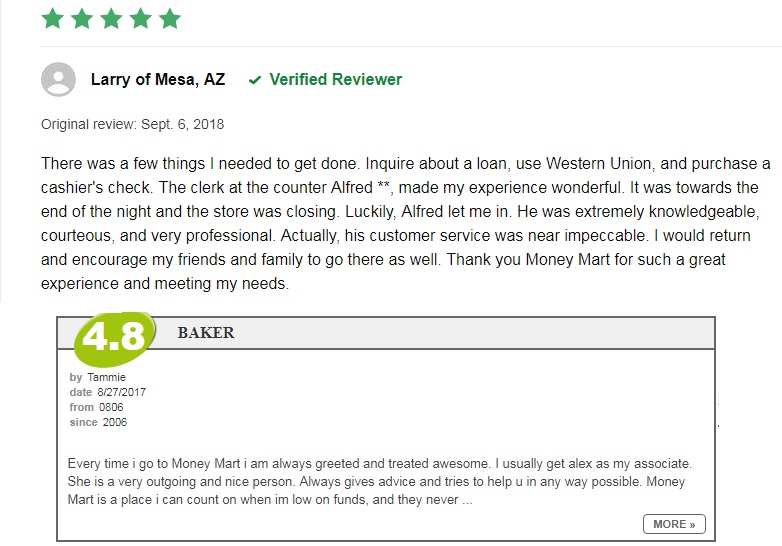 However, most customers were unhappy with this online company. I found numerous complaints. Clients wrote about "biggest scam", "high interest rates", "poor customer service", "stealing money from customers", and so on. Some of the complaints are given below:
Although I found a few good Money Mart reviews, I cannot be sure that this lender provides quality services. An overwhelming number of negative reviews makes me conclude that many people have troubles when using this company.
Customer Support
Contact Information
There are a lot of Money Mart in-store locations. To find the nearest offices, you need to choose your state or city and click on the "Search" button. For example, California residents can apply for a loan in one of the following in-stores:
430 West Shaw Avenue, Clovis, CA 93612
4848 East Kings Canyon Road,Fresno, CA 93727
2739 Whitson Street, Selma, CA 93662
3303 North Cedar Avenue, Fresno, CA 93726
4043 North Blackstone Avenue, Fresno, CA 93726
6789 North Blackstone Avenue, Fresno, CA 93710
1221 Fresno Street, Fresno, CA 93706
3249 West Shaw Avenue, Fresno, CA 93711
1540 North Ben Maddox Way, Visalia, CA 93291
Their basic phone number is 1-800-361-1407. In general, the lender seems transparent and has nothing to hide.
MoneyMart.com Locations
Money Mart loans are currently available in 10 states: Alaska, California, Florida, Hawaii, Kansas, Louisiana, Missouri, Oklahoma, Virginia, Washington. The website has a map showing the location of each in-store location.
Getting a Consultation
If you have any question, you can reach the customer support group by calling at 1-800-361-1407, visiting one of their offices, or using a Live Chat or a contact form available in the "Contact Us" page. I tried to get connected into a Live Chat but an error occurred. According to the report, the page was unavailable at the moment. That's why I sent a message via a contact form. I waited for 24 hours but my question remained unanswered. I conclude that their customer care department has some serious problems and cannot work as fast as they promise.
Conclusion
MoneyMart.com is a US-based licensed lender that offers payday and installment loans of the amount reaching $5,000. This website has been operating for 20 years and has a good trust rating from ScamAdviser. I like that their application is simple and fees are transparent. It's also nice that they operate online and have numerous in-store locations. I also like their online calculator, which allows users seeing the exact rates and fees of their loans. Another advantage is that this is a direct lender so your application will not be viewed by third-parties. However, there are some things that concern: some states have extremely high interest rates and are not able to offer payday loans exceeding $255, the live chat is not active and there is no antivirus. Besides, according to ScamAdviser, this site could be located in Israel. Besides, the lender's reputation was undermined by numerous complaints posted on independent websites. Considering this, I recommend you explore other options before using this company.