What is LoanMe?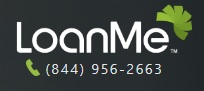 LoanMe is an online lender that was founded in 2014 in California. The company offers personal and business loans to residents of the United States. They advertise fast funding, an easy application and approval process.
| | | | | | | |
| --- | --- | --- | --- | --- | --- | --- |
| Loan types | Min.amount | Max.amount | Period | APR | Documents | Bad credit |
| Personal loans, small business loans | $2,600 | $250,000 | 2-10 years | Depends on your credit score and state of residency | Driver's license number, social security number | Yes |
Types of Loans
LoanMe.com offers small business loans and personal loans.
Personal loans amounts range from $2,600 to $100,000. The available amount will depend on your credit score, location, and other personal data. Such loans are usually they are given out for debt consolidation, major purchases, emergency medical expenses, home emergencies, car repairs, any particular life event, and so on.;
Small business loans amounts range from $3,500 to $250,000 and can be used for almost any purpose: a major purchase, debt consolidation, remodeling/upgrades, startup financing, business taxes, advertising, working capital, marketing, product development, and others.
If you are approved by the lender by 4 p.m., you can receive your funds the same day. However, some banks might not process the money transfer within the same day, so you may receive the funds the next business day.
Terms of Use
If you want to get a LoanMe personal loan, you must meet the following requirements:
be at least 18 years of age;
have an active checking account in your name;
have access to online banking;
have a driver's license or any other form of identification;
have proof of employment;
have a voided check;
have a recent paystub.
If you want to get a LoanMe small business loan, you must meet the following requirements:
be at least 18 years of age;
have a checking account which should be active for 2 months or longer;
have access to online banking;
have a business EIN;
your company should have a proper name;
have a voided check;
have a driver's license or any other form of identification;
have the authorization to get credit facility.
LoanMe's minimum loan amounts and fixed payments vary by state:
Minimum loan amounts:
Arizona, California, Missouri, Ohio, Virginia – $6,000;
New Hampshire – $11,000;
Kentucky, Maryland – $17,000;
New Jersey, Oregon – $53,000.
Fixed minimum payments:
Arizona, California, Missouri, Ohio, Virginia – $6,000;
New Hampshire – $12,000;
Kentucky, Maryland – $18,000.
Besides, residents of Kentucky, New Jersey, Oregon and Maryland can only apply for a 10-year loan.
LoanMe interest rates range from 24% to 149%, which can make a loan rather expensive.
Lending terms offered by this lender range from 2 to 10 years.
Besides, all customers will have to additionally pay a LoanMe origination fee which will depend on the grade you are given during your application. If you have an A grade, you will be charged a 5% origination fee, customers having a B – E grade will have to pay a 10% origination fee. This fee is very high if compared with many other lenders providing personal and business loans. However, you can reduce your origination fee if you apply for a second loan – in this case, you will only have to pay 3% or 5%. This fee will be taken from the total loan amount before it is transferred into your bank account.
Below you can see examples of LoanMe interest rates, origination fees, term length, fixed monthly payment, and total amounts to be repaid:

Application
The company advertises a simple 24/7 applying process.

You can apply over the phone by calling LoanMe customer service at 1-844-956-2663 or you can apply online. If you apply through the website, you will have to fill in your name, address, email address, phone number, and monthly income. You will also have to mention if you own a house and if you have any outstanding debts.
If you apply for a business loan, you will also have to provide some general information about your business, Thus the lender will be able to calculate the maximum amount you're eligible. At the end of the application form, you will see the rates and fees you will have to pay.
If you accept an offer, you will have to provide some more information to verify your identity and bank account: a copy of your driver's license or other ID documentation, a voided check, business EIN, and recent bank statements.
When you've provided all the required information and documents, you will have to e-sign the loan agreement. Shortly after that, the funds (minus the origination fee) will be sent into your bank account.
I like that this company does not require any special documentation. Besides, you don't have to provide collateral.
Repayment
Repaying LoanMe loans is a simple procedure. The funds are automatically withdrawn from your checking account on the due dates so you don't need to worry about forgetting about payments each month. Besides, you can make a payment via Western Union Speedpay, MoneyGram Online, or Debit Card.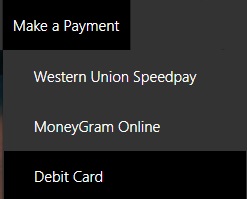 Besides, you can always pay off your loan before the due date, and in fact, the lender encourages its clients to return their loans as quickly as they can since they only pay interest for the days they borrow. If you want to repay your full loan early or make early installment payments, you should call LoanMe customer support and discuss the options.
Besides, it's important to always make payment in time because all your payments will be reported to business credit bureaus. If you are a responsible client, you will be able to establish or improve your credit. But if you are late with your payment or miss the payment, this will negatively affect your credit score. In addition, you will be charged a $15 late payment fee.
With LoanMe.com, you can only get one loan at a time. Once you have repaid your loan, you can apply for another one. Customers with a good reputation may also reduce their future origination fees, qualify for lower APRs and higher loan amounts.
Extension
In most cases, the company allows loan extensions up to 15 days. If you want to extend your loan, you should contact the lender before the due payment date as soon as possible to discuss the available options.
LoanMe.com Bad Credit
You can apply for a loan through this website even if you have a bad credit, however, borrowers with poor credit scores will be eligible for lower loan amounts and higher interest rates.
Using this lender, you will be able to improve your credit score since LoanMe reports your payments to the 3 major credit bureaus.
Technical Characteristics of the Website
Secure Сonnection
LoanMe.com secures borrower's sensitive data via a 256-bit Secure Socket Layer (SSL) encryption, which prevents hackers from stealing your data. The secure connection is verified by DigiCert Inc:
I appreciate that the lender takes care of the users' safety and confidentiality, however, I would recommend this company to utilize an Extended Verification Certificate, which would provide the highest encryption level.
Mobile Version
LoanMe.com mobile version is convenient and intuitive:

The mobile website's version displays the information and elements in a bit different way – they are all are adjusted for the screen size of mobile users. Besides, users do not need to scroll the pages and can easily click on the necessary link because links are links are no too close together. Another advantage of a mobile version is that users spend the traffic more economically and the pages are loaded much faster. If you are not satisfied with this mobile website, you can also return to a regular desktop version.
Antivirus
Regretfully, LoanMe website does not have an antivirus to protect users' computers from viruses, spam, phishing, malware, etc. I would recommend the website's owner to upgrade the safety of this site by installing an antivirus. So far, this site is not a 100% safe place for borrowers.
Convenience of Using the Website
An application process is quite simple. You can either apply over the phone or online on their website.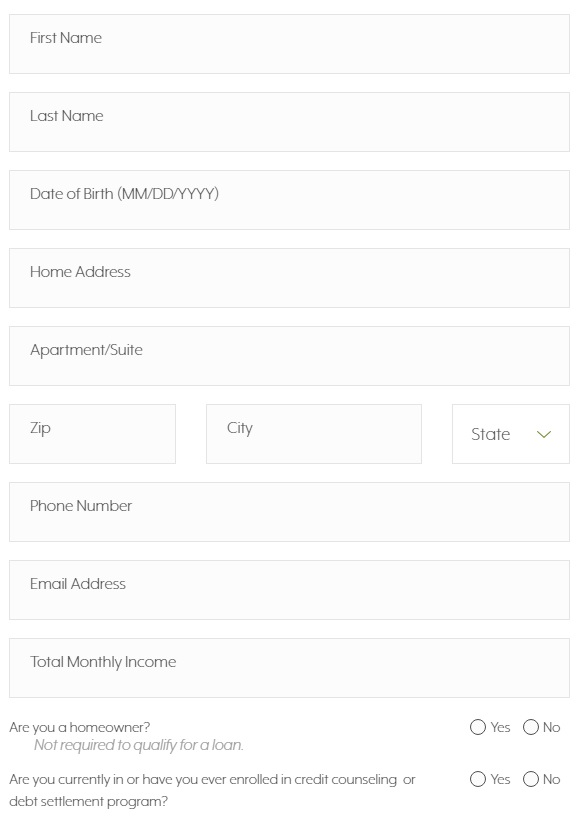 During application, you will have to provide some personal details and documents so that the lender can assess your solvency and see whether you will be able to repay your loan.
Finally, you can get the funds as soon as in 3-4 hours. LoanMe.com is a really fast way to get the necessary money without wasting any time and leaving your house. The funds will be sent directly to your banking account and you can use them for any purpose.
You really do not need to go to various lending companies, you simply fill out an application online and wait for your money. This is much simpler than the regular options offered by banks or other financial institutions that in addition have more requirements and paperwork.
Is LoanMe.com Legit?
ScamAdviser.com gave nearly the highest trust rating to LoanMe website – 93% out of 100%, which means this lender is safe to use.
The background of the website is really impressive – the website has been active for 20 years. The website is located in the USA but the information about its owner is hidden. The thing is that this website is using an anonymous service, which prevents users from identifying its owner. ScamAdviser also reported that the site has lots of visitors, which means it's very popular. Nothing testifies that LoanMe is providing illegal services.
LoanMe.com Reviews
On-site Reviews
LoanMe website has a separate testimonial page with 8 customer reviews. All of them are positive.
Daniel said that the customer support team was informative and friendly. They offer him a lower interest rate and a better payment plan. He added that this lender saved his business from the "financial hardships". Abner received the funds very quickly. He would definitely use the services of this lender again. Joey D. liked a very easy application process and that all the information was 100% disclosed. He had a very good experience with LoanMe. James mentioned the awesome staff that can help customers in a short amount of time. He would recommend this company to other business owners if you need some emergency expenses. Sinclair Ray said that the representative of LoanMe was the best person he had ever dealt with. He explained every detail and made an application process simple. Jason would recommend this lender to anyone because his experience with it was extremely easy. The staff was fantastic and the funding was quick. Although he had bad credit, he was able to receive a small business loan.
However, I have some doubts about the reliability of these reviews. All of them are not dated and look this way: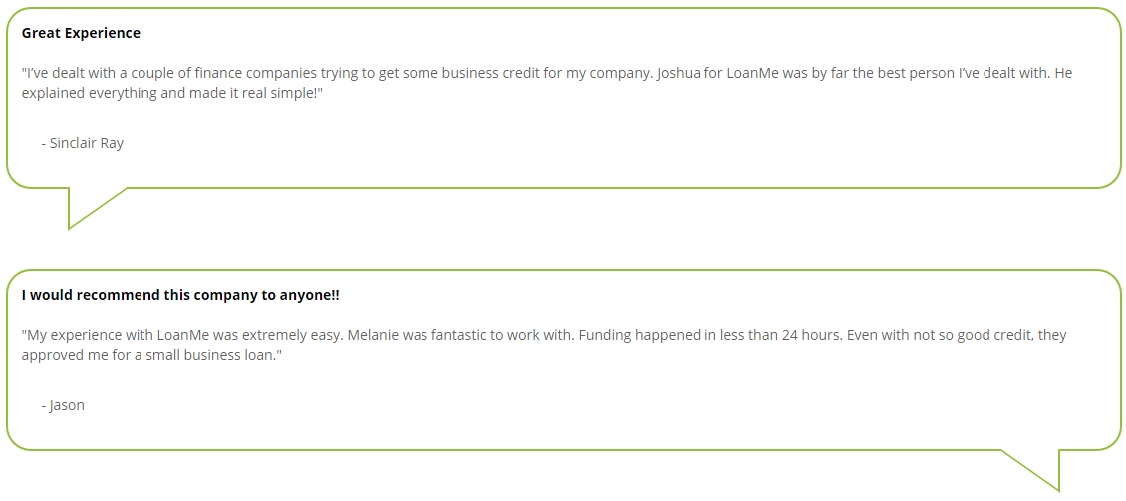 The page has no feedback form and obviously, these comments have been filtered by the company. I know that companies often post fake online reviews for their businesses. That is why I decided to look for LoanMe reviews posted on third-party websites.
Reviews on Third-Party Websites
The lender has a mixed online reputation. The business has been BBB-accredited and has a good BBB rating. Despite this high rating, all of the customer reviews on BBB.com are negative. I found 70+ LoanMe complaints. One user was unhappy with the lender's high rates, some more reviewers received numerous emails and phone calls. One borrower even filed a complaint against this company in 2016, claiming that he was phone harassed by the lender. The California Commissioner of Business Oversight also filed a lawsuit against this organization 3 years ago for misleading borrowers in advertising and during the application process.
LoanMe has a better reputation on Trustpilot.com. They received 9 stars out of 10 based on 1,088 reviews. Most customers liked helpful customer service, speedy application and funding process, low eligibility criteria. Read some reviews below: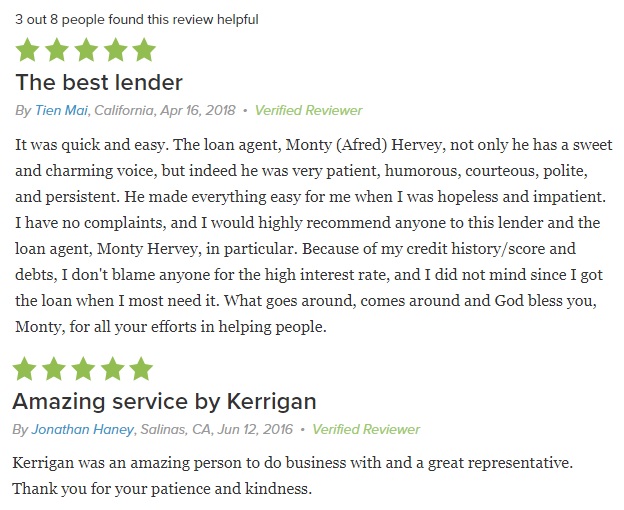 At the same time, a few customers were unhappy with the services provided. Some of them were inadequately informed of the total loan cost before accepting the offer. They say it was very difficult to repay the loan because the interest grew very quickly and only a small amount of each payment went toward repaying the principal. Some clients received harassing calls from this lender to their homes and their places of work, and these calls did not stop. Other complaints are about unexpected hard credit checks which negatively affected the customers' credit score. One more user complained that this lender reported incorrect information to the credit bureau, which ruined his credit score. In addition, he mentioned that this company was "absolute scam" with incredible high-interest rates and the worst customer service. Another borrower reported that LoanMe managers answered his questions deceptively and lied about the annual interest rate, which proved to be 140% accrued daily. He concluded that this organization will ruin your financial standing. One more client was unhappy because the lender reported wrong information to Experian, which has caused a negative impact on his credit report. Read more LoanMe complaints:
A huge number of customer reviews allow making a conclusion about LoanMe performance. Regretfully, the number of complaints was enormous. Obviously, the lender is not able to satisfy all customers and there are high chances that you will have an unpleasant experience with this company.
Customer Support
Contact Information
LoanMe is headquartered in California and located at 1900 S. State College Boulevard, Suite 300, Anaheim.
If you want to apply for a loan over the phone, you can call 1-855-796-9394 24 hours/7 days a week);
Existing clients can get a consultation at 1-844-764-7368 or email to Customer.Service@loanme.com;
If you want to discuss a partnership, call 1-949-535-7798 or email to Business.Loans@loanme.com;
For making payments, you can mail at P.O. Box 5645, Orange, CA 92863 (LoanMe, Inc.);
If you want to file a complaint, you should contact LoanMe Complaints Department at 1-844-804-7368 or email the lender to complaints@loanme.com;
If you want to work at this company, you can call at 1-844-857-5629.
The lender seems open and transparent and does not hide any information about itself.
LoanMe.com Locations
LoanMe loans are available in 29 states. These include Alabama, Arizona, Arkansas, California, Delaware, District of Columbia, Hawaii, Idaho, Illinois, Indiana, Kansas, Kentucky, Louisiana, Maine, Maryland, Minnesota, Mississippi, Missouri, Nebraska, New Hampshire, New Jersey, New Mexico, North Carolina, Ohio, Oregon, South Carolina, South Dakota, Utah, Virginia, Washington, Wisconsin and Wyoming.
You if you live in any of the following states, you will not be able to receive a loan with this lender: Alaska, Colorado, Connecticut, Florida, Georgia, Iowa, Massachusetts, Michigan, Montana, Nevada, New York, North Dakota, Oklahoma, Pennsylvania, Rhode Island, South Dakota, Tennessee, Texas, Vermont and West Virginia.
Getting a Consultation
If you have any questions about LoanMe services and products, you can reach their customer support at 1-844-474-2886. Support is also offered via email and live chat. Email customer support is operating 24/7, while phone support is available on Monday – Friday from 8 a.m. to 6 p.m., Saturday – Sunday from 8 a.m. to 5 p.m. Live chat is available Monday – Friday, from 8 a.m. to 7 p.m.

Although I tried to connect to the live chat within the LoanMe working hours, there was an error. No matter how hard I tried to contact an online representative, it would not work. I recommend the company to work on its customer care department. So far, it's unsatisfactory.
Conclusion
LoanMe can be a good option for consumers with great credit scores. However, people with bad credit should choose another lender since they will likely be offered incredibly high-interest rates. The main advantages are a short application process and relaxed eligibility criteria. The lender has disclosed the most important terms, rates, fees, repayment amounts. Besides, it' nice that you could save on interest by repaying your loan early. The greatest concern about LoanMe is that this company has a poor public reputation. They may have an excellent BBB rating, but 90% of these customer reviews are negative. Most complaints were about wrongful charges, high borrowing costs, false reports to the credit bureaus, harassing calls and emails, etc. Moreover, you should be ready to pay a high origination fee, which may vary from $5 to $10. I conclude that this is a lender of last resort. I would recommend anybody looking for a personal or business loan to explore alternatives before applying through this website.