Self-Introduction of LendUP.com
LendUp is certified by the Department of Business Oversight credit institution, in accordance with the California Deferred Deposit Transaction Law, license #1004393 and the California Finance Lenders Law, license #6054610. LendUp.com is focused on offering quality choices to people who have no opportunity to get them. LendUp products reflect four ideas:
Ladders
Not chutes

Transparency

Building credit matters
At the moment, LendUp is working in the following US states: California, Louisiana, Mississippi, Missouri, Ohio, Tennessee, Texas and Wisconsin.
LendUp's mission is to provide people with an opportunity to improve their financial state. It takes less time for people to be approved as online service administration claims but we are going to examine whether lendup.com is legit and secure.
Types of Loans
Min Loan Amount
Max Loan Amount
Period
Interest Rate
Documents
Bad Credit History

single payment loans;
installment loans.

 $ 100
 $ 1 000
up to 35 days
agreed individually

social security number;
bank account information.

Individually
Types of Loans
Lend Up online credit institution provides clients with two types of loans:
Single Payment Loans;
Installment Loans.
LendUp Credit can be arranged online only, so clients have an opportunity to apply for a loan 24/7. Filling in an application takes only several minutes. This online loan approval or not is instant, and if the result is positive, a client could have money transferred to an active bank account as soon as 15 minutes (where available).
There are three main ways of money transfer, they are:
Standard/Next Business Day: LendUp.com processes loans and sends money to an active bank account by means of ACH (Automated Clearing House) at 5 p.m. from Monday to Friday (excluding federal banking holidays). Banks usually account the funds to bank account till the next business day; actual accounting time is dependent on the bank. It may take several business days to get money.

15-Minute Transfer (currently unavailable in LendUp.com): 15-Minute Transfer is a service accessible to clients in a limited list of states where if a debit card is maintained, a client may select a third-party service that assures LendUp Loan funds to be provided to clients' bank account within 15 minutes after application is approved. Client's bank defines when the funds become accessible to you. Use of 15-Minute Transfer is not required for a LendUp Loan an additional fee to be paid. Loan lender will ensure the third-party fee amount estimation, but the actual amount may range depending on a repayment schedule.
Same-Day (currently unavailable in LendUp.com): If a client has Wells Fargo account, he/she is eligible to select Same Day deposit service (as long as he completes application process before 11 a.m. PT on business days only). Funds should be transferred into a bank account by 2 p.m. PT the same day but additional fees may apply.
As an additional service, LendUp.com offers to prepare credit cards devoted to facilitate financial troubles or even avoid them at all. LendUp.com credit cards are created for people who attempt to regenerate from previous credit troubles so that this online lender cooperates with issuing banks with the same values.
Terms of Use
Unfortunately, there is no actual information about borrower age but in general, in the United States of America may get a loan online or in-store in case if they are 18 or 21 years old depending on state eligibility they live in. Available loan amount and period for which funds are taken depend on the state as well.
This table shows in what state how much money you may borrow in LendUp.com:
California
Louisiana
Mississippi
Missouri
Ohio
Tennessee
Texas
Wisconsin
up to

$ 250

up to $ 350
up to $ 400
 up to $ 500
up to $ 500
 up to $ 400
 up to $ 500
 up to $ 250
up to 30 days
up to 30 days
up to 30 days
up to 30 days
up to 30 days
 up to 31 days
 up to 35 days
 up to 30 days
The interest rate is dependent on loan amount and period you are getting funds for. Here you may see the screen with loan details approved in Wisconsin. Everything is described in details. If you get $ 100 for a week, you have to pay $ 124 back, it means that interest rate is equal to $ 24 but APR is too high – 1251.43% that's why it is more profitable to get funds for a greater period:
The statement that a client should have a constant working place but clients may be asked to prove the source of income if there will appear such a necessity. It means that a client should have a steady monthly source of income to be able to pay a loan back.
Application
To qualify for a loan in LendUp.com, it is necessary to provide the following information:
physical address;
Social Security number;
mobile phone number;
date of birth;
bank account information and numbers;
employment and income information.
Additionally, LendUp administration may collect Personally Identifiable Information to verify your identity, for security-related aims, or other administrative aims. In order to ensure a client with Services, this online lender may on occasion supplement PII you submit to us with information from third-party sources, such as consumer report information.
There is no actual information relating whether it is necessary to provide contact persons or guarantors to be approved for a loan online. If you still have some questions, you are welcome to contact Lendup.com by means of the phone number:

Repayment
There are two main ways of automatic repayment, they are:
Repayment using a checking account via ACH network: LendUp.com will debit loan amount from the same bank account into which money has been transferred by this online institution. In advance, site administration may send you free text and an email announcement to remind you of due date debiting. Once the payment is debited, typically a waiting period of 4 business days is present before you can apply for another loan. You also have an opportunity to paying off your loan early using a debit card (an additional fee may apply).
Repayment by debit card with a 15-Minute Transfer loan: If your loan was deposited into the debit card by means of 15-Minute Transfer option, repayment will be withdrawn from the same card. You also have an opportunity to pay by means of a different debit card before the due date. Repayment for 15-Minute Transfer loans cannot be made by means of a checking account.
LendUp.com also accept payment by MoneyGram and personal check:
By MoneyGram: MoneyGram payments allow clients to get rid of any possible issues connecting to check mailing and processing. There may be a fee to make a MoneyGram payment, and processing times can vary from 1-2 business days.
By check: A client may also get an opportunity to pay a loan back by means of check. If LendUp.com administration gets the payment at least one day before due date, they have a possibility to deactivate bank account on file for that payment on necessary due date. It will take 1-2 business days to apply for the check payment.
Clients are able to pay a loan back earlier but it is better to contact customer support service to get to know all possible consequences which may appear because of such a condition. As we remember there are two main ways of money debiting:
checking account;
debit card.
It is possible to pay a loan back earlier by means of checking account without any problems. After signing in to LendUp.com account, you can schedule an early ACH transaction of your full balance by means of checking account. There are no additional fees to carry out this operation.
If you have a desire to pay a loan back earlier by means of a debit card, you have to log in, choose "Pay Now" option and enter your debit card number and carry out payment. If you have still questions, you may call Lendup.com over contact number.
There are cases when clients are unable to pay a loan back in time, what happens in such a way. It depends, preliminary, on the type of loan you have taken in LendUp.com:
Single-payment loans: Extend loan: Log in to your LendUp account. If you have an opportunity to extend the duration of your loan you will see an Extend button on your dashboard (to the maximum allowed by your state law). If you have already extended to the maximum duration (or do not see an Extend button), please get in touch using the Contact form for other available options. Enter into a payment plan: Log in to LendUp.com account. If you have a Payment Plan button on your dashboard, you can enter into a plan (as allowed by your state); there is no penalty fee. This must be done no later than noon PT the business day before your due date. If you do not see the Payment Plan button, please connect by means of the Contact Us form for other available options.
Installment loans: Modifications to the payment schedule, such as extensions and payment plans, are not available for installment loans. If you cannot make your scheduled payment, please get in touch using the Contact Us form.
Extension
As it is mentioned in "Repayment" unit, a client has an opportunity to extend only a single-payment loan. The correct number of extension attempts is unknown but you will see when logging in on the dashboard a button "Extend", if this option is unavailable, you are welcome to contact customers support service of LendUp.com to find out other available for extension options.
If you get an installment loan, you have no an opportunity to prolong a loan that's why you have to pay a loan back in every due date of installments.
A client is not eligible to get a loan when the first one is not paid yet. But after paying a loan back completely, a client may be approved for the next loan after several days only.
Bad Credit History on LendUp.com
There is no actual information about the fact whether bad credit history will effect loan approval but in general, LendUp.com provides clients with an opportunity to improve and even build a credit history. Such an option is known as "LendUp Ladder".

Repayment history is one of many factors that assists to define clients' credit score. LendUp.com reports loan payments to the three main credit bureaus only for installment loans at the Platinum and Prime levels of the LendUp. Fortunately, Loan Ladder is available now in all states where LendUp.com has a license to work. During some time a client can gain points to go up the LendUp Ladder to be approved with loans at lower rates. Gaining points is as hassle-free as making in-time payments, taking free financial education courses and referring friends who borrow from us. And, as always, you'll enjoy the many other benefits of borrowing from LendUp — including a fast, convenient online application and an instant decision 24/7.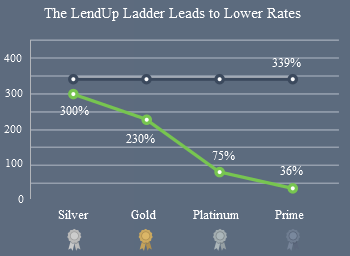 There is such an option describing that if you will invite a friend, you will also get a profit from this online lender. We believe that this online lender provides loans for people with bad credit history as well because it may help improve their credit history and push back the limits.
Technical Data
Secure Connection on LendUp.com

Really speaking, the connection is secure on LendUp.com. The company owner is LendUp (Flurish Inc.), the security certificate is verified by COMODO CA Limited. It is a rare case when company owner information is not hidden, but here we find one disadvantage, LendUp.com uses only 128-bit encryption service, what seems to be not so effective in comparison with 256-bit encryption.

But clients may be sure that their personal data will be protected by all possible means. LendUp administration doesn't disclose or trade clients personal data used to provide them with high quality financial service.
Mobile Version of LendUp
Mobile version of LendUp.com is user-friendly meeting all the necessary standards to make this mobile version useful for people who decide to apply for a loan in LendUp.com.
Mobile version is adjusted to different smart phones what makes it more profitable for people who get a loan online. LendUp.com mobile version is arranged in such a way as to be convenient at different stages of application filling in. There is no scrolling and everything is arranged in such a way to meet all customers' needs.
Antivirus Presence
Unfortunately, there is no antivirus on LendUp.com that's why there is such a possibility to catch viruses and other online threats while commanding the service of this online lender. Nowadays, the Internet is rich in viruses devoted to "infect" your device and put it out of action. LendUp.com should install an antivirus to protect people such an inconvenience as fast as possible.
Convenience of Application
First of all, to leave an application on LendUp.com, it is necessary to create Login and Password. It takes not so much time but it should be done in such a way: you have to enter your e-mail and password into mandatory fields.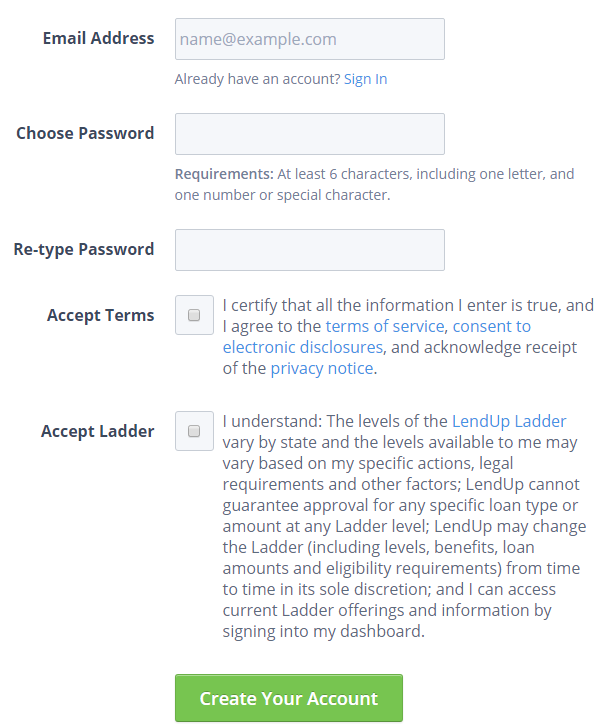 Then you have to undergo three main steps of application filling in, exactly: apply, verify and sign.

It is necessary to enroll the following fields to be approved:
The next step is to press the button "Save and Continue", after that you have to verify your identity and then sign a contract. After that, your funds will be transferred to you within 24 hours. This procedure can be carried out faster but it depends, first of all, on your own bank performance.
There are one more interesting aspects of LendUp.com giving people an opportunity to get financial knowledge according to bothering you questions.
There are the following courses:
Credit Building Unveiled;
Know Your Credit Rights;
The True Cost of Credit;
Roadmap to Your Credit Report;
Build Your Credit: Ladder to Success;
How to Protect Yourself Online;
Pay Yourself First;
Better Budgeting;
Benefits of Your Credit Card;
Beating Credit Card Risk;
What's Up With Your Finance Charges?;
Building Your Financial Future;
Your Finances: A Tool for Life.
Each of the courses outlined below consists of a video followed by a quiz. You earn 125 points for each course you finish. Complete your first 6 courses to receive a 250-point bonus!
In general, all the procedure takes not so much time and convenient enough to meet all customers' needs. The only thing is the necessity of registration.
Is LendUP.com Legit?
We are going to check whether lendup.com is legit and secure by means of ScamAdviser.com. Unfortunately, ScamAdviser.com considers LendUp.com is low trust considering this site not be safe for use giving it only 0-% of security rate. This online service is probably the United States of America based but the greatest percentage shows that real website origin is hidden.
Contact phone number and address do not coincide with given on website itself but they are all the United States of America based. As we see, it does not instill confidence into ScamAdviser.com when providing the total rate for LendUp online lender.
Domain age is 16 years, 52 days and it is very popular according to statistics given by ScamAdviser.com. To our mind, the main reason for such a low rating is hidden information presence about company owner.
In general, we cannot estimate fairly this data because we do not find any real evidence of illegal business except hidden information.
LendUp.com Reviews
Reviews on Lendup

Reviews on LendUp.com are of two types:
written in an ordinary way;
video reviews.
Video reviews are arranged on the front-page where people tell their stories of how they have commanded the service of LendUp.com. As an example, you may watch the video: https://app.getstorybox.com/.
They all exhibit one and the same point of view. All these people are regular clients of LendUp who improve their financial status and credit score as well. Of course, such reviews are one of the best opportunities to know the real essence of every story but we cannot examine their originality that's why we still have some questions.
Written reviews about LendUp.com performance show how clients are satisfied with the work done. All the reviews are positive supposing they will return to become regular customers of LendUp.com online lender.
The number of reviews is not enormous, only 12 reviews without dates, unfortunately. We cannot understand when they were written and how they appear on the website because there is no feedback form. In fact, they are present but their originality is placed into question.
Reviews about LendUp.com on the Third Parties
The main external resource of reviews about LendUp performance is TrustPilot.com. LendUp.com rating on TrustPilot.com is high almost 5-Star that's why we may guess that the majority of people leave their satisfactory reviews there.
The latest review is written on September 3, 2017, and gives 4-stars for LendUp.com performance exactly, the customer was glad to command this online lender service for so many years already.
These reviews are not detailed, unfortunately, and it cannot be absolutely useful in making a choice whether LendUp.com is a reliable online service offering people single-paid and installment loans. But you may read them properly and decide whether this online lender is suitable for your case or not.
Contact Information
"Contact Us" Section
"Contact Us" form contains only mailing address and the address of headquarter which are not active now.

Lendup.com phone number is not defined in this section and it seems so odd because as it turns out telephone is the only opportunity for clients to come in contact with Customer Support Group. We have found the contact number of LendUp.com in another place: 1-855-200-5063.
So we also remember that ScamAdviser contact data and contact information given on the website do not coincide that's why there may appear a suspicion that this online lender tries to hide this information.
LendUp.com Locations
LendUp.com has a license to perform and approve loans online in the following states:
California;
Louisiana;
Mississippi;
Missouri;
Ohio;
Tennessee;
Texas;
Wisconsin.
The difference among LendUp operation lies in loan amount available and the period for which you arrange a loan. The detailed table is given in "Terms of Use" unit. In all these states, LendUp offers its customers single payment and installment loans ranging from $ 100 up to $ 1 000. They also hold out an offer preparing credit cards giving people an opportunity to improve the financial state. All the details you may get to know in Customer Support Service over the phone.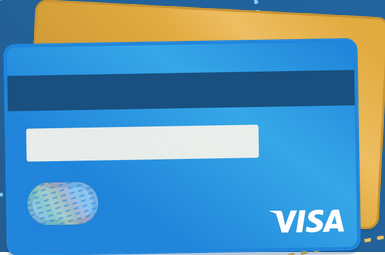 Customer Support Service
Unfortunately, there is only one way to contact customer support service exactly over the phone. An available phone number in LendUp.com is 1-855-200-5063. They offer clients to use contact form placed on "Contact Us" page but it doesn't perform its functions well. This option looks like a selection of question you are eager to ask:
When choosing to bother you question, you will see the following statement: "Answer: Find out right now: Sign in to your dashboard to see when we estimate your money will be deposited. If this does not answer your question, you may send us a message." "Send us a message" option doesn't serve a function of connecting people with LendUp customer support service.
Conclusion: Video Reviews – Not a Sign of High Reliability
LendUp.com is a direct lender operating in California, Louisiana, Mississippi, Missouri, Ohio, Tennessee, Texas and Wisconsin. LendUp online lender ensures clients with two types of loans online: single payment and installment loans, available loan amount of which is up to $ 1 000. LendUp.com has reviews left on the website about its performance, moreover, the majority of them is video reviews. But it turns out that they are not dated and enormous, we are not able to estimate them fairly.
TrustPilot.com is the main source of reviews left on the third parties websites. The rating is high and positive reviews predominate over the negative. But reviews, in general, contain less information about service, it sounds like: "Great Job! and nothing more". To our mind, it won't help people make a choice.
One more minus showing that LendUp is not so reliable and trusted. ScamAdviser.com, security analyzer, gives 0-% of security for LendUp.com. This online lender hides company location, but probably it is the USA based. Contact page gives a mailing address in San Francisco. This information doesn't coincide.
Instead of great LendUp.com popularity, this online lender doesn't have credibility from us. It is better to examine all the information one more time to be sure everything will be in order while commanding this service.