What is Figloans.com?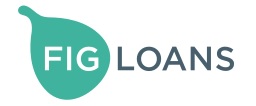 Fig Loans is an online based lender which is based in Texas. The company was founded by two Wharton Business School graduates, John Li and Jeffrey Zhou, in 2015. Their aim was to make payday loans more affordable to customers who have financial difficulties. They strived to become better lenders that could help borrowers to improve their financial condition and credit history. Today they are ready to offer you a loan that is 60% cheaper than that offered by other lenders.  They also work with nonprofits to help their clients to improve financial health.
| | | | | | | |
| --- | --- | --- | --- | --- | --- | --- |
| Loan types | Min.amount | Max.amount | Period | APR | Documents | Bad credit |
| Installment loans | $300 | $500 | 4 months | 176-190% | SSN | Yes |
Types of Fig Loans
Fig Loans offers two types of financial products: traditional and credit builder loans.
A traditional loan is when a lender gives you money and you pay it back. The maximum loan amount is $500 and the repayment period is 4 months.
Credit builder loans work the opposite way. The customer is approved for a loan amount, but he pays off the balance of the loan before the lender releases it to him.
This loan is designed to improve your credit score by reporting your performance to the major credit bureaus like TransUnion, Equifax, and Experian.
Their credit builder loans range between $300 and $500 and have repayment terms of 12 months.
According to the website, if approved, you can typically receive the funds within 1 business day.
Terms of Use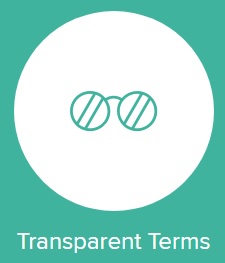 The lender provides potential customers with transparent terms and rates. To be eligible for a loan with Figloans.com, you must live in Texas or Missouri, have an active bank account and SSN number.
The decision is based on the personal information you submit. The lender works with any applicants, but you have a better chance of approval if you have a credit score of 450 or more.
The company offers 4-month installment loans ranging from $300 to $500. Their APRs for a first loan depends on your state of residence — 176% for residents of Missouri and 190% for clients from Texas. If you repaid your first loan successfully, you may be offered a lower APR.
I appreciate that Fig Loans have no hidden fees and they do not charge processing or origination fees.
Here's a sample table of rates and fees offered by Fig loans compared with typical payday loans from other lenders: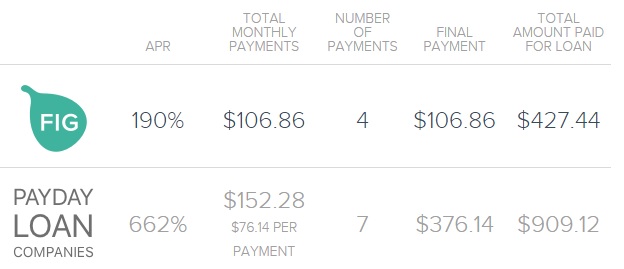 These rates and terms actually look very beneficial and affordable.
Application
To apply for a loan, you need to click the Apply button on the main page to be redirected to the online request form. Then you are asked to drag the Loan Amount bar to the desired amount you wish to borrow. If you agree to accept the offered terms and payments, you need to click the "Apply Now» button.
During application, you will be required to enter your email address and invent a password for logging in to your personal Fig account. After reading all the terms, you need to click the "Submit» button. Then enter your personal information including but not limited to your Social Security Number and bank account number. Then you can submit your application.
As soon as the lender receives your request, they will review and assess it within 1 business day. As soon as possible, you'll receive email notification of whether you are approved or declined.
Loan Repayment
The lender offers a convenient payment schedule. All borrowers repay their Fig loans in 4 monthly installment payment.
If you fail to make a payment on time, you'll pay a penalty of 5%. Besides, your interest rate will increase up to 10%. So if you have troubles with payment, you should contact the lender's customer support right away. They promise to do their best and try to create a new payment plan that fits you.
Unlike other online lenders, Fig Loans do not charge you a penalty for repaying your loan early. Instead, the company gives you a discount.
Loan Extension
According to the website, is a customer is unable to make a payment on the due date, he should call the lender an advance to discuss possible loan extending options at no extra cost.
I also found out that you can have only one Fig loan at a time.
Figloans.com Bad Credit
Fig Loans approves loans even if you have a bad credit or no credit. However, the lender reports your repayment history to the 3 major credit reporting agencies TransUnion, Equifax, and Experian, so if you are a responsible borrower, you can improve your credit score.
On average, clients cooperating with Fig Loans for at least 8 months, see a 47 point credit score increase.
Technical Characteristics of Figloans.com
Encryption
It's nice that Figloans.com is secured with SSL certificates (256 bit) – digital solutions that help websites' owners to protect the transmission of information. They allow you to exchange data in an encrypted form using a special HTTPS-protocol and allow the user's browser to verify the authenticity of the site. SSL connection security ensures the confidentiality and integrity of information when it is transmitted.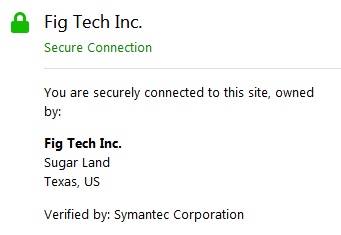 Besides, the website has an Extended Validation – a certificate of the highest level. Such a certificate can be obtained only by legal entities that provided all the necessary documents, and the distinctive feature is that the name and location of the organization (Fig Tech Inc., Texas) are displayed in a green address in the address bar after the green lock. Such certificates are most trusted and acquired by large companies. This means that this lender provides customers with a secure online payment service.
Mobile Version
A mobile version is a separate version, adapted to display on mobile devices. It may not display all the blocks that are on the main version of the site. Figloans.com mobile version is good because it adapts to different screens. It can look great on your smartphone and tablet. The website has successfully passed a Google Mobile Version test:

Such a website can fully meet all the needs of people using mobile devices and allows them to fill out a loan application at any place which has access to the Internet. The application seems easy and convenient, the images are enlarged, the text is readable, there is no scrolling and no secondary/distracting information. I think users will have a pleasant experience with such a mobile version.
Antivirus
Online companies like Fig Loans must be fully protected from all kinds of viruses and malware. Regretfully, this site does not have an antivirus, which poses a threat to users. Using this service, you run risks of identity thefts and hacking. Malware programs can access online transactions and steal your sensitive personal and financial information.
I would recommend the lender to install an antivirus since large and legal websites use such programs to provide the maximum security to its customers.
The Convenience of Using Figloans.com
The application can be filled out through the lender's website and only takes 5 minutes. The key information you will have to provide is your contact details, full name, and bank account details.
Bear in mind, that as soon as you arrive at Figloans.com, you'll be asked to register as a new client or log in if you have already used their services. Then you will need to choose the amount you wish to borrow and click "Apply Now". After that, you will find yourself on an application page consisting of 5 steps.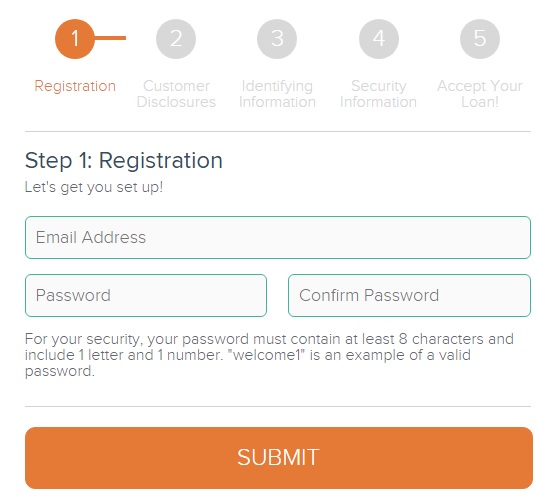 During application, you will also have to provide your social security number.
Once Fig Loans receive your request, they will review your application and send you an email notification with a loan decision. They mention that application assessment may take up to a few business days, but on average, clients receive a decision within 1 business day.
I like that the lenders have a convenient loan calculator on the website. You can use it to see how monthly payment and total amount repaid will change depending on the loan amount borrowed.
Thus, the company discloses the full terms and rates of a loan in advance.
New visitors can find the answers to frequently asked questions in a special "FAQ" page.
Considering all these details, I conclude that this lending company has done a great job and made an application process as easy as possible. Their site is very informative and contains all the relevant information about Fig loans.
Is Figloans.com Legit?
To ensure Figloans is legit, I checked the website's trust rating given by Scam Adviser. The verification service indicated that the trust rating for this lender is 100% out of 100%, which means that this company has an excellent online reputation!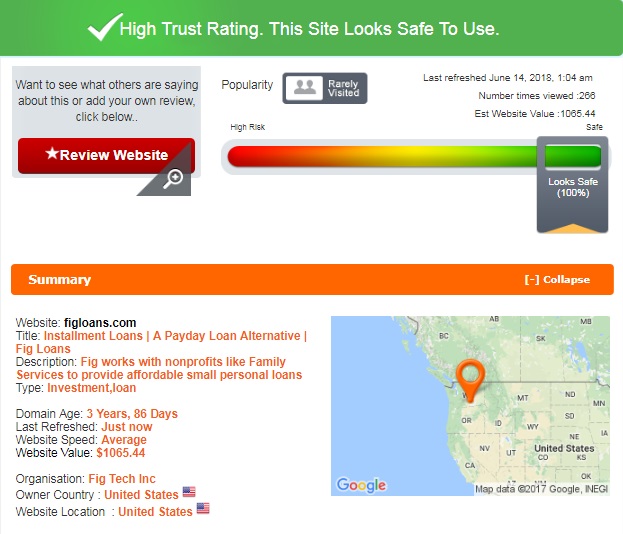 According to ScamAdviser, the domain age is over 3 years. The site looks safe to use and is owned by Fig Tech Inc located in the United States. Regretfully, the site is rarely visited and this looks a bit suspicious but nothing indicates that Figloans.com is a scam.
Figloans.com Reviews
On-site Reviews
The fastest way to check the lender's performance is to read previous customers' reviews. Unfortunately, there is no testimonial page of the company's own website, which means you are unable to leave your comment there. Instead, they invite you to read what people say about Figloans at Trustpilot.com. I will describe what I have revealed about this lender in the next unit.
Reviews on Third-Party Websites
I was happy to find a huge number of positive reviews left by customers on the web. There are 65 comments at trustpilot.com and all of them are from happy customers. People call their experience with this lender the "best experience ever" and "helpful, easy and very nice." Marilyn appreciated a quick approval, Teresa said it was an awesome company, Tracle mentioned it was a totally great experience, Alicis was happy that this company gave her a chance when no other lender would. Jerridee stated that Figloans employees were very helpful. The most recent review was published 10 days ago reporting that this company was helpful in the case of an unexpected emergency, the user would recommend this website to anyone looking for a speedy loan.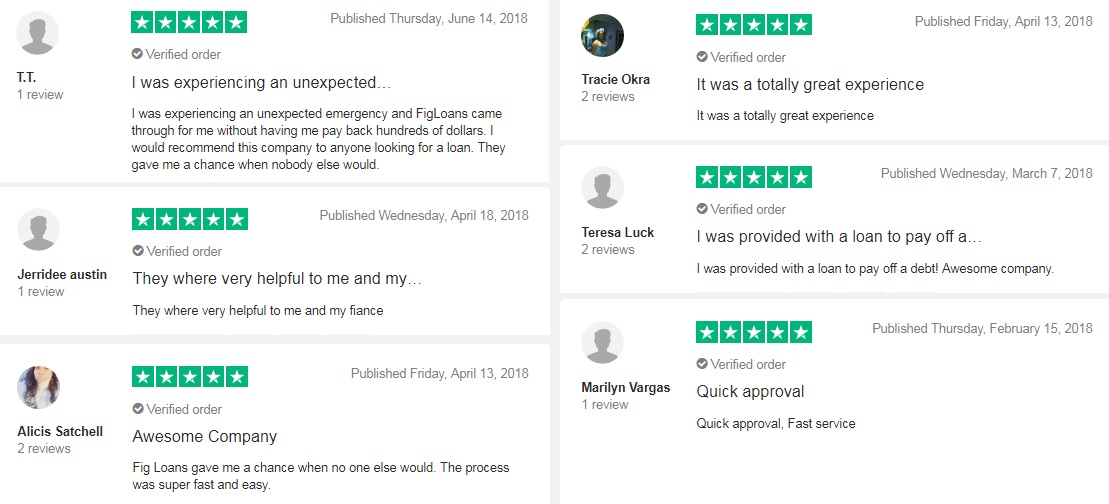 There are also good Fig Loans reviews on other websites. Actually, I did not find a single complaint about Figloans on the net. Only one user mentioned that the company did not approve his loan for some reason but there is not a single lender who approves all applicants without an exception.
Besides, I want to share with you a picture I have found on an independent website. Here's a photo of the Figloans team from the LendIt conference 2017:
Since all the comments were published on different websites and are very detailed, I can rely on them and I do believe that they were written by genuine customers who confirmed that Fig company is legal and helpful.
Customer Support
Contact Information
Regretfully, the website does not have a Contact us page so it was quite difficult for me to find the Fig loans legal address: their headquarter office is located in Sugarland, TX and was founded in 2015. No matter how hard I tried I could not Fig Loans contact number. Fortunately, an email address was available: service@figloans.com. I think companies like this one must provide a phone number because this is the most popular and easy way to reach the lender's staff member. The website needs to be more transparent.
Figloans.com Locations
Regretfully, Fig company is only providing loans to customers from two states, Texas and Missouri. People from all other location will have to search for another lender.
Getting a Consultation
According to the website, the lender has a responsive and easy to use customer care department which is available by phone, email, and text. Besides, users can request a personal consultation at any time and be connected with an actual Fig representative.
Since there are no live chat option and no phone number available, I had to use the offline messenger to reach the manager of the company. I asked them whether Fig Loans has a phone number. I waited for 5 hours but did not get a reply. In my opinion, they provided too limited channels of communication so it will be not that easy to contact the lender for some question or advice.
Conclusion
In general, I'm satisfied with Fig installment loans. They seem to be a legit and beneficial option for people who urgently need money. All you need to qualify is to have an active bank account and live in Texas or Missouri. I like their flexible repayment terms and low APR more than those offered by other lenders. Besides, they have no hidden fees – all their rates and terms are specified on the website and you can check them before filling out an application form. The main disadvantage of this company is that they're only available in Texas or Missouri, so if you live outside of these states, Fig Loans is not the lender for you. Another drawback is that they offer low maximum loan amount – only $500, so if you need a larger amount, you'll need to search for another lender.