What is Check Into Cash?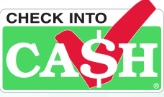 Check Into Cash is a short-term payday loan lender founded in 1993 in Tennessee by Allan Jones. The company serves individuals who need money for unexpected expenses and currently has over 1000 branches in 30 states. Customers can apply for a loan online or in store and can get approval in a few minutes. Because of this, the lender claims to "make it fast and easy for everyone to get the cash right now." According to their website, Check Into Cash is an active member of the Community Financial Services Association (CFSA), the trade organization for the lending industry best practices. Being a pioneer of the short-term lending industry, Check Into Cash strives to provide high-quality customer service, both online and in store. The company believes in truthful advertising and full transparency of their services.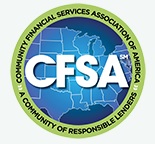 Loan types
Min.amount
Max.amount
Period
APR
Documents 
Bad credit
Payday Loans,
Online Payday Loans,
Title Loans,
Installment Loans,
Online Installment Loans,
Line of Credit,
Flex Loans
$50
$1000
a few days to a few months
260.71% to 1,409%
A SSN, driver's license or photo ID, checking account number or bank statement, bank routing number and proof of income
Yes
Check Into Cash Loans
Check Into Cash offers a rich selection of loan types to its customers. The main page of the website advertises 2 probably most popular loan types: payday loans and title loans. Besides, the company provides installment loans, a line of credit, flex loans, check cashing, bill pay, Western Union, U.S. money cards at its nationwide centers.

A payday loan (also known as a cash advance loan, or a short-term personal loan) is a advance on your next paycheck and not a long-term solution. It's rather an option for covering unexpected expenses that is usually must be repaid within two weeks to four weeks;
A title loan. If a customer owns a vehicle, he can use his car to serve as collateral and get a title loan with Check Into Cash. The maximum you can borrow is $25,000 depending on the value of your vehicle, the state you live in, and your ability to repay. Getting a title loan means you get the money you need and keep your car. The lender will only need the lien-free title of your car or motorcycle;
A title pawn. In certain states, you can apply for a title pawn, not a title loan. Both loan types are largely similar, with the title of your vehicle serving as collateral;
An installment loan is similar to a payday loan, but has one major difference: this loan type is not due in full on your next payday. The repayment term can be anywhere from a few weeks to a few months;
A line of credit is a ready source of extra cash. Customers can borrow as much as they like within their credit limit, and they only have to pay interest on the money they use;
A flex loan is an open-end, renewable line of credit that gives a customer flexibility to cover his unplanned expenses. With this loan, a customer is in charge. He can withdraw as much or as little cash as he likes within his credit limit, and can control how long it takes to repay his balance.
Check Into Cash provides online loans and in-store loans, so customers can apply online or at one of the lender's stores.
Once approved, Check Into Cash will transfer the funds within a day. However, in some cases, it can take up to 2 business days to receive money in your account with the online application. Borrowers who apply at the store, can get their money within minutes of completing the application.
Terms of Use
Lending requirements vary by state. The common requirements for getting a loan with Check Into Cash are the following:
Be at least 21 years of age (19 years in Alabama);
Be a citizen or permanent resident of the U.S.;
Make a minimum of $800.00 a month with verifiable income;
Have an active checking account open for at least 90 days;
Have a current mobile and work phone number;
Have a valid email address.
* Indiana residents must also provide proof of a Social Security Number.
Depending on your state laws, Check Into Cash payday loan amounts vary from $100 to $1,500, while title loan amounts vary from $1,350 – $25,000 with the title of your car or motorcycle.
The APR for payday loans also varies in each state and depends on the loan amount, fees, and repayment terms. The shorter the loan, the higher the APR will be. The APR for a $100 payday loan may range from 260.71% to 782.14% on 14-day terms. The exact percentage rate will be displayed as soon as you have chosen the necessary state. For example, the APR for a $300 single-payment payday loan in Kansas makes 391.07% on a 14-day term: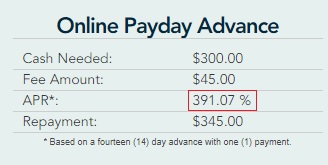 The company offers 7-, 14-, or 30-day payday loan terms. However, most states offer 14-day loans and repayment on the next payday.
Application on CheckIntoCash.com
As with most online lenders, CheckIntoCash.com application process online is fast and takes a few minutes. A decision is given immediately on the website at the time of submission. Once the online application is received, the lender will then call a customer to verify his application information. Approved online clients can receive their money within 24 hours, and in-store applicants.get the funds immediately.
Besides, customers can apply for a Check Into Cash in-store loan by writing a personal check for the cash advance amount plus the fee. The lender will hold this check until the customer's next payday. With an in-store loan, customers can walk out the door with fast cash instantly:
To get a loan from Check Into Cash, the customer will be required to provide:
Social security number;
A government issued driver's license or photo ID;
Checking account number;
Bank's routing number;
Proof of income.
To get a title loan, a customer will have to complete 3 simple steps:
Bring his vehicle and a clear title of his vehicle;
Get the cash and keep his vehicle;
Repay a loan:

To get a title loan with Check Into Cash, customers will need to provide:
A vehicle;
The title of a vehicle;
Government-issued photo ID;
Proof of residence;
Proof of income.
Sometimes the lender needs to contact a customer's employer to verify the information. Some states may require additional documents,
such as a pay stub, social security card.
Usually, the lender requires no faxing an no personal reference, but some customers can be asked to fax or email addition documents, if necessary.
Loan Repayment on CheckIntoCash.com
The repayment date is determined by a customer's pay schedule. A payday loan or cash advance is typical to be repaid for 2 to 4 weeks. Typical Check Into Cash installment loan repayment terms ranges from 6 to 12 months.
If a customer applies in-store, he will write a post-dated check to the store and he will hold onto it until his next payday. When the due date arrives, Check Into Cash will cash the check and the repayment is complete. If a customer applies online, the lender will automatically debit his checking account on his next payday. The amount a customer will repay is the total of his loan plus the incurred fee.
Does Check Into Cash Offer Loan Extension?
If a customer is late repaying the loan amount, Check Into Cash offers an Extended Payment Plan, which incurs interest at the same rate until a customer pays back the original amount and additional fees. If a customer still does not repay his loan amount, his account may be turned over to a third party collection company – this will affect his credit score and incures even more fees that have already been borrowed and charged.
Customers are allowed to pay their loans early, before the due date, without a pre-payment penalty. Paying loans early saves customers finance charges since interest is charged on a daily basis. For early payment, customers will need to contact Check Into Cash customer service representative at 877-577-7977.
Unfortunately, the lender does not provide any information on whether it is possible to apply for a second loan until the current loan is fully repaid.
Does Check Into Cash Check Your Credit Score?
Even if customers have had bad credit in the past, they can still get the money from Check Into Cash (of course, if they meet the lender's basic credit check and underwriting requirements). However, they should know that the company does gather information from several risk assessment and national databases. The main thing for the company is to ensure a client has the ability to repay the money he wants to borrow. So, you may apply for a loan with CheckIntoCash.com even if you are having a bad credit history.
Technical Characteristics of the Website
Is Check Into Cash Safe in Terms of Connection?
Check Into Cash online requires some sensitive information, like your Social Security Number, in order to provide you a loan. So, every customer wants to know his personal data are secured. Our browser indicated that checkintocash.com is secure. Their security certificate is an average form of encryption – a 256-bit SSL encryption. In addition, the website uses an EV Certificate issued by Network Solutions L.L.C. which signifies that Check Into Cash has passed a rigorous process of examination by the certificate issuer. This protects users' information from phishing and identity theft. Customers may also notice that the browser address bar has a green background and lettering on the left side which means that the EV SSL certificate is functioning properly and is in compliance with regulatory requirements:
It would be safer if the lender updated its security to make sure that customers' details can't be stolen. Of course, it's only about their online service. In general, though, it seems that CheckIntoCash.com is safe.
Checking CheckIntoCash.com Mobile Version
CheckIntoCash.com website is adapted for mobile users. There is no scrolling, everything is displayed correctly and works properly. Using the mobile version is even more convenient, as all secondary information deleted from the main page. The website has successfully passed a Mobile Friendly Test by Google Search Console:

In addition, CheckIntoCash.com provides mobile applications for both iOS and Android operating systems. These applications will allow customers to apply for and get money approved in minutes, find Check Into Cash nearby stores, manage current loans, and much more.
No doubt, a special mobile application is of a great importance and can provide the best experience for people who prefer using their mobile devices for accessing the Internet.
Checking Antivirus
CheckIntoCash.com's owner provided has no antivirus on the website, which means that users can easily catch dangerous malware or viruses on their computers. It would be preferable to provide an antivirus program, as borrowers want to feel 100% safe when surfing the pages of a website. For now, this website can't be considered the safest place to borrow money online.
The Convenience of Using Check Into Cash
As we have already said, customers have two options: to apply for a loan online or in-store. In general, both options are easy and quick.
For an in-store application, customers need to bring in their most recent checking account statement and a current pay stub (or other proof of income), after that they write out a personal check for the amount they would like to borrow plus all fees and finance charges. The company will hold onto their check until their next payday. Or customers provide their checking account information to pay by debit. When applying for an in-store loan, customers receive cash instantly. On the specified date, they must come into a storefront of the lender and repay the loan plus all Check Into Cash fees.
Check Into Cash application online is easy and even more convenient, since people can apply for a loan right from their notebook or a mobile phone. First of all, the customers need to pass a registration and create a login for a personal CheckIntoCash.com account for a loan further management:
After that, an applicant should decide which loan type he wants to get and click of the corresponding emblem on the website and complete the application online:
For a standard payday loan, a customer must provide his personal details, income information, and banking details.
If you want a Check Into Cash title loan you will need to provide some car details, namely its Year, Make, Model, and Series:

If you are pre-approved, you will need to e-sign the application to confirm your funds. When applying for a loan online, money will be deposited into your bank account the next business day. The original loan amount, all fees and finance charges will be debited from your bank account on your next payday.
The website also contains a convenient tool for finding the nearest Check Into Cash. For this, customers will need to enter a Zip Code: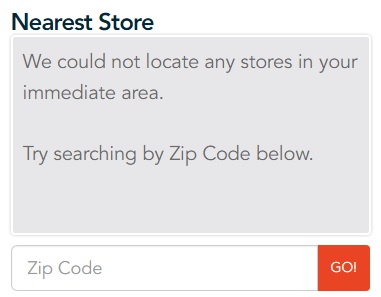 We like that the website explains all loan types and navigates customers to the "How It Works" section for descriptions of what information and documents they need and how to get started. The "Rates and Terms" section outlines specific details and terms for each state since each state has its own loan types, requirements, and regulations. It is simple to find the APR, fees and maximum loan amounts by clicking on the state you are living in. For example, you can see the rates and terms for Tennessee on the screen below:

A user can also use a convenient Check Into Cash calculator for online and in-store loans to specify the fees, the APR and the final cost of the loan. For example, if you live in Tennessee and want to take a payday loan online in the amount of $150 for 14 days, you will have to repay $226,47 with an APR of $460.08: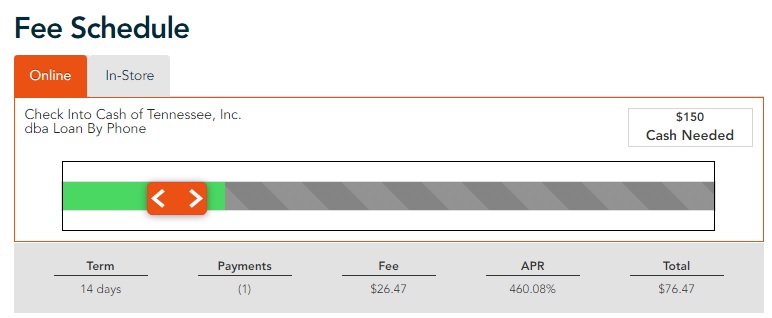 When it comes to loans, there is no one amount of charges that can not be quoted. All customers who enter into a loan agreement know exactly what fees they have to pay over a set period of time.
Check Into Cash has made it quite easy to find out how the process works, how much customers will have to repay, and when the repayment will be due. The "FAQs", "State Center" and "How It Works" sections are very informative and useful:
Considering all facts above, we can conclude that CheckIntoCash.com is a very convenient website for getting fast cash online.
Is CheckIntoCash.com Legit?
We decided to go through Scam Adviser – an authentication source – to check the background information and validation scores of Check Into Cash. According to Scam Adviser, the lender has a very high trust rating and are safe to use for anyone. The website enjoys a lot of visitors, showing a healthy online activity around the lending company. The owner country and the website location are the USA. The domain age is more than 20 years. This website is also deemed to be popular by Alexa and has good online reviews. Finally, CheckIntoCash.com reached 100% on the safety scale, leaving the red and yellow zones far behind: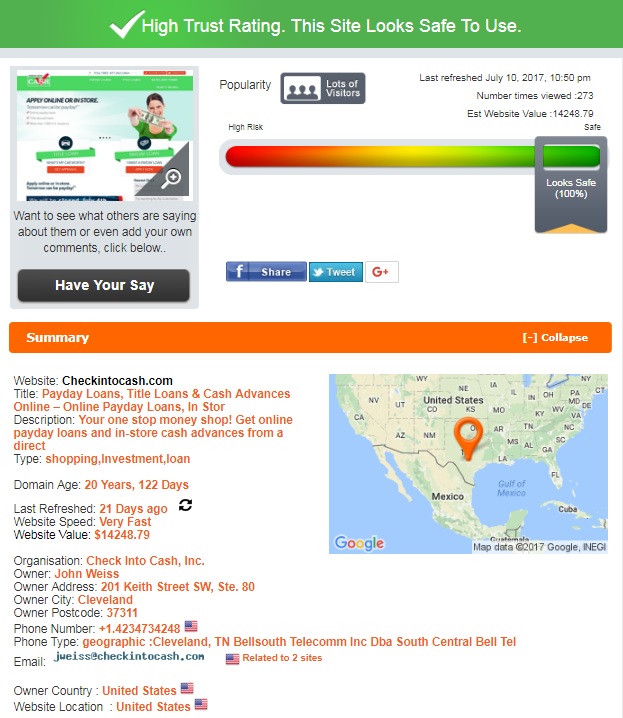 CheckIntoCash.com Reviews
On-site Check Into Cash Reviews
Companies that provide short-term payday loans and title loans often suffer from poor reputation because these loan types usually come with high high fees and interest rates, since they are often provided to customers with bad or no credit scores. We decided to check Check Into Cash reputation based on customer on-site reviews. The website has a special section called "Testimonials" where customers can leave feedback and share their experience with the lender's services. The page contained 18 reviews from happy customers – a very small amount for being over 20 years in the business. All of them are purely positive. Clients point out Check Into Cash excellent services, helpful and friendly customer support, easy application process, fast funding and great rates. Here are some comments from the website: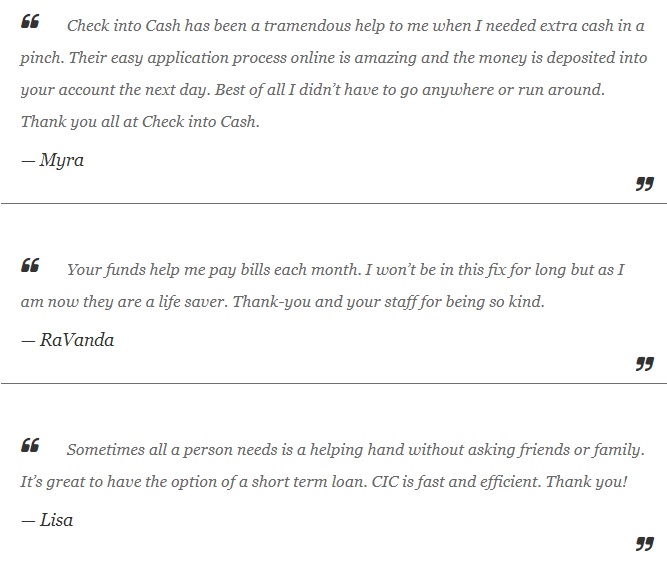 Even though all reviews are good, we can't 100% believe them, because we doubt their origin. There is no proof that they have been written by real Check Into Cash customers, since there is no contact form to send a feedback. All these comments were selected (or even composed) and placed in this section by the website's administration that would have scarcely published negative comments and complaints on their website. That is why we could not assess the reliability of this online lender basing on user on-site reviews and had to look for some on other websites and forums.
CheckIntoCash.com Reviews on Third-Party Websites
Since Check Into Cash has been operating for more than 20 years, there are many online reviews for the lender. In general, most customers seemed to be happy with their experiences. Positive Check Into Cash reviews mentioned that the lender does its job well if all you need is a payday loan. For many customers, the company approves their application quickly, and they are able to apply for an online loan within just a few minutes. Some users mentioned they were happy to use checkintocash.com promo codes.
The website has a perfect rating on consumeraffairs.com based on 1,060 ratings out of 1,061 reviews:

We found many positive Check Into Cash title loans reviews 2017. For example, Dennis from Texas says he used Check Into Cash services with not a single problem with the whole process being fat, comfortable and easy. He also mentions their professional customer support service that was always ready to help. He gives 5 starts to the lending company. One more customer from Illinois has been using Check Into Cash for years and were always pleased with the services provided. He also mentions a friendly and helpful customer support that keeps his personal information safe. He will continue using this lender and recommends other people doing so. Look at the screens of these 2 reviews below: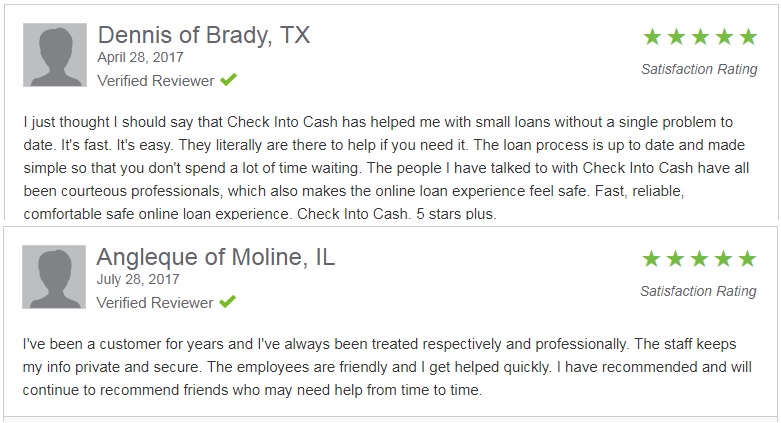 The website contained a few most common Check Into Cash complaints about harassing phone calls and problems with customer service — slow service times and unhelpful staff. We picked up the latest comments 2017 with a poor rating. David from Nevada is unhappy that his application was declined though he was a regular customer with a good reputation. Stankey from Massachusetts had the same problem with Check Into Cash – they rejected his installment loan request, still, he says he has been able to do some business with this lender:
You can read all CheckIntoCash.com reviews at https://www.consumeraffairs.com/finance/check-into-cash.html.
Next, we turned to supermoney.com to read Check Into Cash customer reviews and see if there were reports of fraud or general poor behavior. The website had 10 testimonials with most of them being negative. The complaints were also most common: the customers' dissatisfaction was due to their loan rejections. In addition, one user mentions he could not get a loan with the lender since the latter required a print out of his latest bank statement: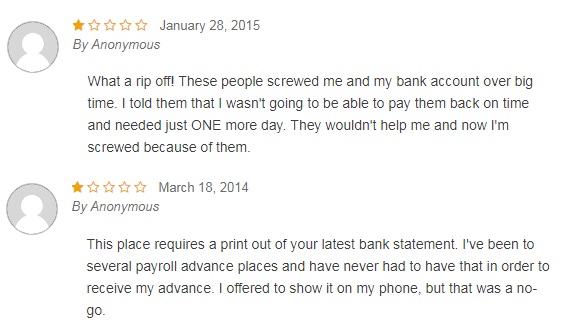 The latest comments available on the website were positive, though. One customer says that this lender can be trusted since it has a license and a long lending experience:

We also found a negative Check Into Cash review on BBB website. However, this customer hasn't thrown a new light on the lender's services – he was also declined by the company, since he had a bad credit score, though it had been advertised the other way around.
After we got acquainted with Check Into Cash reviews on independent websites, we may suggest that the website is quite popular and has a good reputation. In general, customers had positive experiences with this lender.
Although there were some complaints about their customer service or loan rejections, we couldn't find comments that spoke of being conned. Another biggest problem with Check Into Cash was a constant, unwanted communication, but you can't expect a silence when you fail on a loan repayment. Other online reviews didn't have any evidence to suggest that Check Into Cash was not legit.
Thus, the customer reviews available give us a good evidence that this lender is offering a legitimate service.
Contact Us section
Check Into Cash Contact Information
The website contains all the details the customers want to know about the company. It was mentioned that Check Into Cash was founded in 1993 in Cleveland, Tennessee, by business entrepreneur Allan Jones, whose photo is available on the website:
We managed to find the following contact information on the website: Check Into Cash phone numbers (separate for online loans and in-store loans), email address, office address: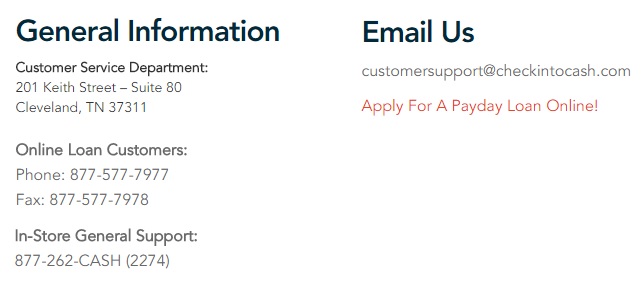 They also specified Check Into Cash operating hours: the lender accepts loan applications 24 hours a day, 7 days a week, 365 days a year, but they are processed between 9:00 AM to 7:00 PM Monday – Friday. The company can only electronically fund money to customers' checking accounts on valid banking days (Monday–Friday).
Check Into Cash Locations
Check Into Cash services may not be available in all states. 19 states offer both online and in-store application options, 9 states only offer in-store services, and 2 states offer online services only. In order to check a state's eligibility, the company provided an "Information by State" page: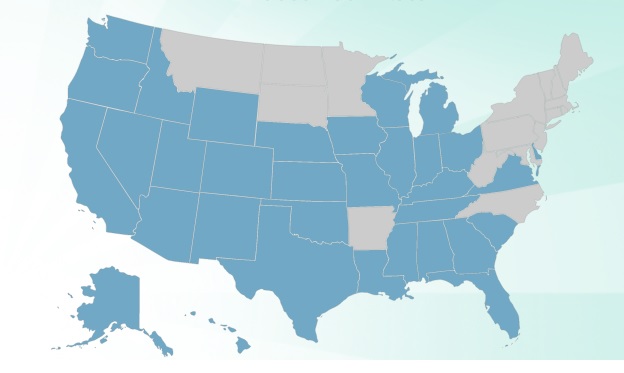 Check Into Cash currently offers payday loans online in Alabama, California, Delaware, Idaho, Indiana, Kansas, Louisiana, Mississippi, Missouri, Nevada, Ohio, Oklahoma, Oregon, South Dakota, Tennessee, Texas, Utah, Washington, Wisconsin, and Wyoming.
Check Into Cash doesn't provide any services in  Arkansas, Connecticut, North Carolina, Montana, Minnesota, Maryland, North Dakota, New Jersey, New York, Pennsylvania, Massachusetts, Rhode Island, Vermont, New Hampshire, Maine, and West Virginia.
Each state has its own rates and terms, customers can see them by clicking on the necessary state.
Customer Support Service
In order to ask questions or apply for a loan, a customer can call Check Into Cash customer support service at 877-577-7977, send email to customersupport@checkintocash.com.
Regretfully, a Live Chat is not available on the website, so we decided to use another way of contacting the lender – using an email address. We wanted to find out whether the applicants should be employed to get a loan with Check Into Cash. We got a feedback 6 hours later. The representative of the customer department answered that in order to be approved, applicants must make at least $800 a month with verifiable income: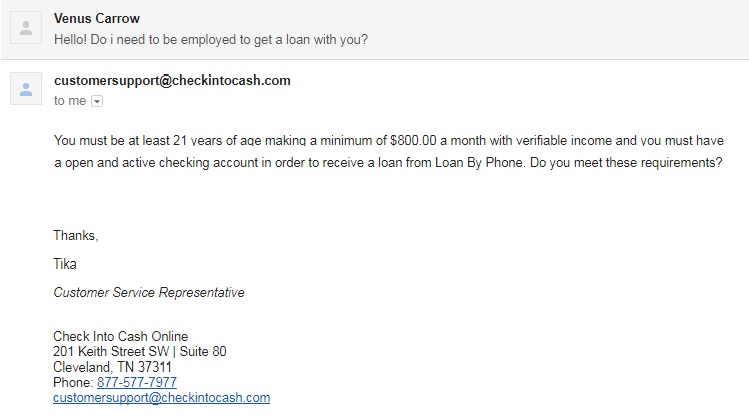 We can't say the answer was speedy, and it would be preferable for a lender to provide a Live Chat for instant messaging. Actually, we got the answer to our question during the first hour the company opened.
Conclusion
CheckIntoCash.com seems to be legit and safe to use. If you're looking for a short-term loan, this lender is trustworthy. With this lender, you can enjoy the flexibility of in-store and online loans. If you live in an area where the lender has stores, you are able to get cash in a  few minutes instead of hours. Interest rates are not the lowest ones, but they are still competitive when compared to other online lenders. However, before applying, ensure that you get the best APR for your needs. Unlike many other lending companies, Check Into Cash is licensed in all the states where its services are available. However, customers should bear in mind that if the loan is not repaid on the due date, they will have to pay more interest rates, penalties, and fees. The lender can prove to be very expensive in a long-term run, and only be financially beneficial to customers who can repay the loan in the shortest term. Check Into Cash has many reviews focused on customer service, with no reports of fraud or stolen details. Fake site checkers didn't mention safety breaches either. Considering this, we'd recommend exploring all your options and trying to search for cheaper interest rates. However, it all rates and terms suit you, you will probably have a good experience with Check Into Cash.