What is Castle Payday?

Castle Payday is now Big Picture Loans. This is an online service providing online installment loans. This company is owned by the Lac Vieux Desert Band of Lake Superior Chippewa Indians, which is located in Watersmeet, Michigan. Castle Payday is owned by a federally recognized Tribe, which means that any activity of this lender occurs on tribal land so the lending laws of the customer's state do not apply. The website is OLA-sealed, besides, this company is a member of Native American Financial Services Association that represents the interests of Native American owned lenders.
| | | | | | | |
| --- | --- | --- | --- | --- | --- | --- |
| Loan types | Min.amount | Max.amount | Period | APR | Documents | Bad credit |
| Installment loans | $200 | $1000 | Up to 32 months | From 780% to 788% | SSN, Driver's License number, State ID | Possible |
Types of Castle Payday Loans
Castle Payday offers online installment loans – these financial products are similar to payday loans but customers can repay such loans in smaller equal payments over a fixed time instead of repaying the whole sum at once.

According to the website, you can spend your loan for any needs: family emergencies, major purchases, short-term financial needs, car repairs and so on:
Once approved, you may expect to receive your funds by 5:00 p.m. the same day. In general, customers get their money via ACH the next business day (Monday through Friday excluding all banking holidays).
Terms of Use
To qualify for a loan with this lender, all applicants must meet the following eligibility criteria: have a steady source of income which equals or exceeds $700 per month, have an active bank account, email and phone, be at least 18 years of age and be and a legal U.S. resident.

You can borrow from $200 to $1,000 for approximately 22 months and you will only start to pay off the balance of the loan by your 6th payment. Fortunately, there are no penalties if you decide to repay your loan early, this way you can reduce the interest rate.
The amount approved will be based on minimum income amounts, credit score, and the personal information a customer provided during application online.
Although Castle Payday doesn't require payment by the next day you get paid, its interest rates are similar to those offered by online payday lenders. The APR for installment loans ranges from 780% to 788% based on your credit rating and other factors. However, you can reduce the APR if you repay the loan before the specified date. The APR does not vary by state because this lender is tribally owned.
The company gives representative examples of approximate loan terms: the total cost of a $1,000 loan in some cases will be is $9,916, which means this credit option is very expensive.
Application Process
All Castle Payday applications are submitted through the website. It seems easy and can be filled out in a few minutes. The lender does not process loan applications over the phone. You only need to click on the "Apply Now" button on the front page and fill out a short form.
After you complete the application, you will receive a call from the lender's representative within 15 minutes (in the case you apply within normal operating hours). The lender will confirm the personal and loan information and decide on your loan.
All in all, you need to follow 3 simple steps: apply for a loan, choose the loan amount required, get approved:
During the application process, you will need to specify your full name, physical address, date of birth, and other personal information. The lender may also ask you to provide your driver's license number or SSN number.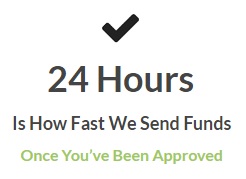 Once approved, you can expect the funds as soon as the next business day.
Loan Repayment
Castle Payday installment loans may choose a payment schedule that ranges from 12 to 32 months depending on the loan amount. Customers will have to make payments every 2 weeks, but the first payment has a term of 21 days. During the 5 initial payments, a customer repays only the loan fee, which proves that this financial product is quite expensive.
The lender warns borrowers that all late payments and non-payments may incur additional fees and penalties. Also, the lender may initiate collection activities allowable under the Tribal federal law.
Loan Extension
As mentioned, customers can extend their loans for up to 32 months. However, you need to remember that a loan extension makes your loan extremely expensive – the longer you repay your loan, the more interest you have to pay to the lender.
You can only have one active loan with Castle Payday. Once you've repaid your loan you can apply for a new one. Returning customers with a good credit history may even get the lower percentage rate. The lender mentions that Castle Payday installment loans should be used for short-term financial needs, not as a long-term solution.
CastlePayday.com Bad Credit
Castle Payday does credit checks on all potential customers and may review their credit information and rating from major credit bureaus. But this does not mean that bad credit history or bankruptcy will 100% disqualify you for a loan; however, these aspects may affect the loan amount and the interest rate you will have to pay.
Technical Characteristics of CastlePayday.com
Checking Encryption
The lender guarantees that CastlePayday.com protects all of the customers' personal information. Indeed, it has a green lock at the left side of the address bar which means this site is encrypted. The URL https// also means that the site is using a secure sockets layer (128-bit) and can guarantee security. The site uses SSL certificates verified by CloudFlare, Inc.:
In general, this encryption is considered normal, however, I'd prefer to use the website with 256-bit SSL certificate.
Checking Mobile Version
CastlePayday.com is a site that can be used from both stationary computers and smartphones.The share of mobile audience is growing steadily. And it's not surprising: almost every modern person is using a smartphone and the likelihood that this website will be visited from a mobile device increases many times.
CastlePayday.com mobile version is similar to the desktop site with the only difference is that the mobile version's functionality is much less than on a desktop site, some blocks become smaller, others, on the contrary, increased in size. Of course, I appreciate that this website can be successfully used from various devices. The site has no shortcomings and can be easily used from anywhere.
Checking Antivirus
The site has the Norton Secured Seal (the most trusted antivirus on the Internet) which promotes trust with consumers and means that users may feel calm when surfing CastlePayday.com.

The Norton Secured Seal also means that this website is regularly scanned for viruses and dangerous malware programs, and the results are reported to the website's owner.
Convenience of Using CastlePayday.com
All transactions with Castle Payday are online and available 24 hours a day 7 days a week. Users can start an application process without registration and logging in a personal account. You just need to click on the "Apply Now" button and fill out a small form containing fields like name, phone, state, address, driver's license, social security number, date of birth, driver's license or State ID number, name and phone of your employer, the amount of your income and it's frequency, and so on. Below, you can see the application block devoted to customer's personal information:
Once you complete your application, you should expect a call from the lender within 15 minutes to verify your personal information. Probably, not all clients will like this verification procedure – most of the borrowers prefer a purely online application process.
In general, an application process is easy and convenient. It is similar to applications on other lending websites.
Castle Payday clearly states all terms and rates of loans, however, they depend on some factors. I also appreciate that returning visitors can get better lending terms and rates.
New visitors can use an FAQ page to find the answers to the most popular questions about loan terms and the lender's policies.
Is CastlePayday.com Legit?
I checked the reputation and background of Castle Payday using Scam Adviser. The analysis results revealed that the website's rating has reached 91% out of 100%, which means that this website is legit safe to use.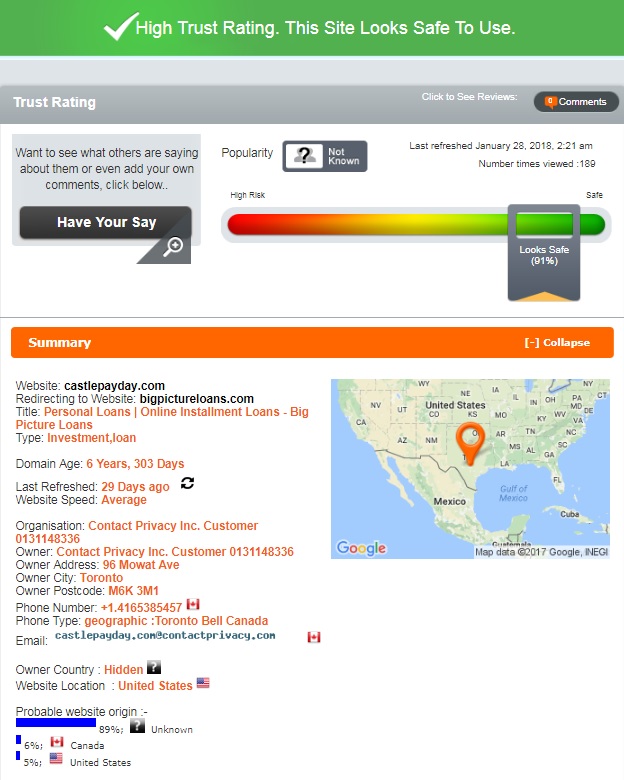 ScamAdviser also revealed that the domain age is about 7 years. However, it turned out that the owner of the website is using an anonymous service to hide its identity. This website appears to be located in the United States but there may be other countries involved (probably, Canada) and you should review this information carefully. The site's popularity is unknown. ScamAdviser also recommends to be careful since now CastlePayday.com is redirecting/forwarding to another website – bigpictureloans.com. Considering all these aspects, it's not clear why this website received a high trust-rating but probably ScamAdviser had a reason for that.
CastlePayday.com Reviews
On-site Reviews
Positive customer reviews are always a good proof that the lender is reliable and providing quality services. The website does not have a special section devoted to testimonials. I found only a few reviews on the main page. Regretfully, they are not dated and there are high chances that they were composed by the lender itself. Of course, they are all purely positive. One client thanks Castle Payday for its quality customer support, another client says it's a great company:
Actually, I can't trust these reviews since they seem fake. I'd love to see a separate page with dated customer comments where every person has an opportunity to send his feedback right away. For this reason, I continued searching for Castle Payday reviews on the net.
Reviews on Other Websites
Regretfully, Castle Payday reviews on independent websites provided a complete picture of this lender's reputation. I found a huge number of negative testimonials. Users rated this website 1 score and recommended all customers to stay away from this lender. Below, you can see some of the complaints I managed to find:
Customers mentioned "misleading terms" and "massive interest rates". Oe of them said that Castle Payday was the worst experience in his life: he had to repay $4,000 for a loan of $600. He is sure that this site is a "big scam".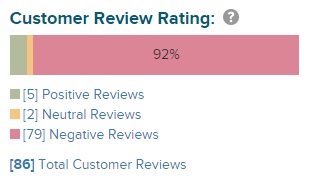 Castle Payday BBB rating is also LOW. 92% of all customer reviews are negative. Almost all of them are saying that this lender never answers phone and company should be put out of business.  You may read all of them at https://www.bbb.org/detroit/business-reviews/payday-loans/big-picture-loans-llc-in-watersmeet-mi-90020477/reviews-and-complaints?section=reviews&reviewtype=negative.
I'm really concerned now because I found not a single positive review about the lender. Obviously, it's not as perfect as they promise.
Customer Support
Contact Information
Fortunately, the lender provided a very detailed contact information.
I also appreciate they mention its operating hours: Monday – Thursday from 7:00 a.m. to 6:30 p.m., Friday, and Saturday from 7:00 a.m. to 3:30 p.m., and Sunday from 10:00 a.m.-6:30 p.m.
Locations
Castle Payday loans are avialable in all 50 states: Alabama, Alaska, Arizona, Arkansas, California, Colorado, Connecticut, Delaware, Florida, Georgia, Hawaii, Idaho, Illinois, Indiana, Iowa, Kansas, Kentucky, Louisiana, Maine, Maryland, Massachusetts, Michigan, Minnesota, Mississippi, Missouri, Montana, Nebraska, Nevada, New Hampshire, New Jersey, New Mexico, New York, North Carolina, North Dakota, Ohio, Oklahoma, Oregon, Pennsylvania, Rhode Island, South Carolina, South Dakota, Tennessee, Texas, Utah, Vermont, Virginia, Washington, West Virginia, Wisconsin, Wyoming.
The lender mentions that states may change without notice. Customers can always all at Castle Payday phone number to verify.
Getting a Consultation
For any questions or complaints, customers may contact the representative of Castle Payday by calling at 1-800-584-4880, faxing at 1-800-688-8706 or emailing support@bigpictureloans.com. They can also reach the lender by mailing at Big Picture Loans, P.O. Box 704, Watersmeet, MI 49969 or visit E23970 Pow Wow Trail, Watersmeet, MI 49969. The phone support is available 24 hours a day.
I tried to contact the lender's customer support via email to specify the way customers make payments. Unfortunately, I never received the answer to this question.
This means that either Castle Payday has a poor customer support or clients have to wait too long for a response.
Conclusion
CastlePayday.com provides installment loans of up to $1,000 to borrowers of all credit scores. The application process is fast and simple and clients can receive their funds very quickly. The website is OLA-sealed, Norton-protected, ScamAdviser-verified. Besides, I like that customers can repay the loan early without, which will allow reducing the charges. Despite all these advantages, I cannot recommend this lender to all customers since Castle Payday. still charges 788% interest rate, which makes a loan enormously expensive. What disturbs me particularly is the fact that this lender hides its identity and is redirecting/forwarding to another website. I was also disappointed by seeing a huge number of Castle Payday complaints. I think you'd better search for other funding options and use CastlePayday as a last resort only. My conclusion: 3,6 stars out of 5.