What is CashMax Loans?
CashMaxLoans.com is a direct online lender providing short-term loans to residents of California. The company is licensed by the Department of Business Oversight and complies with the California Deferred Deposit Transaction Law and California Finance Lenders Law.
| | | | | | | |
| --- | --- | --- | --- | --- | --- | --- |
| Loan types | Min.amount | Max.amount | Period | APR | Documents | Bad credit |
| Payday loans | $50 | $255 | 14 days – 30 days | 213% – 460% | SSN | Yes |
| Title loans | $2,600 | $50,000 | Agreed individually | Agreed individually | SSN | Yes |
Types of Loans
CashMax offers 2 services: payday loans and title loans.

Payday loans are small short-term loans that are to be repaid on the next day you receive your wages. The borrower can take such a loan for any situation: pay for bills, vacation, education, car repay, and medical expenses.
A title loan is a loan in which your car serves as collateral. However, you can continue using your car during a loan period. You only need to drive to the nearest lender's location, get fast money in hand and drive off.
Regretfully, it's not mentioned anywhere on the website how you can get your payday loan. Obviously, the procedure is standard – the lender either sends the money to your checking account or gives the funds in hand at one of the CashMax in-store locations. You need to specify this issue before taking a loan.
Terms of Use
CashMax Loans offers payday loans in the amount ranging from $50 to $255. They also guarantee that a customer will be approved in a few minutes.
Title loan amounts range between $2,600 and $50,000. The loan amount you are eligible for will be based on the value of your car.
According to the website, to get a loan, you only need to have an active checking account in your name and a regular source of income. However, if you apply for a title loan, you must own a car to use it as collateral.
CashMax loan rates and fees are 100% disclosed in the table below. Their interest rates range between 212.92% and 460.08% depending on a loan term. The table discloses the fees and number of payments for a 14-day term and a 30-day term. It's not specified whether you can have a loan with a longer term.
They also mention that they do not ask for any pre-payment in any form.
Application
Using the website, you can apply for both loan types online. You can also pre-qualify by phone.
You need to follow 2 steps to get a payday loan – fill out an online application, sign the loan documents and receive the cash.

During online application, you will need to provide your name, address, email, phone number, SSN, employer, bank routing number, checking account number and, and some more details.
If you apply for a payday loan, you do not need a provide a collateral. The lender does not require a borrower to fax any documents but may contact any reference in order to get additional information about your personality and discuss any loans which you apply for and any debts you may have.
Loan Repayment
A payday loan is repaid on the next day you get paid (14-30 days). The funds will be taken from your account on the due date.
The due date for a title loan is agreed individually.
If you are late with your payday loan payment is due and you do not have the due amount of money on your checking account, CashMaxLoans will have to use the services of third-party collection agencies. They will collect the debt in accordance with the applicable federal regulations. The lender may also charge a $15 non-payment fee and attempt to contact a client via phone calls and emails to remind it's time to make a payment.
Late or missed payments will be reported to the major credit bureaus. This can ruin your credit score. The company recommends all borrowers with bad credit seek credit counseling.
Loan Extension
Regretfully, CashMax does not allow loan extensions. In accordance with California law, loans must be repaid in full on the due date. A borrow is able to apply for a new loan as soon as the previous loan is cleared. Which means you cannot have 2 loans with this lender at a time.
CashMaxLoans.com Bad Credit
The lender does not check a credit sore of its customers. Both title and payday loans are available to borrowers with a bad credit or no credit. However, CashMax does not guarantee that a loan request will be 100% approved.
Technical Characteristics of the Website
Encryption
CashMaxLoans.com uses security measures that protect borrowers' sensitive information from unauthorized access of third parties. The website is encrypted with a 128-bit Secure Socket Layer. The secure connection is provided by Go Daddy:
This encryption level is satisfactory but not highest. Moreover, the website's owner is not indicated at the top left corner of the browser. I would recommend the company to upgrade an encryption level.
Mobile Version
The website has a mobile version, which has the same design and contents but different formatting and output of data. The pages look a bit different.
There are no distracting or secondary information and no need for scrolling the pages with a finger. The pics and text count are enlarged. All these changes make the work with CashMaxLoans.com mobile version.
Antivirus
CashMaxTexas.com does not use an antivirus protection, which makes the risks of getting infected with viruses very high. The lender cannot guarantee that your sensitive information will not be stolen.
Convenience of Using the Website
Before applying for a loan, you need to register. If you already have a personal account, you just need to log in.
The website has a special section where you can quickly fund the closest CashMaxLoans.com location in your neighborhood.
The lender claims that getting a loan through this website is fast, easy and secure. You only need to complete an online application, which takes less than 15 minutes. You will need to provide your email address, checking account, and source of income. If approved, you need to sign your loan documents electronically. If your application is approved by 4 p.m. you will receive the funds in your checking account the next business day. Applications approved after 4 p.m. will be reviewed next day.
The online application looks this way: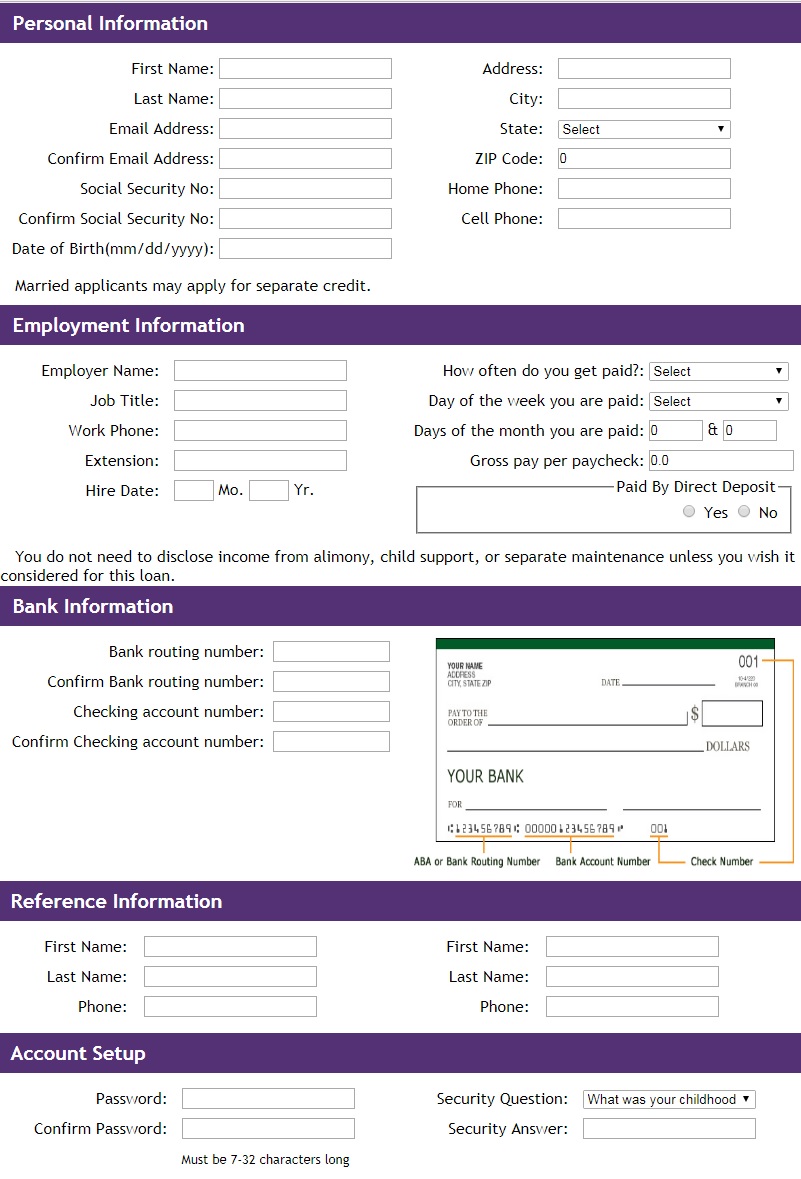 The lender also encourages customers to refer their friend to receive $15 cash and $5 to the referred friend.
I like that all their rates and fees are disclosed and you can review them before completing an online request.
A customer will unlikely have any difficulty applying for a CashMax loan but he/she should be ready to spend additional time on registration.
Is CashMaxLoans.com Legit?
CashMaxLoans received a 100% trust rating from ScamAdviser, which means that this company is legit and safe to use.
According to ScamAdviser, the website is located in the United States and has been active for almost 13 years. It has a few visitors but it was not a reason to lower CashMax trust rating. There is not a single issue that would concern ScamAdviser.
CashMaxLoans.com Reviews
On-site Reviews
There are no CashMax loans reviews on the native website of the lender. They do not even have a Testimonials page where their previous clients could write their impressions and comments.
I hoped to find at least several testimonials on independent third-party websites and forums.
Reviews on Other Websites
Fortunately, I was able to find many CashMaxLoans.com reviews on other websites. 99% of them very from satisfied clients. All of them mentioned that the company was very helpful.
The recent review was posted 2 weeks ago. The user reported it was the best lender who always treated with respect. Read some more comments I have found on the web:
One more user wrote that CashMax was extremely courteous and friendly. The staff was very helpful and professional. He would recommend this lender to anyone.
Another customer mentioned that the company provided an excellent customer service and helped him when he had financial difficulties. He would definitely return to their office and refer costumers there.
The last reviewer stated that Cashmax managers are always friendly and honest. He also added that the office had a good range of open hours.
There are a few CashMaxLoans.com complaints on the web but they are overshadowed by positive reviews. Justice Adams posted a complaint in April 2018 reporting that it was the worst place ever. He also mentioned that a manager was racist who treated black people with disrespect. Justice recommended other people to go somewhere else. Another negative review was not detailed and consisted of only 2 words – "Garbage place". I'm not quite sure about what made this person so upset.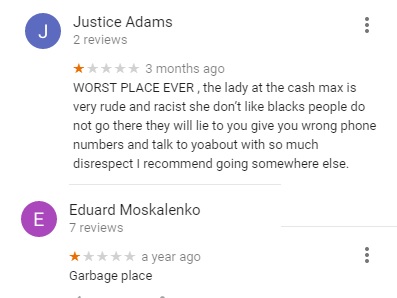 The last complaint was related to "poor customer service".
In fact, I even happy that CashMax reviews are not 100% positive. Lack of negative reviews for the period of 13 years would seem suspicious. A huge number of positive customer reviews prove that this company is popular and able to satisfy the majority of customers.
Customer Support
Contact Information
CashMaxLoans basic phone number is 1-707-474-9501.

The lender specified contact details for every in-store location: physical address, email address and phone number. You can see this information and a map in the "Locations" section.

CashMaxLoans.com Locations
The company has 5 in-store locations to serve residents of California (Vacaville, Citrus Heights, Sacramento, Vallejo, San Jose). Regretfully, the services of this lender are not available in other states. You can see CashMaxLoans location in the map below:
Getting a Consultation
If you have any comments, questions or complaints about the services of this company, you can fill out the contact form presented on the website and a company's representative will contact you soon. You can also reach the lender over the phone (unique for each in-store location) or visit one of their 5 stores in California.
I tried to reach CashMax customer support team by filling out a contact form but I was not able to submit my question because of an "error".
Unfortunately, this means that their customer support needs further development.
Conclusion
CashMaxLoans.com seems a legit lender providing payday and title loans. The company has many advantages: the maximum trust-rating from ScamAdviser, loan amounts over $1,000, disclosed rates and terms, no paperwork, a quick approval, a good range of open hours, good customer reviews on the web, bad credit is ok. The main drawback of this company that their loans are only available to residents of California. Besides, the website has some technical problems which prevented me from contacting them via a contact form. If you are ok with these issues, you may try to apply for CashMax loan. I give this lender the rating of 3.4 stars out of 5.