What is Cash Lender Online?

CashLenderOnline.ca is an in-store lending company which was founded in 2007 in London, Canada, to meet the financial needs of consumers for short-term loans, cashing of paychecks. This service is very useful when you do not have a bank account. The company promises to solve your financial difficulties without the hassles that you face while applying for loans in banks. This website was created to reduce the processing time for your loan application.
Loan types
Min.amount
Max.amount
Period
APR
Documents
Bad credit
Payday loans
To be specified
To be specified
To be specified
To be specified
State-issued ID,
Social Insurance Number (SIN)
To be specified
Types of Loans
Cash Lender Online provides payday loans. These are short-term small loans that are returned on the day you get wages. This financial product was designed to help consumers solve temporary financial difficulties that cause a financial burden.
You cannot receive the funds online. Instead, you will need to come to the lender's in-store location to get the cash in hand. The approval time is not specified anywhere on the website, however, I guess this won't take more than 30 minutes since your application will be already processed.
Terms of Use
Cash Lender Online does not disclose minimal and maximum loan amounts, interest rates, and lending terms anywhere on the site. You will have to come to the office to specify these details. However, they mention the criteria to qualify for a loan. You must:
work at least 6 months at your current job;
show your last 2 pay stubs;
show two pieces of IDs (with your photo);
show 2 months of banking information;
show a bill or piece of mail with your current address;
show a blank cheque from your bank account;
have no other loans with other lenders;
show proof that you receive wages by direct deposit.
I would say that these eligibility criteria are very strict and not every consumer will qualify for a loan with Cash Lender Online.
Application
To apply for a loan, you can visit the lender's single office in London, Ontario or apply using the website.
In some cases, the lender may ask you fax documents that would verify your employment and identity, so you should be ready to have a fax machine at hand.
Besides, during loan application, you must provide your home address, full name, phone number, date of birth, e-mail address, social insurance number, state-issued ID, employment details, and some more.
To complete the application, you need to visit the lender's office.
Repayment
You will be obliged to pay off your payday loan on the next day you get paid. The precise due date will be mentioned in your contract. You will be charged the original debt + interest. To close the debt, you will need to visit CashLenderOnline location.
I found no information about charges for late / missed payment or non-payment. Usually, this incurs penalties and additional fees. It's not mentioned how the company collects delinquent debts. You will have to specify these details by the lender.
Extension
The information about loan extension options is not given on the website. You should clear up this issue before signing the loan contract.
CashLenderOnline.ca Bad Credit
I found no information about applying for a loan with a bad credit history. Usually, payday loans are approved even to borrowers with a bad credit / no credit, or even to those who are bankrupt, but you will have to specify this information.
Technical Characteristics of the Website
Encryption
Borrowers have to submit too many personal details to CashLenderOnline.ca so I decided to check how they encrypt their website. My browser indicated that the connection is not secure and this company does not use any encryption technology.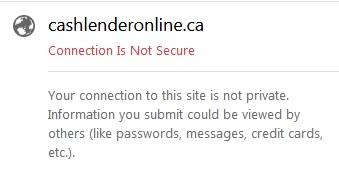 This is a huge drawback. The owner of the site has configured its website improperly. Bear in mind that your personal information can be stolen since the encryption is not strong enough.
Mobile Version
Another frustrating thing is that CashLenderOnline.ca is not a mobile-friendly website. It failed a test from Google:

Google reported that this site is not convenient to use on mobile devices: viewport is not set, text and images are too small, links are too close together. This is a serious disadvantage because the major part of modern people prefers to apply for loans from mobile devices. The absence of a mobile version undermined the reputation of this website.
Antivirus
Unfortunately, CashLenderOnline.ca is not screened for vulnerabilities, which means your computer can be easily infected with viruses, Trojans, and malware. People want to feel 100% secure when using online services, so I would recommend the website's owner to arrange an antivirus protection.
Convenience of Use
This website was created to simplify loan processing. Consumers can start an application by completing a simple online application, which gets to Cash Lender Online in a matter of hours. After that, the representative of the company will call you to either inform you to come to the office to complete the process and receive the cash or if you need to provide further information.
Before application, you should also provide your email address and invent a password:

I dislike that this website is extremely non-informative: the most relevant details are not disclosed: loan amounts, interest rates, lending periods, repayment terms, extension options, bad credit policies, and so on. Considering this, you will have to spend extra time on specifying these details and calling the lender.
Is CashLenderOnline.ca Legit?
Scam Adviser gave Cash Lender Online a high trust rating – 95% out of 100%, which means this company is legitimate:
ScamAdviser revealed that the domain was created 5 years ago. However, there are some issues that worry me: it seems that this website is located in the United States, though the company's office is located in London, Canada. Besides, ScanAdviser was not able to determine the site's popularity but managed to detect that it was last refreshed in May 2018. These issues are disturbing and I wonder why ScanAdviser gave such an impressive trust rating to this lender.
CashLenderOnline.ca Reviews
On-site Reviews
Lenders providing payday loans often have bad customer feedback because these loans usually come with extremely high interest rates and are often given to consumers with bad credit history. So I was very interested in what previous clients think about this lender. Regretfully, the website contains no CashLenderOnline and does not have a testimonial page.
It's a pity that I could not check the lender's performance basing on internal reviews.
Reviews on Third-Party Websites
Since CashLenderOnline.ca has been working for over 5 years, I expected to find at least several comments from former customers on the web. Regretfully, I was not able to find any comments/complaints on independent websites, which means that this lender is not very popular.
Customer Support
Contact Information
The lender has fully disclosed its contact information is fully disclosed: Cash Lender Online head office is located at 1826 Dundas Street East, London, N5W 3E8, Ontario, Canada. You can even see their location on the map:
Their phone numbers are 1-519-453-9999 and 1-877-337-1826, fax 1-519-453-9989, e-mail – info@cashlenderonline.ca.
Office hours are also specified: Monday to Friday: 8:00 am to 9:00 pm, Saturday: 12:30 pm to 8:00 pm.
CashLenderOnline.ca Locations
The lender has one in-store location in London, Ontario, Canada.

The address and the map can be found on the website.
Getting a Consultation
You can get customer support by calling at 1-519-453-9999, 1-877-337-1826, by sending a fax to 1-519-453-9989, by e-mailing at info@cashlenderonline.ca, or by visiting the lender's location.
You can get a consultation at any time during working hours. There is no way to reach a company's representative by using a live chat.
I wanted to specify the approximate interest rates for a 2-week payday loan by contacting the lender via email. I waited for 5 hours but regretfully, nobody responded to my inquiry. I conclude that CashLenderOnline customer support needs further improvement.
Conclusion
CashLenderOnline.ca is a website which simplifies your application to the lender and can be very useful for return customers who are already informed about lending periods, interest rates, and other loan associated fees. New customers can hardly find this website useful because it's not informative. The website's security is disturbing – the company did not take any efforts to protect customers' personal details from theft. Scam Adviser, however, is satisfied with the website's activity but there are no reviews that would have helped to check the real performance of this company. Finally, this lender specializes in payday loans only, so if you need other loan types, you will have to look for another lender.