What is CashAsap.co.uk?
Cash ASAP is a UK-based online lender which is headquartered in London. The site is operating by Apfin Ltd. They pride themselves on providing short-term loans without any charges. This is a direct lender which is regulated by the FCA. The company was founded in 2012 and now its services are available in England, Wales or Scotland. They help consumers cope with sudden expenses which could otherwise cause a financial burden. They claim to offer flexible and convenient repayment options. This lender is also a member of the Consumer Finance Association (CFA) and claims to be a "responsible lender".
| | | | | | | |
| --- | --- | --- | --- | --- | --- | --- |
| Loan types | Min.amount | Max.amount | Period | APR | Documents | Bad credit |
| Payday loans, installment loans | £100 | £750 | Up to 3 months | Varies | No documents required | Yes |
CashAsap.co.uk Loans
The lender offers 2 types of loans:
Payday loans – small amounts that can solve any unexpected financial problem or just help you keep on before your next payday. Available amounts start from £100 and may reach £400. You can borrow the funds for the period of 1 day to 35 days. Payday loans are typically used for urgent car or home repairs, an unplanned large purchase, medical bills. At the same time, many borrowers also spend this money on everyday essentials, such as utility bills or food;
Installment loans (knows as multi-month loans) – amounts starting from £100 and reaching £750. You can take such loans for up to 3 months. This means you will have to make one payment each month (3 payments in total). This credit option allows consumers to split the total due amount over a longer period. The total cost of multi-month loans will be higher than for a payday loan, still, this may be a more affordable way for you to cope with your debt your loan depending on your income and your payday frequency.
Bear in mind that first-time customers can only be eligible for a maximum of £300. But the limit may grow after successful repayments of the previous loans with Cash ASAP.
Once approved, the funds are deposited into your bank account. This means you can get the cash almost immediately. According to the website, in over 90% of cases, clients will able to receive the funds immediately, although some of the borrowers having an account in small banks will have to wait for the next business day to get the money.
Terms of Use
Cash ASAP loan amounts vary from £50 to £750 although if you are a first-time customer, you will only be eligible for a maximum of £300. Applicants do not have to pay any application fees, only the standard interest. However, if you miss a payment, you will be charged an additional £10 fee.
You can get a payday loan for a term of 1 day to 35 days. Installment loans can be repaid over 3 months. This helps you plan your budget correctly and repay the debt in parts.
The amount of interest will not be very large. They say it will cost less than 80 pounds per day to borrow £100 from Cash ASAP. The longer the period of using the borrowed funds, the greater the amount of interest that you will have to pay off. The lender encourages clients that they borrow for the period that they need to repay a loan in full because failed payment can make a loan very expensive.
Before you apply for a loan, make sure you comply with the following eligibility criteria: you must be 18 years old or older, have a full or part-time job, be a legal UK resident, have a UK bank account, have an active mobile phone and email address:
The company gives some representative examples of loan costs. If you take a payday £175 loan for 19 days at APR of 1390%, you will have to repay £201.42 in one lump repayment. This is based on the amount of credit plus interest, no other fees apply. If you take a multi-month £250 loan for 90 days at an interest rate of 1271%, you will have to repay £359.01 in 3 equal monthly installments of £119.67.
Application
The application process at CashAsap.co.uk is online. They accept loan requests on a 24/7 basis.

To start an application and be approved, you'll need to fill in some personal details and information your income. The company will review these details and make a decision on whether you will be able to get a loan.
You will have to fill out basic fields such as name, birth date, phone number, e-mail address, SSN, address, employer's name, your bank account, and so on.
To get a loan through this website, you do not need to provide any collateral.
Repayment
When it's due date, the funds will be taken automatically from your account. The total repayment amount includes the original loans and interest, no other fees apply.
A payday loan must be repaid in one lump on the determined repayment date. Multi-month loans are repaid in 1-3 several equal installments. Cash ASAP uses a payment authority to withdraw the payment from your account.
They will also send borrowers reminders 3 days and 1 day before the agreed due date and the specify the amount that will be taken from the client's account. If the lender fails to take the funds from your account, a user will be notified of this failure and the date of the next attempt to take the due amount.
Consumers can make full or partial payments at any time via the Repay Now service in the corresponding section of their online accounts at CashAsap.co.uk.
If you are having difficulty repaying your debt, you should call the lender as soon as possible using CashAsap.co.uk contact number listed on the website.
If you fail with your payment on a due date, you will be charged a £10 fee on the first day following your expected repayment date.
With both payday loans and installment loans, you can make a partial or a full repayment before the due date. Repaying the funds early can help reduce the total cost of a loan.
Extension
Cash ASAP works with each borrower individually and understands that unexpected situations can occur. If you feel that you will not be able to repay your loan on time, you need to contact the lender and discuss the available options. The sooner you call the customer support team, the more they can do to help you pay off your loan with a minimal impact on your credit history.
CashAsap.co.uk Bad Credit
The company always carries out ID verification and creditworthiness checks before making a decision about issuing a loan. However, even customers with poor credit scores can be approved. So do not get upset if your credit history is far from perfect – you sill have high chances of loan approval.
Technical Characteristics of the Website
Сonnection
CashAsap.co.uk claims to use the latest encryption technology to keep any sensitive data safe and secure. It turned out that the site is using a 128-bit SSL encryption provided by GoDaddy.com, Inc. It means that all personal and financial information submitted to this website is encrypted and that GoDaddy guarantees the physical location of the lender and its legitimacy.
I like that the company uses an Extended Verification Certificate, which allows borrowers to see the site's owner – APFIN Limited, however, I would advise upgrading their encryption to 256-bit, which will provide the maximum security level to users.
Mobile Version
CashAsap.co.uk has a mobile version, which is convenient to use both on standard computers and smartphones
The mobile version still has a number of advantages:
Consumers always have their mobile phones at hand: in transport and in a queue, at a cafe and at a party, and so on. And even when the computer is nearby, but in the off mode, many people will prefer to use the smartphone, instead of going to the PC and turning it on. In this context, the mobile version is theoretically available to potential customers more often than the website.
Simplified application: If you want to apply for a loan, using a mobile version will speed up and simplify the calculation process.
Convenience and speed of work. A high-quality mobile version accelerates and simplifies the process of registration, application and management of loans online. As a rule, in a mobile version, information about products is provided in a somewhat simplified form, which can please those users who love brevity and simplicity.
Antivirus
Cash ASAP promises that its website is daily screened for viruses, trojans, worms, or other malicious or technologically harmful materials. However, I did not notice any antivirus emblem of this website, which makes me doubt their words. In connection with this, I conclude that surfing this site, you could infect your devices with viruses or even experience an identity theft. I recommend this online lender to utilize modern antiviruses to provide 100% security to all customers.
Convenience of Using the Website
The loan application process at CashAsap.co.uk is simple and intuitive.

if you want to start a process, you should use a slider where you can choose the loan amount you need and the period you'd like to use the funds over. Using this loan calculator, you can see the total amount that you will have to return, your due date and interest rate. This can help you consider different options of your loan and make sure that you can afford it.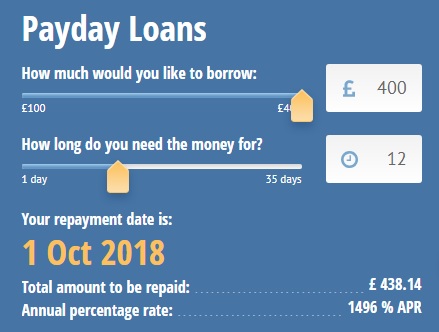 If you accept the rates and terms of your loan, you need to fill out a simple application form. After that, you will be informed of the lender's decision in a few minutes. Finally, the money is deposited into your bank account within 24 hours (in some cases on the same day).
I like that all loan rates and terms an 100% disclosed before filling out an application and that their website has a large section of frequently asked questions which are designed to guide borrowers through the entire process.
Is CashAsap.co.uk Legit?
ScamAdviser has doubts about the legitimacy Cash ASAP website. The lender has a 46% trust-rating, which means there are some issues that seem alarming.
According to ScamAdviser, the website's owner is UK Limited Company, the domain age is over 7 years, the owner country is the United Kingdom but the website seems to be located in Ireland. Besides, there are other other countries involved and you should consider this information. In addition, it turned out that the site is rarely visited and there are negative reviews detected, which means that this online company may have legitimacy problems.
CashAsap.co.uk Reviews
On-site Reviews
Regretfully, there are Cash ASAP reviews on the company's native website. They did not give consumers a possibility to share their experience with this lender – there is no testimonial page here. Instead, the company invites users to read customer reviews posted on Trust Pilot:

For this reason, I had to read what people say about this lender on independent third-party websites.
Reviews on Third-Party Websites
I found a huge amount of CashAsap.co.uk reviews posted on third-party resources. Trustpilot.com presents contains testimonials and the majority of them are classified as "great" and "excellent". Most users mentioned "best loans," "good and prompt service, "no complications", "good rates" and "brilliant service". Read some comments posted on another website:
However, not all customers were happy with this online company. Some complaints were about high rates, loan rejections, delayed money transfer, and technical problems. Thomas posted a complaint in July 2018 reporting that users should avoid this website because "terrible terrible human beings are working there". Petr and Tawanda posted similar reviews in July 2018 stating that Cash ASAP is not always able to approve existing customers.
Although I found some Cash ASAP complaints, most of them are common (about loan rejections). Besides, most of the reviews are excellent. Nothing testifies that this lender is operating illegally.
Customer Support
Contact Information
Casha ASAP is a site operated by APFIN Limited, a private company registered in England and Wales. The headquarter office is located in Londo at 3rd Floor, 12 Gough Square. Their phone number: 0-845-094-1905, email: info@cashasap.co.uk.
The lender seems legit and transparent and has nothing to hide.
Getting a Consultation
If you have any question, the quickest way to reach Cash ASAP customer support service is to fill out a contact form below: You can also email them at info@cashasap.co.uk, call on 0-845-094-1905 (8am – 9pm: Monday to Friday, 8am – 7pm: Saturdays and bank holidays, 9am – 7pm: Sundays). Or you can mail them at APFIN LTD, 3rd Floor, 12, Gough Square, London, EC4A 3DW.
I wanted to find out whether Cash ASAP operates all across the United Kingdom. I used the recommended way to reach them – a contact form – and received the reply within 2 hours. The company's representative informed me that they operate through the UK and a client must be a UK resident and have a UK bank account.

I'm quite satisfied with the assistance provided and conclude that this company has a useful and fast customer service.
Conclusion
Cash ASAP is a UK-based lender that offers short-term loans ranging from £100 to £750. This website has been active for 7 years and has a good online reputation. I appreciate that their application process is completely transparent and takes place online. I like their quick loan calculator, which allows learning the exact terms and rates of your loan. Unlike other payday loan companies, they are operating on Saturdays, Sundays and bank holidays. The company also offers fast funding, no early repayment fees. Bad credit is also accepted. Finally, I like that Cash ASAP is a direct lender so your application will not get into hands of third-party loan companies. However, there are some things that you should take into account: they have high interest rates, check your credit history, fail to lend funds to existing clients with a good reputation and are not able to offer loan periods exceeding 3 months. Besides, according to ScamAdviser, this website could relate to Ireland and other countries, therefore, I recommend you research other options before applying for a loan.