What is Bills.com?
Bills.com is a US-based website providing financial services and tips. Topics include but not limited to credit cards, insurances, debt consolidation, mortgages, student loans, debt settlement, and others. The company was founded in 2005 in San Mateo, California, USA. Their mission to inform people about the world of finance. They offer a rich selection of resources to help people make better financial decisions. Here you'll find articles, mortgage calculators and other tools, and more. The company can help you to find a lender for your mortgage, reduce your debt. find a suitable personal loan, improve your credit score, answer all your questions about finances.
Types of Products
Bills.com provides the following services: Mortage, Reverse Mortgage, Debt Help, Ask Bill, Insurance, Auto Loans, & Student Loans, Money Coach, Credit Report & Score.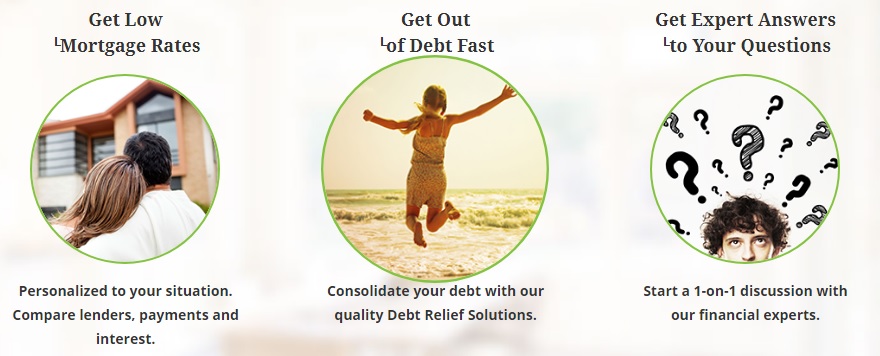 Mortgage: The company offers individuals to learn about mortgages, get beneficial rates and real mortgage online. People can use guides, advice, tools and calculators to educate themselves on mortgage loans. The organization does not provide such loans directly but serves as a bridge between you and potential lenders. They have a network of 200+ lenders to compare from to help you get the most suitable mortgage rates;
Reverse Mortgage: Bills.com encourages you to learn how a reverse mortgage works and who can qualify for such a loan. Besides, they can help you find trusted lenders in your location;
Debt Help: The company helps people cope with their debts by finding the best program so they can return on the path to financial freedom. Their Debt Coach tool can be used to make the best decisions for a difficult financial situation. The web portal also has numerous articles and guides to help you control your budget. Thus users can compare various debt relief alternatives that meet their specific needs;
Ask Bill: Users are offered to get free advice by submitting any financial question to Bills.com experts;
Insurance, Auto Loans, & Student Loans: The website also provides information and help with insurance, auto loans, and student loans. The portal can help you find the most suitable provider and compare rates;
Money Coach: Money Coach is a program aimed at helping people to assess their financial health and establish a plan to reach their financial aims. The program will assess your income and cash flow to help you save money and improve your financial standing;
Credit Report & Score: The online service can help consumers learn how your credit history affects you. You will also learn how you can check your credit score and how to improve it.
Terms of Use
Applying through the website is cost-free and implies no obligation.  The rates and fees are not specified anywhere on the website because each lender has individual terms and policies. APRs and fees may differ based on your financial standing, income, loan term, and some other factors. You can find out precise rates and terms only after redirecting to a third-party website.
If you want to get a mortgage loan through Bills.com, you must be 18 years of age or older.
Application
Bills.com does not provide any loans. This service services a link to third-party mortgage lenders. To get funds, you should provide only basic information about your desired loan term and amount. After that, you will see suitable offers provided by various direct lenders. The website of a selected lender will explain precise requirements, rates and terms of your loan. This online portal is not able to provide any loan details but allows you to compare options.
Repayment
Mortgage loans are typically repaid without a specified period of time in equal installments. Repayment terms vary by lender so you should carefully read your contract. Bills.com has no knowledge of your repayment terms.
The online portal informs users that non-payments/late payments will surely result in additional fees and penalties. These details will also be provided by the lender you have chosen.
Extension
Some lenders from the network of Bills.com may be able to offer you a mortgage extension. To determine if you qualify for an extension, you need to consult your lender. This website does not provide any details.
Bills.com Bad Credit
According to the website, lenders from the network check your credit to determine if you qualify for a mortgage loan. Many customers have minimum credit scores but can still be approved. However, bad credit can increase your interest rate and fees. In general, bad credit history means either not qualifying for a loan or paying higher interest.
Technical Characteristics of the Website
Secure Сonnection
Bills.com keeps your personal information safe and secure. Whether you fill out an online application form or use one of their financial tools, you can feel comfortable and confident that your sensitive information will not be stolen. To secure your personal information, the website uses Secure Socket Layer (SSL) and a 256-bit encryption. This prevents hackers from getting your information submitted to the website. The secure connection is verified by COMODO CA Ltd.:
They also limited access to your personal information to those lenders who are not able to provide top-quality service, so when submitting a request, you can be sure that your personal information will be shared only with trusted and reliable partners.
Mobile Version
Bills.com is a mobile-friendly online portal. This statement is confirmed by Google Mobile-Friendly test:
According to the Google tool, the website's content is optimized for various devices and links are too close together. There is no scrolling or tiny elements that are difficult to read. So if you prefer to visit websites from your smartphone or tablet, you are likely to be satisfied with this mobile version.
Antivirus
I noticed a Norton emblem at the bottom of the website. At first, I thought that Bills.com is daily screened for viruses and other online threats but this emblem proved to be inactive. I suspect this website does not utilize any antivirus program, which means that users are not protected from viruses, Trojans, spyware, and other online threats.
I recommend the site's developers to utilize an antivirus program and make the Norton emblem active. This would have provided users with the best security level. Every online organization must do its best to make its web portal a safe place.
Convenience of Use
Bills.com does not provide any loans but serves as an intermediate party between consumers and lenders. To get a loan, you should specify a loan type, terms, state, and credit rating. The web tool will process this information and display the possible options.
To finalize your loan, you should select the most suitable offer, visit the lender's website and provide the rest of your information.
In my case, the online service redirected me to Close Your Own Loan website.
I like that Bills.com has a special section known as Ask Bill, which allows consumers to ask financial questions directly to financial experts.
You can also use a mortgage affordability calculator to find out how much you can afford on a new house. The tool will determine the approximate price of your house based on your wages and debt.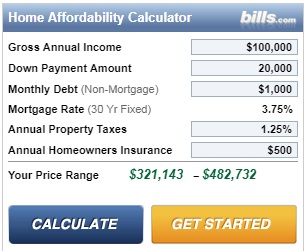 The website is easy to use and requires no registration, but you should remember that this online portal is purely informative.
Is Bills.com Legit?
ScamAdviser determined that Bills.com has a high trust-rating and seems safe to use. The site received 100% of trust, which is a very good sign.
The history of this domain is outstanding – it has been operating for over 21 years. The website is located in the United States but its owner is hidden. The site has lots of visitors and is regularly updated. In general, nothing testifies that this online portal is risky.
Bills.com Reviews
On-site Reviews
People like to read reviews of previous clients before applying for any loan online. Customer reviews are an important component for any web portal. They help users to eliminate doubts about the legitimacy of the service. The main page contains several Bills.com reviews that are positive and look like an advertisement.
There is no separate testimonial page but users have an opportunity to leave feedback under each financial service page. There are no positive or negative testimonials there – this resembles a chat, where people ask their questions about a particular financial product and the website's administrators answer them. Of course, this was not exactly what I had hoped to find, still, it evidences that there is some activity on this website.
Reviews on Third-Party Websites
Since Bills.com has been operating for over 21 years, I expected to find a huge number of customer reviews on the net. However, I found not a single comment left by the site's user. Instead, I found 2 positive reviews posted by current employees of this online company. The first person said this organization was a good place for career growth and provides many benefits to its employees. The second user reported that he had had a mixed experience with this company but it was generally positive.
That's a pity that I did not find any customer reviews about Bills.com but 2 employee reviews testify that this organization is active.
Customer Support
Contact Information
The company is located at 1875 South Grant St. #400, San Mateo, CA 94402. Their team can be seen in its "Contact Us" page:

They even provided a map showing their exact location:
Phone number: 1-866-639-8507;
Email address: customercare@bills.com.
Bills.com Locations
Bills.com provides financial services in all 50 states: Alabama, Alaska, Arizona, Arkansas, California, Colorado, Connecticut, Delaware, District of Columbia,Florida, Georgia, Hawaii, Idaho, Illinois, Indiana, Iowa, Kansas, Kentucky, Louisiana, Maine, Maryland, Massachusetts, Michigan, Minnesota, Mississippi, Missouri, Montana, Nebraska, Nevada, New Hampshire, New Jersey, New Mexico, New York, North Carolina, North Dakota, Ohio, Oklahoma, Oregon, Pennsylvania, Rhode Island, South Carolina, South Dakota, Tennessee, Texas, Utah, Vermont, Virginia, Washington, West Virginia, Wisconsin, and Wyoming.
Getting a Consultation
If you have a finance question, you can submit your question via a contact form or send e-mail to customercare@bills.com.
If you want to work in this company, you can contact the customer support by e-mail, phone at 1-866-639-8507, or submit a request online using a contact form.
I had a general question about mortgage loans and decided to reach their managers by sending email to the listed email address. I received no reply. Regretfully, this way of contacting the customer care department is not effective. I conclude this online portal has a poor customer support.
Conclusion
Bills.com is a web portal which does not provide any loans. Instead, they offer various tools and tips to help consumers make better financial decisions. Using this website, you can compare alternatives and find a smart solution to your money problems. Regretfully, I found no customer reviews posted on third-party websites so I'm so sure how many people have already used the services of this company. If you are interested in payday loans or want to cooperate with a direct lender, this website is not the option for you. But if you only need to get financial advice and read useful articles, this portal is a good solution because it utilizes a high encryption technology and has the maximum trust-rating by ScamAdvser.