What is BestEgg.com?

Best Egg is an online lender which has been operating since 2014. Over these years, the company has satisfied more than 350,000 clients. They claim to make loans accessible so people with financial difficulties. Their personal loans offer borrowers an easy, effortless way to get the funds they need as soon as possible. Best Egg is operated by Marlette Funding, a financial company that has an extensive banking experience and excellent customer knowledge. Ther goal is to make an application process simpler.
| | | | | | | |
| --- | --- | --- | --- | --- | --- | --- |
| Loan types | Min.amount | Max.amount | Period | APR | Documents | Bad credit |
| Personal loans (installment loans) | $2,000 | $35,000 | 3 or 5 years | 5.99% – 29.99% | Driver's license number, social security number | Possible |
Types of Loans
Best Egg offers unsecured personal loans issued by Cross River Bank. Such loans can be used for various purposes: home improvements, medical expenses, major events, business. Below you can see the usual ways their clients use personal loans: debt consolidation, home improvement, medical expenses, credit card refinancing, moving or relocation expenses, taxes, vacation, other major purchases.

However, they mention that these loans cannot be used for purchasing any securities or illegal activity.
According to the website, half of Best Egg customers receive their funds as soon as the next day. After final approval, the funds will be deposited into your banking account within 1-3 working days.
Terms of Use
Best Egg loan terms range from 3 to 5 years. Borrowers repay their loans in equal scheduled installments each month. The total amount will depend on your original amount, lending period, APR, and some other factors.
In addition to interest, the lender charges an origination fee from 0.99%–5.99%. A good thing is that you can repay your loan early without any penalties.

You can get from $2,000 to $35,000 and choose a lending period between 3 and 5 years. Some states have individual requirements: for example, if you live in Massachusetts, you can borrow nor less than $6,000.
To qualify for a loan, you must meet the basic eligibility criteria:
be a legal U.S. citizen or resident;
be at least 18 years old (at least 19 years old if you live in Alabama or Nebraska);
have an open bank account in your name.
In addition, the lender reviews your income, credit score, personal details, information provided by the major credit bureaus, your debt-to-income ratio.
The APR also varies by state and depends on your credit. The average client gets an APR of 15%, but borrowers with a better credit score can be approved for rates below 10%. To get their lowest rate of 5.99%, you need to have a credit score of at least 700 and earn at least $100,000.
Application
The application process BestEgg.com is purely online.
To start the application, you'll need to fill in general information about yourself and your income. This information will influence the rates and fees you will be eligible for After that, the lender will make you a loan offer. Then you will have to choose the most suitable offer and provide some documents to verify your identity.
Be ready to provide the following information: your name, address, date of birth, e-mail address, phone number, Social Security number, your employers' information, details about your income and bank account.
Best Egg personal loans do not require any collateral.
Repayment
You can pay off your personal loan by via an electronic withdrawal of the funds from your banking account, through western union, through bestegg.com, or by mail. If you opt for an auto-pay, the equal amounts will be taken from your account on the same day of each month. If you choose any other payment option, you will be charged an additional $7 fee each time.
Best Egg does not charge any fees for early loan repayment, so you can make a payment in advance. Repaying your loan before the due date will reduce your future interest.
If you make a late payment, you will be charged a $15 penalty. If you feel that you will not be able to make a timely payment, you should contact the lender's customer service as soon as possible to discuss alternative payment options.
Extension
In many cases, a borrower can change his loan due date. If you need a loan extension, you should call Best Egg phone number at 1-855-282-6353. You may be able to extend your loan over the phone.
BestEgg.com Bad Credit
Although this lender does not have strict eligibility criteria, you likely need a good credit score. Initially, East Egg does a soft credit check, which becomes a hard one only if you accept a loan offer. Moreover, the lender reports to Experian and TransUnion. This means that making timely payments you can upgrade your credit score — and late / non-payment can negative affect your credit rating.
Technical Characteristics of the Website
Сonnection
BestEgg.com uses a 128-bit SSL verification certificate provided by Secure GlobalSign. It means that all sensitive information sent to this website is encrypted and that Secure GlobalSign has confirmed the lender's physical location and legal activity.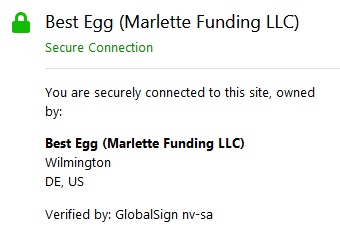 It's nice to see that this site has an Extended Verification Certificate. However, I would recommend using sites utilizing a 256-bit SSL verification certificate. They are able to provide the maximum security level.
Mobile Version
Regretfully, BestEgg.com is not mobile-friendly, which means this website can be difficult to use on a mobile device:

I noticed that clickable elements are placed too close together and the content is wider than the screen. Besides, in some cases, you may need to scroll the pages, which is very inconvenient for mobile users.
So, if you prefer to apply for a personal loan using your mobile device, you will likely face some difficulties.
Antivirus
BestEgg.com does not utilize any antivirus program, which means that your computer is not protected from viruses, phishing, identity theft, and other online threats.
I would recommend you to use websites using reliable antivirus programs like McAfee or Norton. They are able to provide the maximum security level to their clients.
Convenience of Using the Website
The website seems convenient to use. To begin with, you should simply enter your email address and your offer code: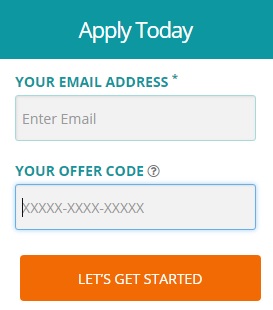 The application asks for your general information, such as the loan amount, loan purpose, your name, birth date, and address. You will also be required to invent a password so you can log in into your personal Best Egg account later for loan management.
On the second page, you'll have to enter your employment details: status (unemployed/employed/self-employed, etc.), your income. You'll also need to specify your housing payment and Social Security number.
After that, you will see your loan offers. They will come with various APRs based on your repayment period and some other factors. You can choose the offer which suits your needs, however, you are not obliged to accept any offer. If you accept it, you'll have to provide some more information and the lender will initiate a hard credit check.
I like that the website is very informative and provides all the basic details about personal loans. However, most specific loan information, such as the exact APR, are initially hidden which makes this website inconvenient for some potential borrowers.
Is BestEgg.com Legit?
I decided to check the legitimacy and background of Best Egg via ScamAdviser.com – an independent online service. ScamAdviser gave this lender a 100% trust-rating, which means this website is legit and safe to use.
According to the report, ScamAdviser detected good online reviews on the net. Besides, the background of the BestEgg.com is impressive – the website has been operating for over 18 years. It is located in the United States and owned by Marlette Funding, LLC. However, according to the analysis. this website may be related to a number of high-risk sites. Still, ScamAdviser gave the maximum trust-rating. I found no evidence that this lender works illegally.
BestEgg.com Reviews
On-site Reviews
The lender encourages customers to read Best Egg reviews posted via the world's largest online review communities, such as Trustpilot, Credit Karma, LendingTree, Best Company, BBB, and ConsumerAffairs. MayaCrow said that this company helped her to improve her credit and her life. Gudena reported that this lender had the best rates and the website was very convenient. One more anonymous user said that Best Egg was the only company which approved him. He also added that the whole process was fast and effortless: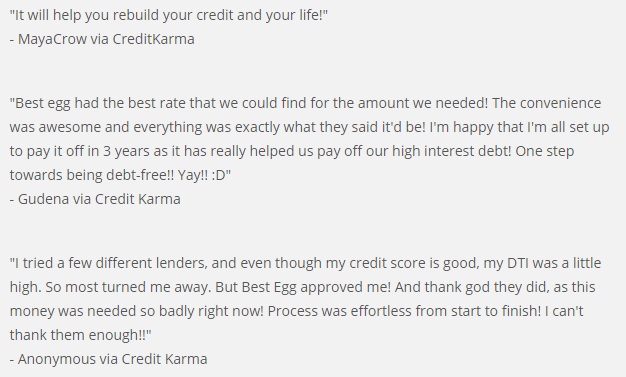 The feedback is great but all these reviews are posted on independent third-party websites and cannot be considered internal reviews. BestEgg.com does not even have a feedback form, which can be used to share your personal experience with this lender.
Reviews on Third-Party Websites
Best Egg has a huge number of positive reviews on third-party websites. The lender is accredited with the Better Business Bureau (BBB) and has an excellent rating on this website. Besides, there are over 1,600 customer reviews on Trustpilot, 94% of them are positive. The rating of the lender on Credit Karma was 4.6 out of 5, based on 200+ reviews.
Most customers appreciated a "fast," "simple" and "effortless" application process and a helpful to customer service.
Moreover, many users mentioned excellent Best Egg debt consolation services.
Although an overwhelming number of reviews were positive, some previous customers have been unhappy with the services provided. The most common complaints were about:
High interest rates: Some clients reported that their interest rates were very high;
Origination fee: Some customers claimed they did not know that they would be charged the origination fee. In fact, these fees were disclosed on the website in several pages;
Denial after preapproval: Many clients were unhappy because they had been declined tater being "pre-approved". However, the lender mentioned that being preapproved did not guarantee that you would be able to get a loan;
Continuing auto withdrawals: A few customers have complained that the lender continued to withdraw money from their banking accounts even after their loan was paid off. Finally, they have gotten the refund;
Delayed money transfer: Some users have experienced delays during the funding process.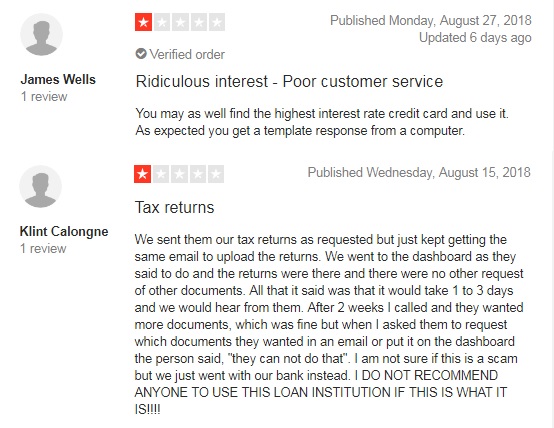 However, many of Best Egg complaints about loan request denials and late funding, are common in the lending business. You can hardly find a lender without a few negative complaints from previous clients who had some issues, and this company has very few complaints in comparison with other lenders.
Customer Support
Contact Information
The loans are serviced by Marlette Funding, LLC, which is headquartered in 1523 Concord Pike, Suite 201, Wilmington, DE 19803. Their working hours are also listed on the site. Best Egg phone number is 1-855-282-6353. The lender seems transparent, which is a big advantage. However, I was not able to find their email address anywhere on the site.
BestEgg.com Locations
Best Egg loans are currently available in 17 states: Colorado, Connecticut, Idaho, Indiana, Iowa, Kansas, Maine, Maryland, Massachusetts, Montana, New Hampshire, North Dakota, Oklahoma, Oregon, South Carolina, Wisconsin, Wyoming.
Getting a Consultation
The website has an informative FAQ page (Help Center), which contains answers to the general questions about loans and services.

If you have any questions, you can contact the lender at 1-855-282-6353 in their working hours: Monday–Thursday 9 am–9 pm, Friday 9 am–7 pm and Saturday 10 am–5 pm.
According to the reviews, most clients are happy with the quality of customer care department, claiming that the managers were very helpful. However, some people have posted a complaint about the customer service – they said it was unhelpful and difficult to reach, so I decided to check this information personally.
I called them several times but nobody answered. So in my experience, Best Egg customer service was difficult to reach and unhelpful.
Conclusion
BestEgg.com seems a legit lender which is best suited for businessmen who need a small loan to launch a business, provided they have good credit. According to my research, the company runs into problems from time to time but, in general, it's simple, fast, and paperless. Their rates are similar to those offered by other lenders. Here are some of the main advantages of Best Egg loans:
Simple application process through a user-friendly website;
Transparent terms and fees, which means you can always see what you are getting into;
You can use their loans for any purpose;
You can get the money into your banking account in as little as one business day;
You can make extra/early payments with no fee;
Fixed interest rates and installments, so you can easily plan your budget;
The lender doesn't need collateral;
Best Egg only runs a soft credit check to approve you for a loan.
Below you will fund a few drawbacks of Best Egg:
They charge a fee to process a personal loan;
Your loan request may not be approved if you have a bad credit or low income;
Your lending period cannot exceed 5 years;
The lender doesn't offer any APR discounts;
You will be charged an additional fee if you opt for an alternative payment method.
Overall, Best Egg is a popular, secure lender with affordable rates and fees, still, I recommend that you compare it with other lenders before applying for a loan.