What is 100 Day Loans?
100 Day Loans is not a direct lender, it is a broker working with a vast network of online lenders. An automatized system allows them to quickly match customers with lenders based on their specific needs and income. The company advertises that it's much more convenient to fill out just one application instead of several. They claim that they have already helped millions of people to find the best lenders.
| | | | | | | |
| --- | --- | --- | --- | --- | --- | --- |
| Loan types | Min.amount | Max.amount | Period | APR | Documents | Bad credit |
| Personal loans | $100 | $35,000 | Depends on a lender and loan type | 6.63% to 225% | SSN, Driver's License No., and State ID | Yes |
Types of 100 day loans
100 Day Loans offer personal loans including payday loans, installment loans, title loans, a line of credit, mortgage, and so on. They say that loans may be used for any needs including critical car maintenance, unexpected medical expenses, vacation, home repair, utility bills, etc.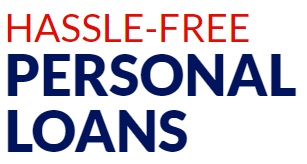 Payday loans are designed for short-term financial needs, they are not a long-term solution. These are insignificant amounts of money that must be paid off in a one-time payment on your next payday. This loan type comes with high-interest rates and is easily approved.
Installment loans are larger amounts with lower interest rates and extended repayment terms. You can repay such loans in equal monthly installments over a defined period (usually not exceeding 12 months).
Some lenders from 100 Day Loans network offer title loans (car loans). Customers will not have to stop using their vehicle while repaying the loan. They just give the company the car title until the loan payment is completely cleared.
According to the website, applicants will get an approval in just 2 minutes and the funds will be directly deposited into the specified bank account within one hour. Most often, however, the funds will be transferred the next business day.
Terms of Use
100 Day Loans cooperates with a vast network of lending companies that are ready to approve your loan in a few minutes. Their system automatically chooses the best lender for your needs based on the loan amount you need and acceptable interest rates. The loan amount will be based on your state, your income level, and loan term. Their system also takes into account state laws when choosing the best lender for you. The maximum loan amount you can get with this company is $35,000. Every case is very individual, some lender will not lend you large amounts, and others will not be able to provide small loans.
The company specified that most lenders from its network have the following eligibility criteria: a customer must be employed for at least 3 months, be a US legal resident, be older than18, earn at least $1,000 per month, have a personal checking account, have a working and home phone number and a valid email address.
Because personal loans are approved quickly, regardless of customers' credit history and collateral, they come with a much higher interest rate than standard financial products. According to the website, 100 Day Loans interest rates vary between 36% and 615%, and the cost of a loan for each $100 borrowed ranges from $2 to $24. These costs will also depend on the state of your residence.
Being just a broker, 100 Day Loans does not disclose full loan fees, terms, and interest rates. All these details will be disclosed by your lender before you accept loan terms as soon as you complete an online application. In the case you are ready to accept the terms, the lender will send you to an e-signature page to finalize the loan. Customers can always decide whether to accept a loan offer or not. This is more convenient than visiting store locations because if you don't want to accept the loan terms, you will have to go to another store, fill out a new application, and you still might not like the rates and terms offered.
Application
100 Day Loans is just a matching online service and doesn't lend money personally; it is a link between you and a lender. You cannot see exact APR rates and requirements before filling out an application. During application, you will be required to provide the following details and documents:
Full name and physical address. Are required to verify your identity and confirm that you have a home address.
SSN, Driver's License number. and state-issued ID. They are required to check your credit score and give you the best offer for your case.
Employment details. Having a stable job will help you get certain types of loans. You need to provide your employer's phone number to verify your employment.
Monthly salary. If your income is too low, you may not qualify for certain types of 100 day loans.
Bank account details. This data is needed for a lender to easily transfer the funds directly into your account.
You do not have to accept the loan if you qualify for it
Some lenders may also ask for bank statements or your income verification online instead of faxing or emailing these docs. However, in some cases, you will be asked to fax or email your bank statement, or other information. So you need to have access to a scanner or printer.
Loan Repayment
100dayloans.com doesn't state anywhere that you can get 100 days to repay your loan, so the domain name is a bit misleading. Loan period does not differ from those offered by other online lenders – between 8 and 25 days depending on the loan type, amount and lender.
You may authorize your lender to withdraw the particular amount automatically ("ACH transfer"), and the funds will be taken automatically from your account on the due date. This helps each payment to be made on time and you will not have to worry about forgetting about payments.
100 Day Loans lenders have various late payment policies. You must read the loan agreement carefully before signing the loan contract. In some cases, late fees are limited by state laws. Other states allow late payment fees which may accelerate the loan repayment.
Bear in mind that if you can't make your payments on a due date, the lender may use debt collection methods (in compliance with the law) which may negatively affect your credit score and may make it difficult to get loans in the future.
Loan Extension
Loan extension policies vary by state and lender. Some states limit the lender's ability to roll over a loan. You need to ask the lender in advance whether a loan extension option is available. Some states allow the lender to extend loans a definite number of times. Most lenders from 100 Day Loans network will help you avoid defaulting on your loan.
Some lenders also allow customers to apply for more than 1 loan at a time.
You can use this website to get a new loan as soon as you cleared your previous loan.
100dayloans.com Bad Credit
According to the website, 100-day loans are a good option for people with poor credit or no credit, as credit history is often not taken into account.
Instead, lending companies will look at an applicant's employment and income. As they say, 4 out of 5 applicants will be approved. You can even qualify for a loan if you are bankrupt.
Technical Characteristics of the Website
Checking Encryption
100DayLoans assures customers that they do their best o protect users' personal information and privacy. They claim to use advanced encryption technologies to ensure that the sensitive data is submitted and viewed only by their trusted lending partners. They guarantee that customers' sensitive data is secured by strict protocols during its transfer. They say that application is encrypted using HTTPS to avoid hacking. However, it turned out that the website is not using any encryption technologies, which means the connection is not secure:
Using unsecured website is a risky business, so I recommend you bear in mind that your information may be viewed by third parties.
Checking Mobile Version
If the owner of the site wants to show that he cares about his customers' interests, he creates the mobile version of the website. The user will never return to the site if it turned out to be unreadable from mobile devices.
Fortunately, 100dayloans.com is mobile-friendly:
What I liked about this mobile version:
Fast loading. If the page is loading within 8-10 seconds, it is a bad performance. Visitors will not wait for the pictures and photos to be loaded to read the information on the page. They will close it and choose a new resource, which will be loaded for a maximum of 3-4 seconds. All "heavy" elements are removed – photos, flash objects, unnecessary graphics, improving the appearance of pages when viewing them from a mobile device;
The readable content of pages. The user does not close the page when he can see the letters clearly when he does not need to perform any additional manipulations with the screen or site to see the necessary information. Correct adaptation for mobile devices will make the page as friendly and enjoyable as possible for viewing and reading;
Convenient buttons and menus. The visitor can easily select the menu field, click on the link, activate the desired page control;
Maximum functionality. The mobile version is as functional and understandable as a "full" website. Professional adaptation of the template for mobile devices provides the visitor with an opportunity to fill out an application without difficulty, make a purchase, contact a representative, subscribe to a newsletter and so on;
Comfortable and friendly usability of the resource. I noticed simplicity and clarity of the web-page. Coming to the page, the user will not experience any inconvenience. Adaptation creates a visually visible page with a vertical scrolling, a clear navigation set, a search string, and so on.
Checking Antivirus
Regretfully, 100dayloans.com does not have an antivirus installed which increases risks of getting infected with dangerous viruses, trojans, malware and other online threats. Some viruses can even steal your sensitive banking information. I advise the site's owner to upgrade the website's security since it's important to know that you are safe when screening the pages.
The Convenience of Using 100dayloans.com
The online service offers a simple and speedy application which takes about a minute or two to complete (unless you are required to fax some documents).
According to the website, it takes about 2 minutes to be approved in most cases. An applicant needs to fill out the online form and the service will direct him to the suitable lender for his individual needs, credit history, and location. Users can also apply by the phone if they prefer to talk to a manager. If an applicant is qualified, 100 Day Loans offers direct deposit the same day or at least on the next-business-day.
As we have already mentioned, being just an intermediatory, this website does not list exact loan rates and terms – you will see all these details as soon as you complete an online form. 100dayloans.com requires you to provide very sensitive personal details, so it would be nice to know in advance whether loan terms and rates will be suitable for you.
However, I like that the website has a detailed FAQ page where you can find answers to the most popular questions.
In general, the website can be considered convenient since it helps easily find the nearest direct lender in your state who will able to offer you a loan.
Is 100DayLoans Legit?
I checked the reputation of 100 Day Loans using ScamAdviser – it turned out that the website's rating has reached 53% out of 100%, which makes this service risky:
According to ScamAdviser, the website has negative reviews and uses an anonymous service to hide its identity. The domain age is over 8 years. The website's probable location is the United States but the owner country is unknown. Besides, the site has a very few visitors, which proves that it's unpopular. For all these reasons, 100 Day Loans received only 53% of trust out of 100%.
100dayloans.com Reviews
On-site Reviews
According to statistics, people who search for online loans often read reviews about the lender's real performance. As you know, people tend to choose a lender with the overwhelming majority of positive feedback. However, 100% positive feedback frightens off the applicant and significantly reduces the likelihood of using this service.
Below you can see the categories of reviews that cause trust:
reviews with specific advantages of the loan;
reviews with information and application details;
emotional reviews;
feedback with thanks for a good feedback from the online lender;
negative feedback with a quality response and a solution to the problem from the online lender.
In fact, feedback is a kind of recommendation of people who have already used the services of this particular lender. In the reviews, customers share their impressions and very often give advice to other people.
Regretfully, it turned out that 100dayloans.com pay very little attention to working with customer reviews because this website does not have a testimonial page. That is why the service can lose a large number of potential users.
Reviews on Other Websites
I went on and searched for customer reviews on the net. Regretfully, the result was alarming – 100 Day Loans website has many reviews on independent websites but nearly all of them are negative. I was able to find only a few positive reviews stating that this service is not a scam. But they are overshadowed by the overwhelming majority of 100dayloans complaints.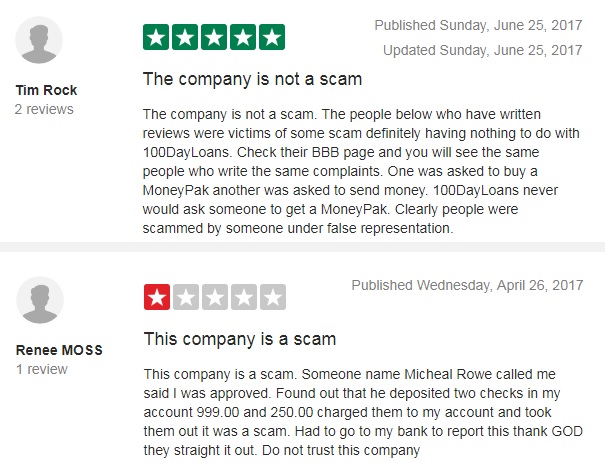 One client from 2017 wrote that this service was a scam because they asked him to pay fees up front and that's what scam companies usually do. As a result, he lost over $2500.
One more customer said that after filling out an online application at 100dayloans.com he got $300 taken out of his bank account, email spam and numerous phone calls. So he did not receive any money from a lender but they took money from him.
Other clients mentioned that they constantly receive spammed mail in their inboxes which is not a sign of a good lender.
These reviews sound very alarming. Stealing money is a very serious issue. This knowledge undermines my trust to this online service.
Customer Support
Contact Information
The company provided too limited contact information on its official website: email: support@100DayLoans (which proved to be inactive). Regretfully, 100 Day Loans phone number was hidden, probably it's not active anymore:
So customers have no ways of contacting this company, which is a bad sign. People provide very sensitive personal and financial details to this website and it's very important to know that you are always able to reach the company's representative, when necessary.
Locations
100 Day Loans is only operating in the following states: Alabama, California, Colorado, Connecticut, Delaware, Washington DC, Florida, Hawaii, Idaho, Illinois, Indiana, Kansas, Kentucky, Louisiana, Maine, Maryland, Massachusetts, Michigan, Minnesota, Missouri, Montana, Nevada, New England, New Hampshire, New Jersey, New Mexico, North Carolina, North Dakota, Ohio, Oklahoma, Pennsylvania, Rhode Island, South Carolina, South Dakota, Tennessee, Texas, Utah, Virginia, Vermont, Wisconsin, and West Virginia.
But if you live in Wyoming, Oregon, North Dakota, Georgia, Arizona or Arkansas, you will not be able to get a loan through this online service.
Getting a Consultation
100 Day Loans claims that customers may contact them using a toll-free number and a live chat service. But I found no live chat on their site and a phone number was hidden. The last potential way of contacting them was also inactive: their email address support@100DayLoans was not recognized:

This means that there is no way to contact this intermediate company and you must take this into account before filling out a loan application.
Conclusion
After analyzing this website I still cannot say whether 100 Day Loans really work. It's nice that they are available in most states, offer various loan amounts and simple application process. They also guarantee to transfer money within 24 hours or even 1 hour. At first sight, this would be a perfect service connecting people with the right lender and the right loan for a particular situation. But there are some things that I dislike about this service. First of all, the company's name is a bit misleading and just a brand name: they do not offer loans with a 100-day payback. Then, the service has too many complaints and offers no ways of contacting the company's representative. The last thing that worries me is that the website is insecure, and the application process can easily steal your personal data. I cannot recommend you using this website for getting personal loans but if you still decide to use it, be careful with your SSN, driver's license number, and account details! My verdict is 2,9 stars out of 5.